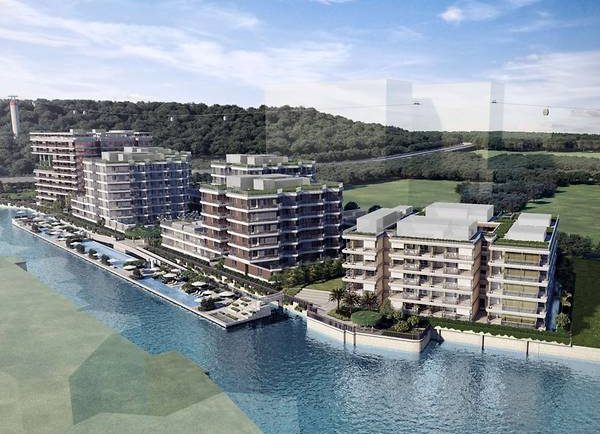 Image Credits: The Reef at King's Dock
Though waterfront homes are rare in Singapore, our little red dot is home to a couple of residences with spectacular sea views. An emerging estate that is expected to make headlines is The Reef at King's Dock.
Potential buyers, here's your chance to gain that coveted view of the waters. It will be Singapore's first residential development with a floating deck and an underwater marine viewing platform, according to Mapletree and Keppel Land.
Located in the HarbourFront-Keppel Bay precinct
You will find the upcoming development a short walk away from HarbourFront MRT station, within the Greater Southern Waterfront. It is a region that the government aims to turn into a substantial new gateway along the southern coast of Singapore for modern dwellers.
The project will consist of 429 units, with a variety of apartments from 1 to 3 bedrooms. Dimensions range from 431 to 1,572 sq. ft. and is distributed across 10 housing blocks.
Starting price begins somewhere from S$960,000 for a 1-bedroom unit. For a rough gauge, it will cost S$1.6 million for a 2-bedroom flat and S$2.8 million for a 3-bedroom apartment.
There will be a complete range of facilities. This includes a state-of-the-art workout centre, a tennis court, and sky gardens. There will also be a playground for kids, fitness area, and function rooms.
Singapore's first floating deck in a residential development
The 180m floating platform will accommodate several pools including an Olympic-length pool, a recreational pool, and a revitalising pool. These swimming pools would provide swimmers with an immersive experience, likening to a swim in the waters of King's Dock itself.
The floating deck will also display The Reef at King's Dock's private underwater viewing platform. It's a special area where the aquatic ecosystem in King's Dock would be seen and enjoyed by residents and visitors.
The developers assured that they would give proper attention to maintain King's Dock's current structure. They will also pay extra care to conserve marine life in the surrounding waters. As such, they will build the floating deck's primary foundation offsite and then merge it into King's Dock during setup.
To that, Associate Professor Peter Todd from the Department of Biological Sciences, National University of Singapore, and Specialist Advisor to The Reef at King's Dock had something to add. "The submerged surface of the floating deck has been specially designed to encourage colonisation by corals that, in turn, will attract fish and other marine life," he shared.
The Reef at King's Dock's sales gallery
The Reef at King's Dock's sales gallery has opened at the end of HarbourFront Avenue. Bookings are slated to commence on Jan 30 with the official launch. Construction is projected to conclude by 2025.