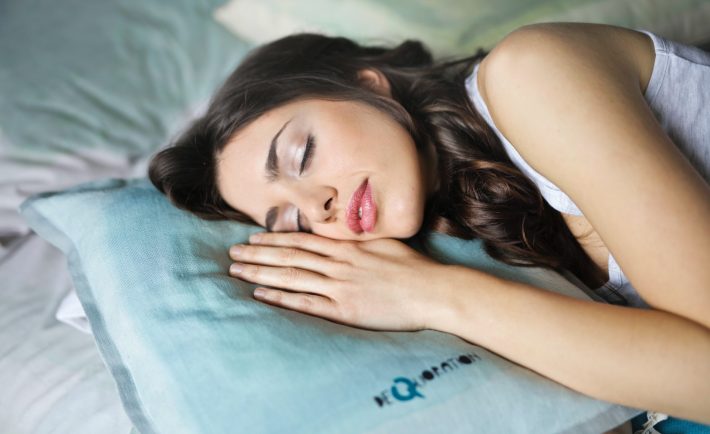 Image credits: unsplash.com
Everything is set. You got to bed suited up in your softest pajamas, your silk sheets were tucked, and your pillows were fluffed. However, you still cannot sleep! Instead you kept yourself busy by playing with your phone or watching the latest series on Netflix. You found yourself counting down the few hours left until the next day begins. Like you, most people sleep less than recommended.
A good night's sleep is not just about the quantity of hours, but also the quality. Older people above 65 were found to have a poorer quality of sleep and even experience insomnia. Sleep deprivation results to worse cognitive performance including diminished focus, attention, alertness, and memory. To improve your sleeping cycle, consider using these products. May these help you gain some peaceful snoozing.
#1: LAVENDER PILLOW MISTS
Research has found that lavender increased slow-wave sleep, which plays a role in slowing one's heartbeat and relaxing one's muscles. Using pillow mists and sprays that contain lavender can be beneficial for adults and children. Find a mist that has a blend of floral waters, herbal ingredients, and essential oils. Then, spritz it over your bed linen before sleeping.
The Body Shop Spa Of The World French Lavender Pillow Mist is infused with lavender essential oil from France, which aims to release soothing fragrance for a good night's sleep. It retails for about S$26.
#2: SCENTED CANDLES
Aromatherapy may ease your mind as you go to sleep. To set yourself up for a relaxing night ahead, simple burn an aromatherapy candle. Light the candle as you prepare for bed. You may either fulfill your skincare routine or read your favorite book before blowing the candle. Scents like Earl Grey Cucumber are great for mornings, but go with the Sage Sea Salt for restful nights. Scented candles made from different ingredients such as soy wax are available on Shopee for about S$15.
#3: BODY LOTIONS
For some people, asking their partners to massage their body can help them have a restful sleep. You can complete your night-time skincare regime by using Lush's Sleepy Body Lotion. It is formulated with a blend of lavender oil and cocoa butter to keep your skin moisturized and comfortable all night long. Moreover, it creates a calming ambiance with its lavender scent. It costs about S$54.
#4: WEARABLE TECHNOLOGY
Wearable technology is hardly new for the public. It has gained popularity in the recent years. In fact, you can wear a Fitbit to help you monitor your breathing, sleep duration, and heart rate. It records the period when you go into deep sleep and gives you data about your sleeping pattern. Awareness will help you modify and improve your sleeping habits. It is available at Lazada Singapore for over S$200.
#5: WEIGHTED BLANKETS
Weighted blankets are usually filled with small objects such as pellets and polypropylene plastic. Lying underneath evenly distributed pressure (i.e., brought by the weighted blanket), is believed to increase the release of the hormone serotonin. This helps with relaxation.
In fact, many children with ADHD have used it to help them calm down. Occupational therapists have long used these blankets to help kids with sensory issues and anxiety, including kids with ADHD. These blankets are not only limited for the use of Occupational Therapists. If you think it will work for you, you may purchase weighted blankets on Shopee.