Fireworks display on NDP (Image credit: maskedcard, via Flickr)
It is exactly one month away to mark Singapore's 50th year of independence .
As this is the Golden Jubilee year, expect a massive celebration you had never experience before. It pays to start planning early if you want create an indelible experience for both your loved ones and yourself – and nothing beats the comfort of being in a hotel room that comes with an exceptional view of the National Day Parade and the magnificent fireworks and aerial displays. A glass of wine to go with it, perhaps?
KAYAK.sg has came up with a list of best staycation hotels that offer you the best panoramic view of the Padang and The [email protected] Bay, where the celebration will take place.
They have ranked the hotels from the lowest to highest price for the National Day Jubilee Weekend from 7th to 10th August 2015. Average Nightly Rate starts from S$293 at Marina Mandarin to S$883 for a night stay at The Ritz-Carlton, Millenia Singapore.
For those who want to enjoy the experience but are not willing to loosen your purse strings can consider a staycation over the National Day Preview weekend (31st July – 2nd August 2015). KAYAK.sg has also ranked the hotels from the lowest priced to the highest.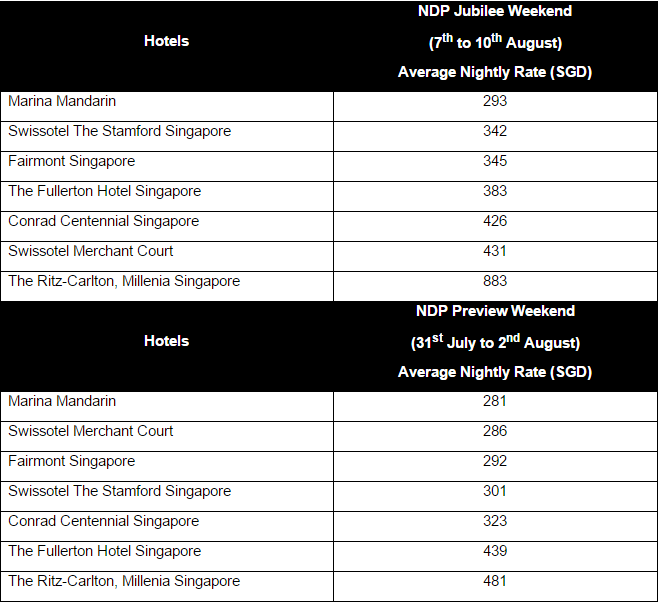 For spectacular views of the Padang:
Swissotel The Stamford Singapore
Be treated at one of the tallest hotels in Southeast Asia, Swissotel The Stamford. The thoughtful service, amazing dining options and dazzling views of the Singapore landscape should not be missed! Prices start from $342 a night on average.
For jaw-dropping views of the Marina Bay area:
Undeniably plush, the distinguished 5-star Marina Mandarin is known for contemporary elegance and breath-taking views of the Marina bay area. Prices start from just $293 a night on average.
Conrad Centennial Singapore
Feel the pulse of the Marina Bay at Conrad Centennial Singapore. Spectacularly decorated, the hotel boasts local and international art pieces and is home to two awarding winning restaurants more than worthy of a visit. Prices start from $426 a night on average.
The Ritz-Carlton Millenia Singapore
With 608 guest rooms featuring unobstructed views of the Singapore skyline, the award winning Ritz-Carlton Millenia Singapore is home to a 4,200 piece art collection and a seven-acre oasis filled with landscaped gardens and tropical plants. Prices start at $883 a night on average.
The Fullerton Hotel Singapore
Dip into the past at The Fullerton Hotel, a historic landmark known for its elegance and luxury, as well as its amazing panoramic views of the city's landscape. Prices start from $383 a night on average.
Debby Soo, KAYAK Vice President APAC, said: "Celebrating Singapore's 50th birthday is an amazing feat and what better way to do it than at the centre of all of the celebrations, in comfort and style, surrounded by your loved ones. KAYAK has put together a list of hotels for a National Day weekend staycation, perfect for individuals and families seeking a special setting to be a part of the celebrations without the hustle and bustle of crowds. What's more, when using KAYAK.sg or our mobile app, you can have even more control over finding the best deals."
For inspiration or simply to search and compare prices for hotels, flights, cars and much more, visit http://www.kayak.sg or download the app at http://www.kayak.sg/mobile.