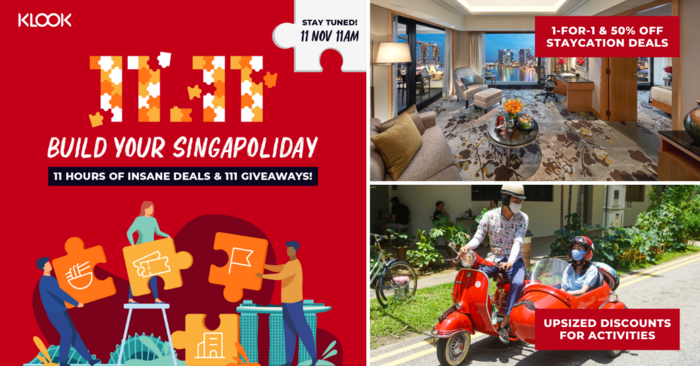 11 Hours of irresistible deals and 111 giveaways including 11 specially curated Singapolidays based on your favourite travel destinations. Get ready for Klook's Biggest Sale of the Year!
Who's in need for a year-end holiday that you truly deserve after what 2020 has thrown at us? Well, Klook has got everything you need to make that a reality in their upcoming 11.11 sale! From 1-for-1 staycation deals to 11% off unique activities, you can now recreate that perfect holiday right here in your backyard!
Date: 11 November 2020
Time: 11am – 10pm
Location: On the Klook App / Website
How to get your deals: Look out for packages marked with [Klook 11.11 Promo] that will only go live during the specified deal timings that we will cover below!  
Build a Singapoliday that everyone will enjoy!
The most important step in planning the perfect holiday is to cater to everyone's needs! From staycations to family-friendly activities and those that will be approved by thrill seekers, Klook has just the right deals for one and all this 11.11.
Klook will be releasing deals based on the different categories every two hours on 11.11, so do find the category of activity that you're interested in, take note of the time and set a reminder! Some promotions like their 1-for-1 deals are limited in quantity, so you definitely don't want to miss out on them!
First things first, remember to get your promo code for 11% off ALL Klook activities, discount capped at $15.
[12PM – 2PM] Staycation & Family-Friendly Activities Hour!
More Relax (Staycations) Deals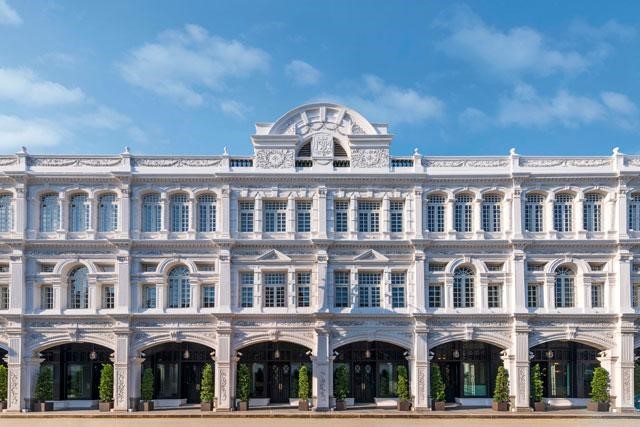 It's staycation deals galore at over 30 top hotels, including 1-for-1 deal at Pan Pacific Singapore, extra 50% off rooms at Mandarin Oriental and up to $160 off your stay at Mandarin Orchard! With so many attractive hotels and deals to choose from, the perfect hotel for your Singapoliday awaits.
Besides these attraction 1-for-1 and 50% off deals, you can also enjoy additional discounts of up to $160 off at other popular hotels including Hilton Singapore, Mandarin Orchard, The Fullerton Bay Hotel, InterContinental Singapore, Shangri-La Hotel Singapore, Fairmont Singapore, and Lloyd's Inn.
[Check out the full list of 11.11 hotel deals now!]
More Family Time Deals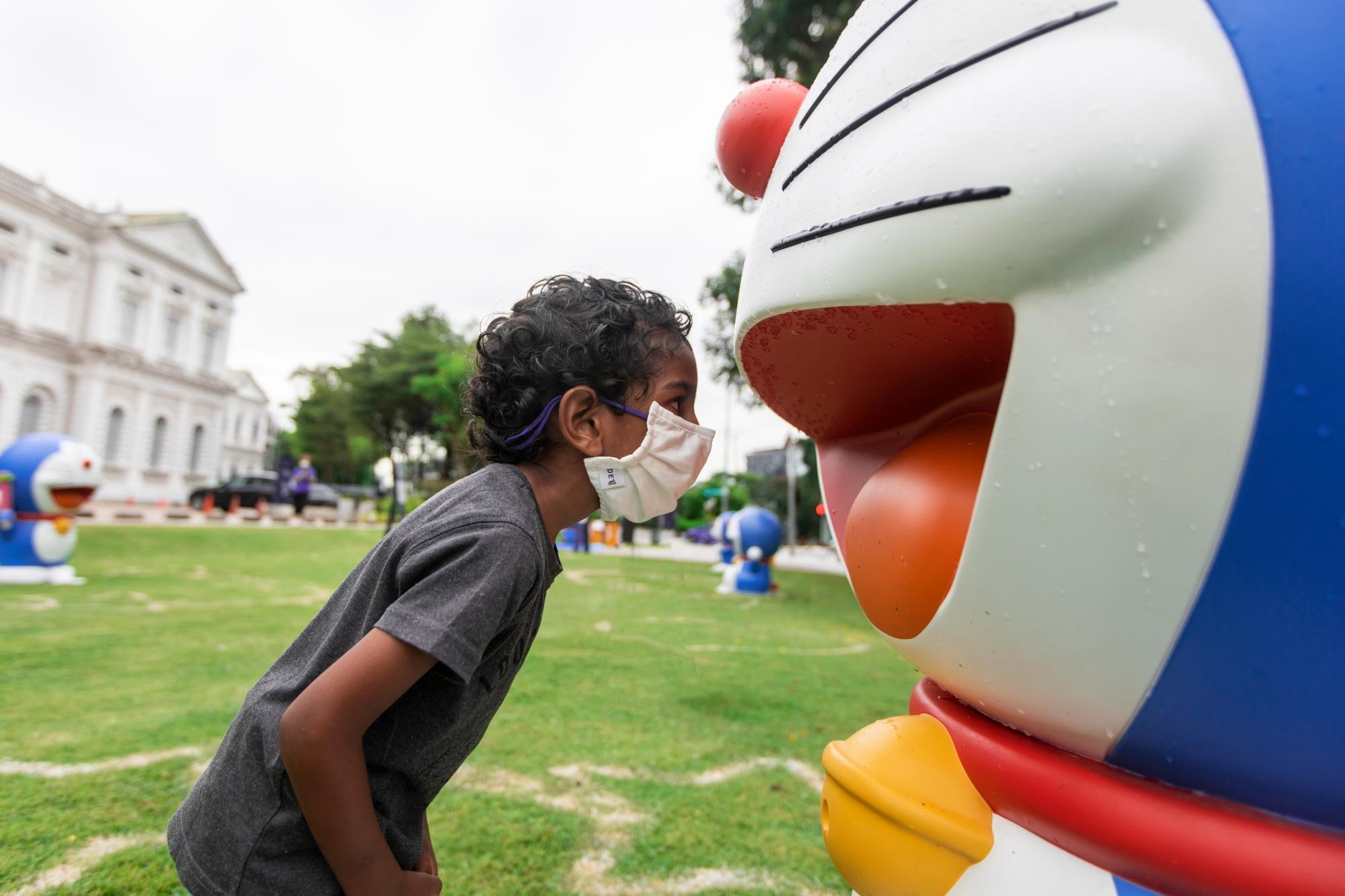 From sailing along the Singapore Straits to meeting Doraemon, these activities are perfect for a fun day out and are sure to please every generation of your family!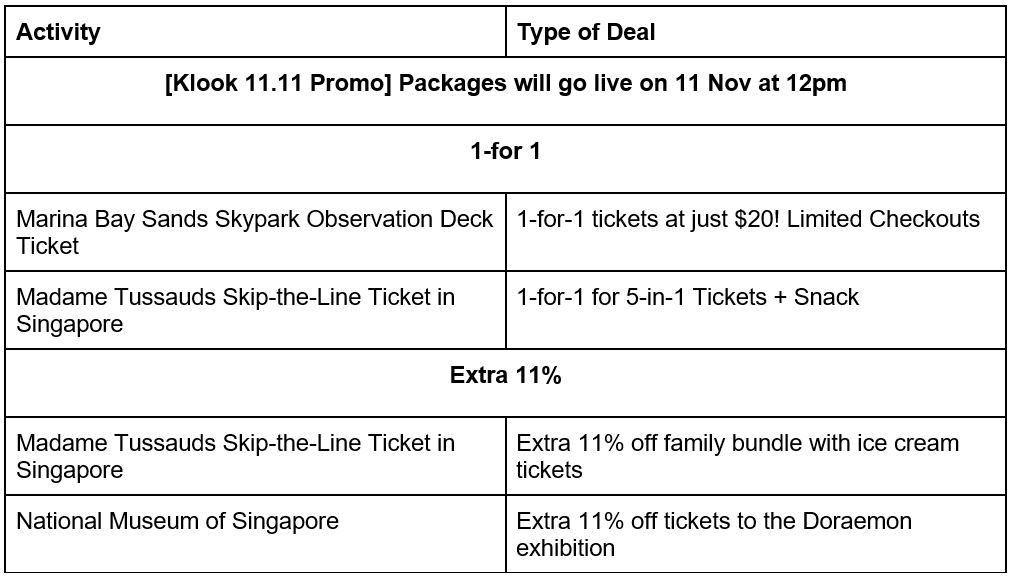 [2PM – 4PM] Dining Deals & Workshops Hour!
More Cheat Days (F&B) Deals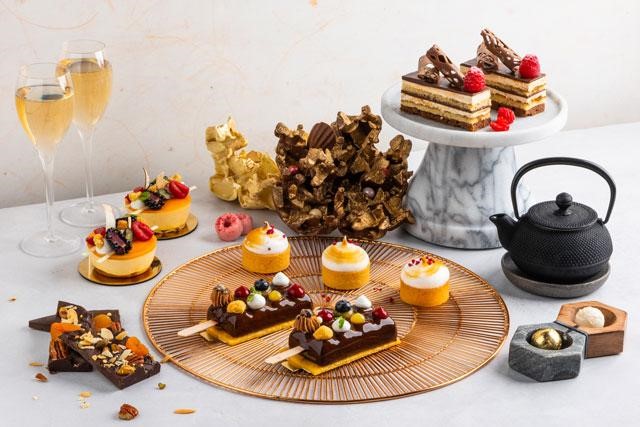 For all you foodies out there, enjoy 1-for-1 deals and attractive promos at more than 30 restaurants across the island. Bubble tea lovers can also look forward to getting LiHO's Special Matcha Latte at only $2.90 too!
[Check out the full list of Dining Deals now!]
More Chill (Indoor Activities) deals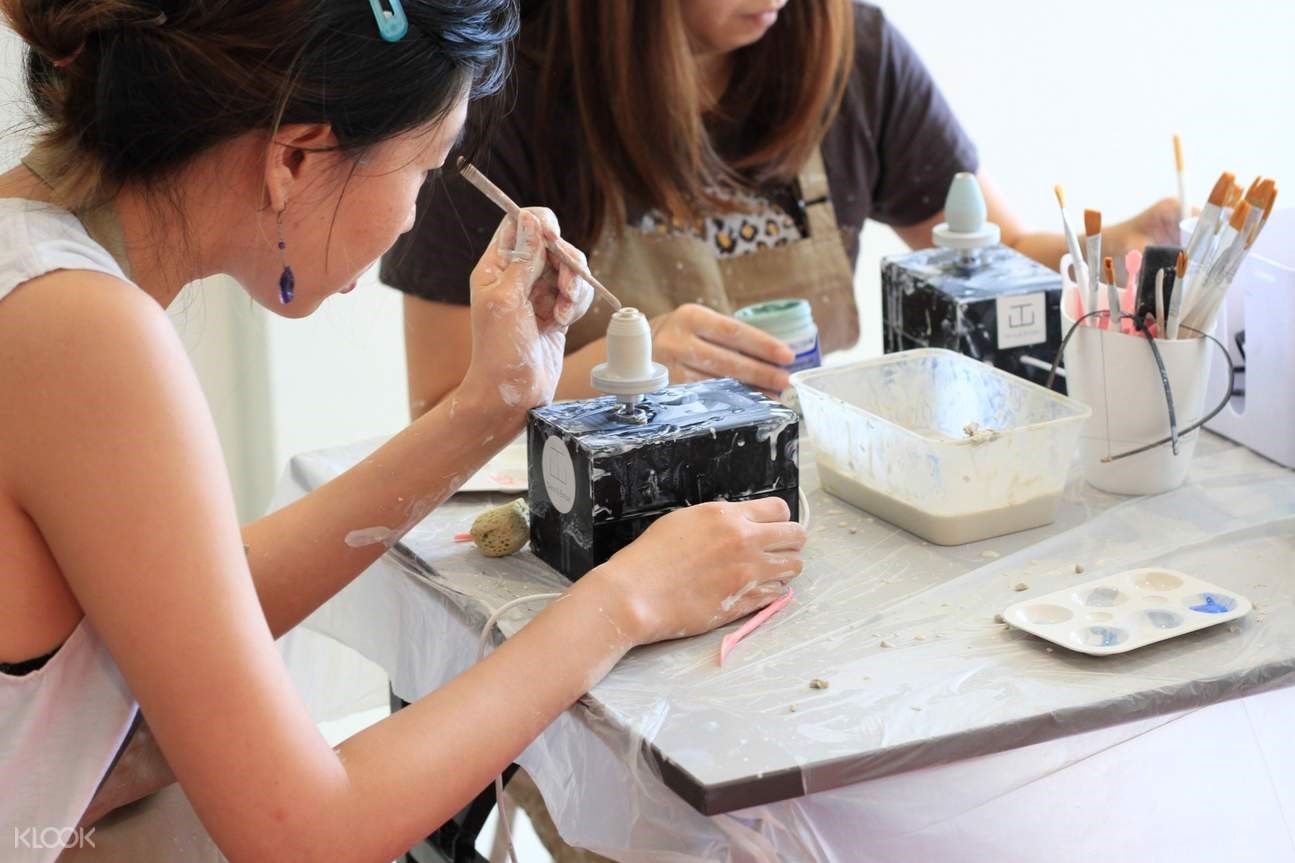 From pottery workshops to leather crafting, these activities are not only super fun to try out but you'll also get to pick up a new skill, and if you're good enough maybe a side-hustle too! Here are some of the highlights!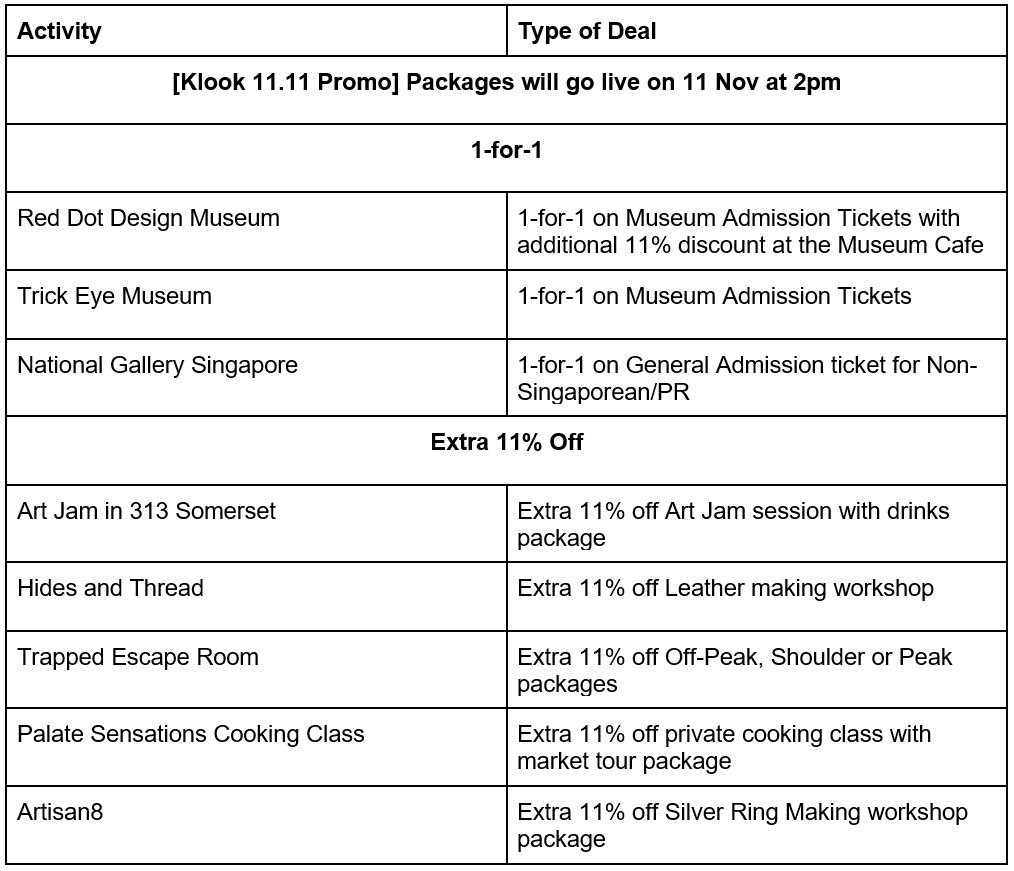 [Start making plans now with all these Workshop Deals now!]
[4PM – 6PM] Attractions & Tours Hour!
More Photos (IG-Worthy Activities) Deals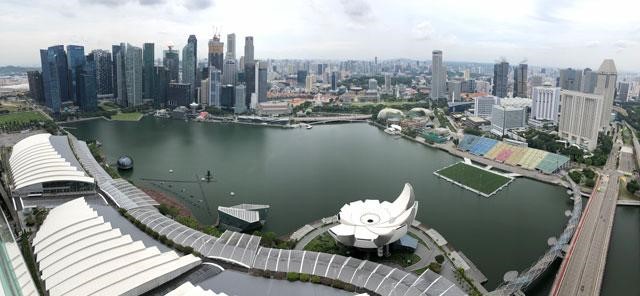 Enjoy some of the best views of the city that you can find with these attraction deals. At a suitable location and taken with the proper angle, you can easily recreate some of your favourite holiday destinations right here in Singapore.
More To Your Backyard (Unique Activities) Deals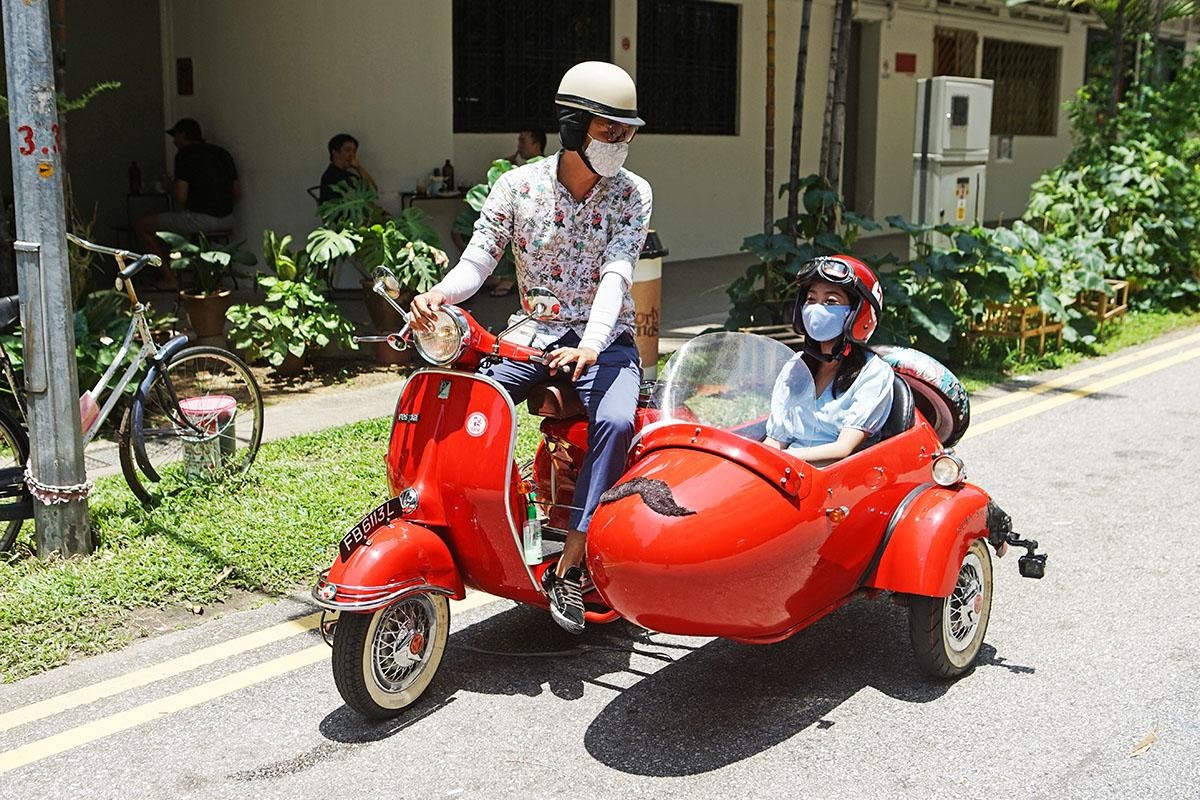 A melting pot of cultures, we're constantly learning something new about Singapore every single day! Experience these activities that you'd generally overlook on a daily basis and you'll be surprised at the various things you learn.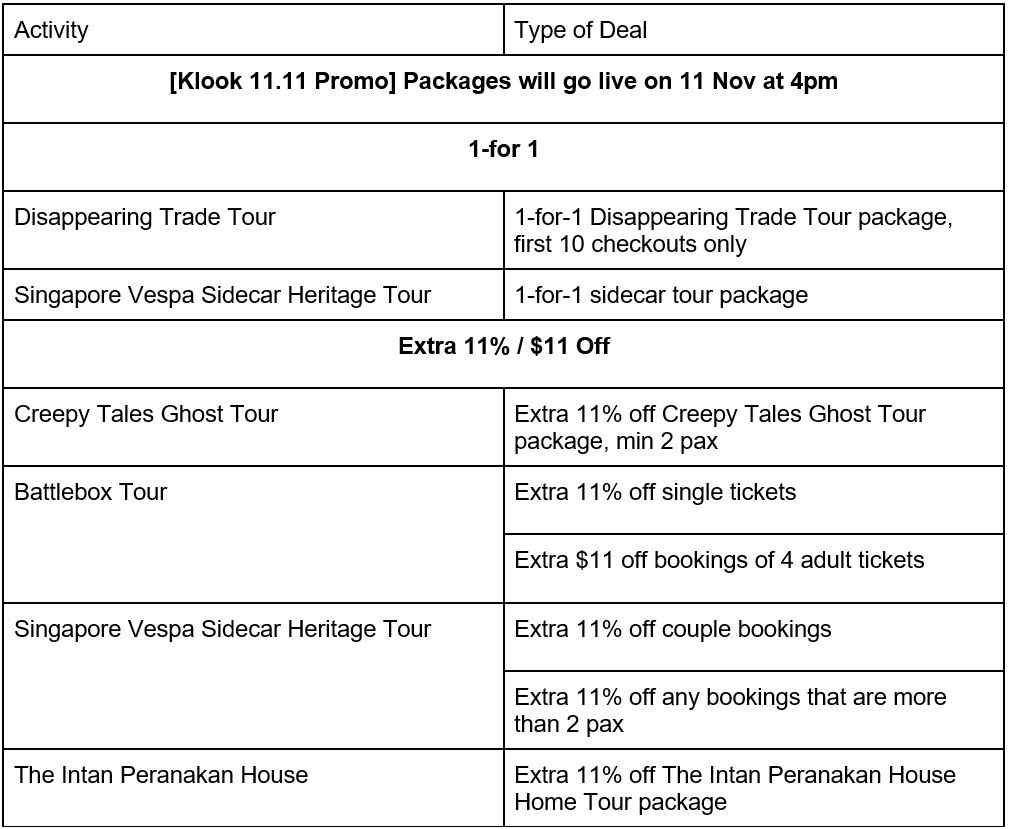 [Find out what other Attractions & Tours will be going on sale now!]
[6PM – 8PM] Amazing Things to Do Hour!
More Adrenaline (Attractions) deals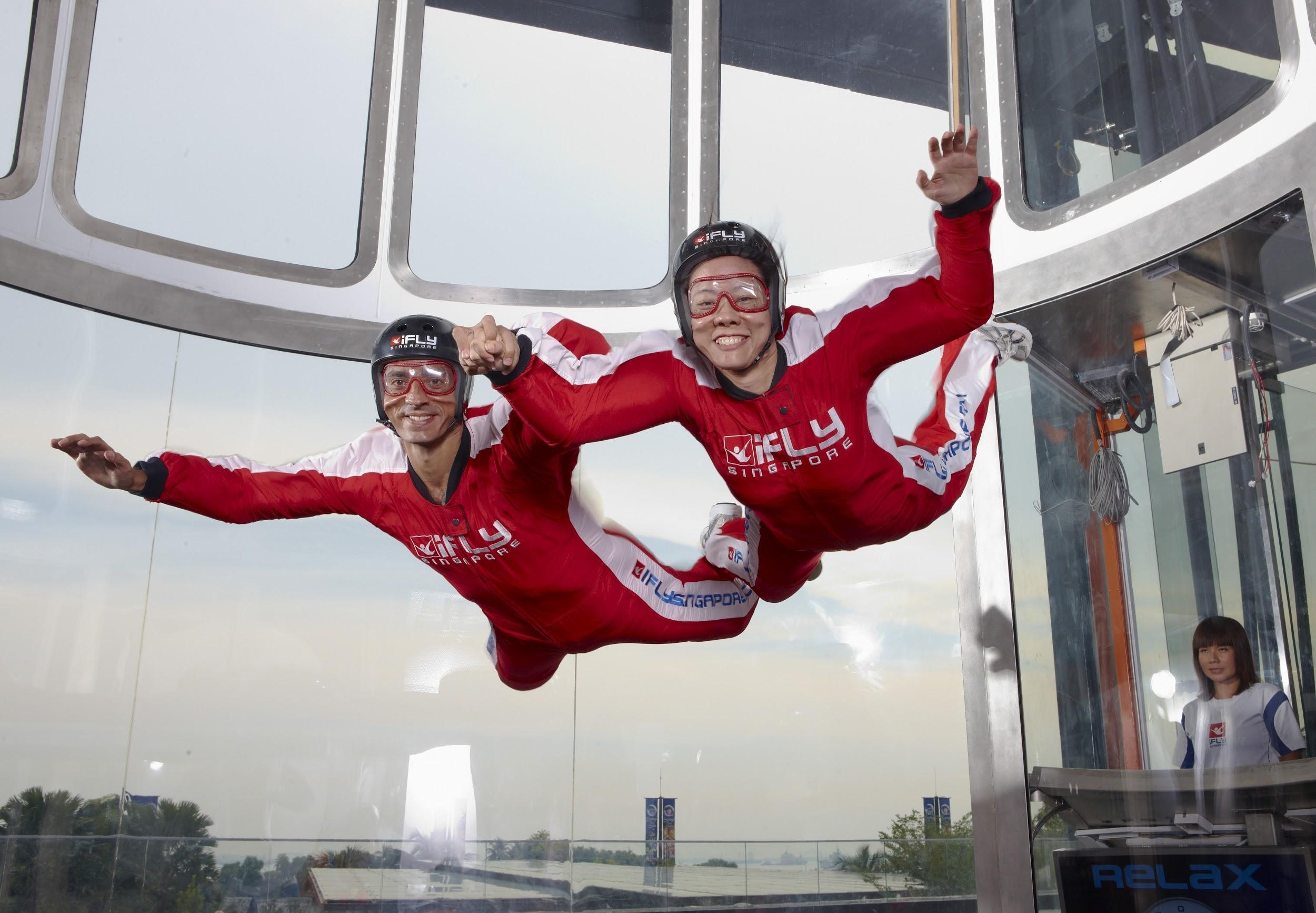 Our country may be small in size but what we don't lack in is activities that will definitely get your heart racing.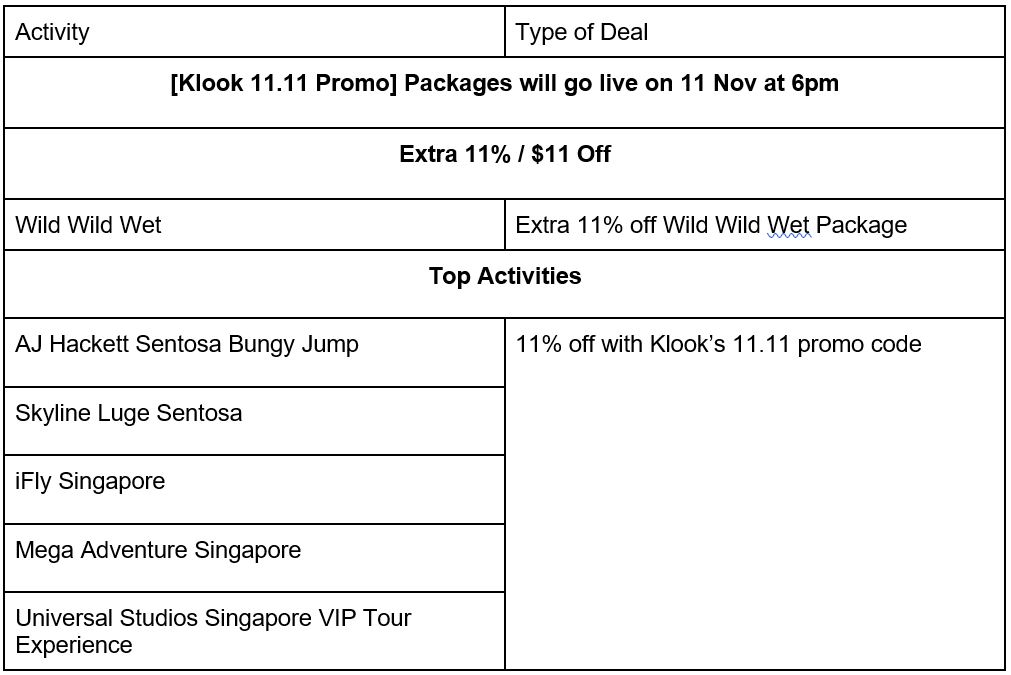 More Sun (Outdoor Activities) Deals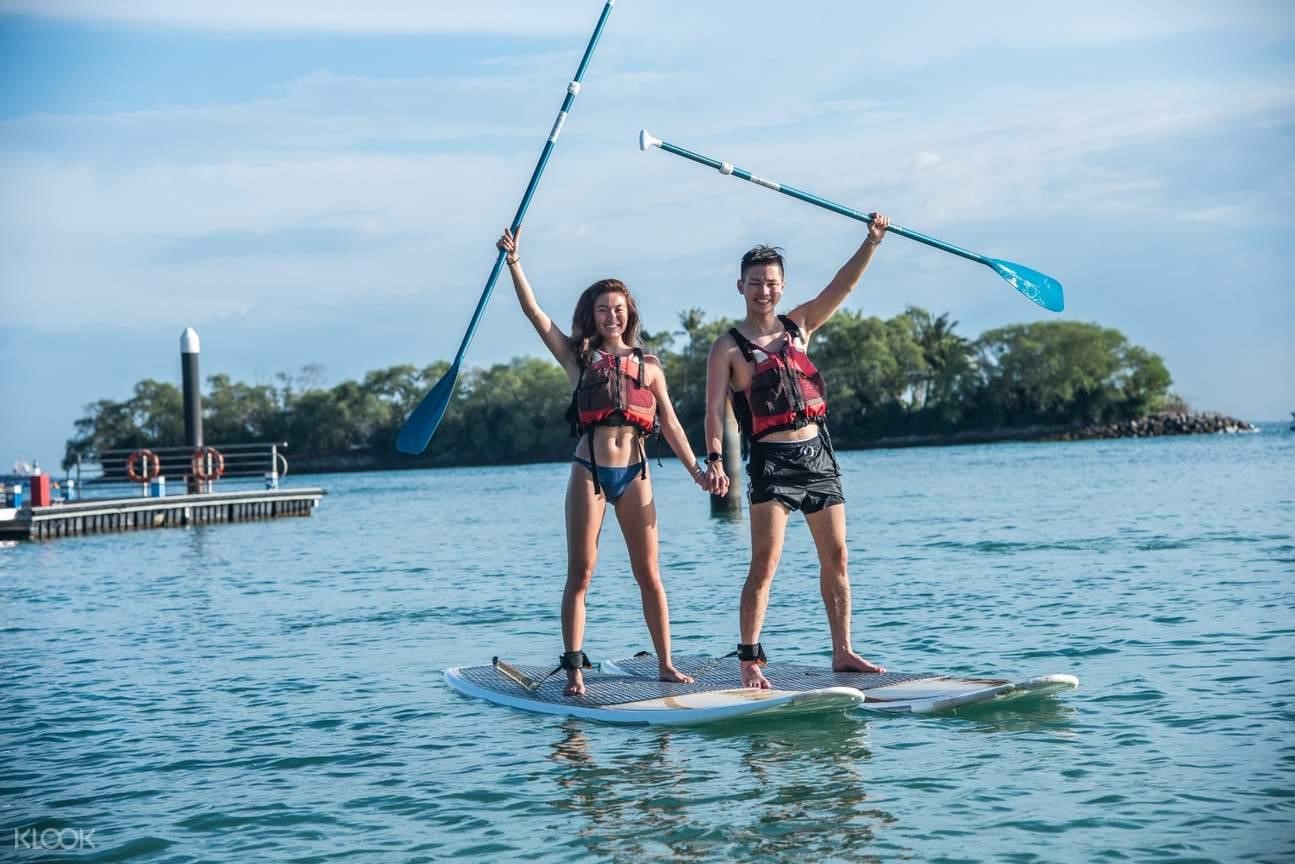 Head out for a day of exploring our Southern Islands or hitting the Mountain Bike trails in Pulau Ubin! Klook's got the perfect ideas for how you can get more vitamin D besides hitting the beach at Sentosa.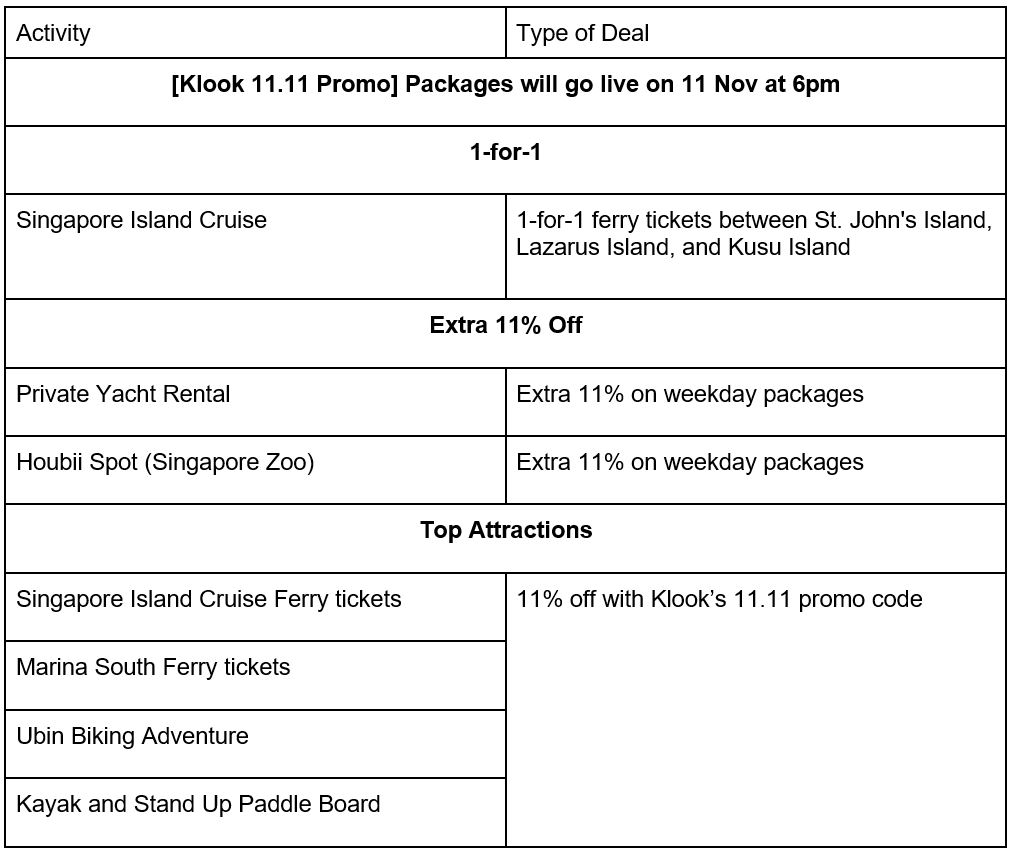 [Start jioing your friends now with these attractive deals!]
[8PM – 10PM] Klook Live to embark on the perfect Singapoliday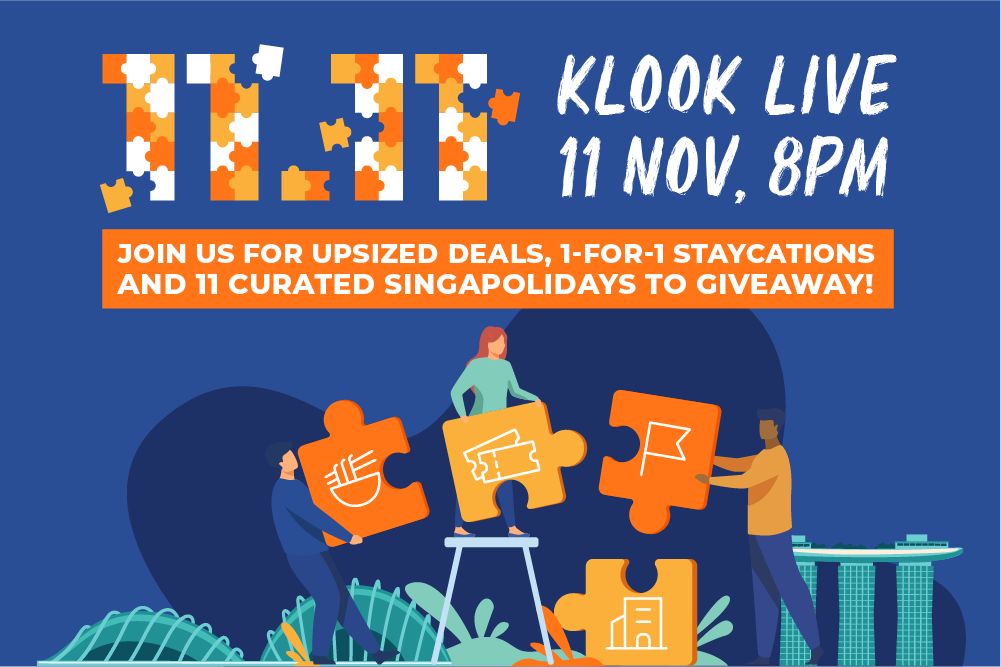 To wrap things up, join the Klook Live Singapoliday Special when Klook will be giving away not one, not two, but 11 specially-curated Singapolidays based on your favourite travel destinations! That's 11 hotel nights and activities to save your 2020 travel plans!
Klook will also be dropping additional exclusive sitewide promo codes for even more savings, so look out for them on 11 November 2020, 8pm, here!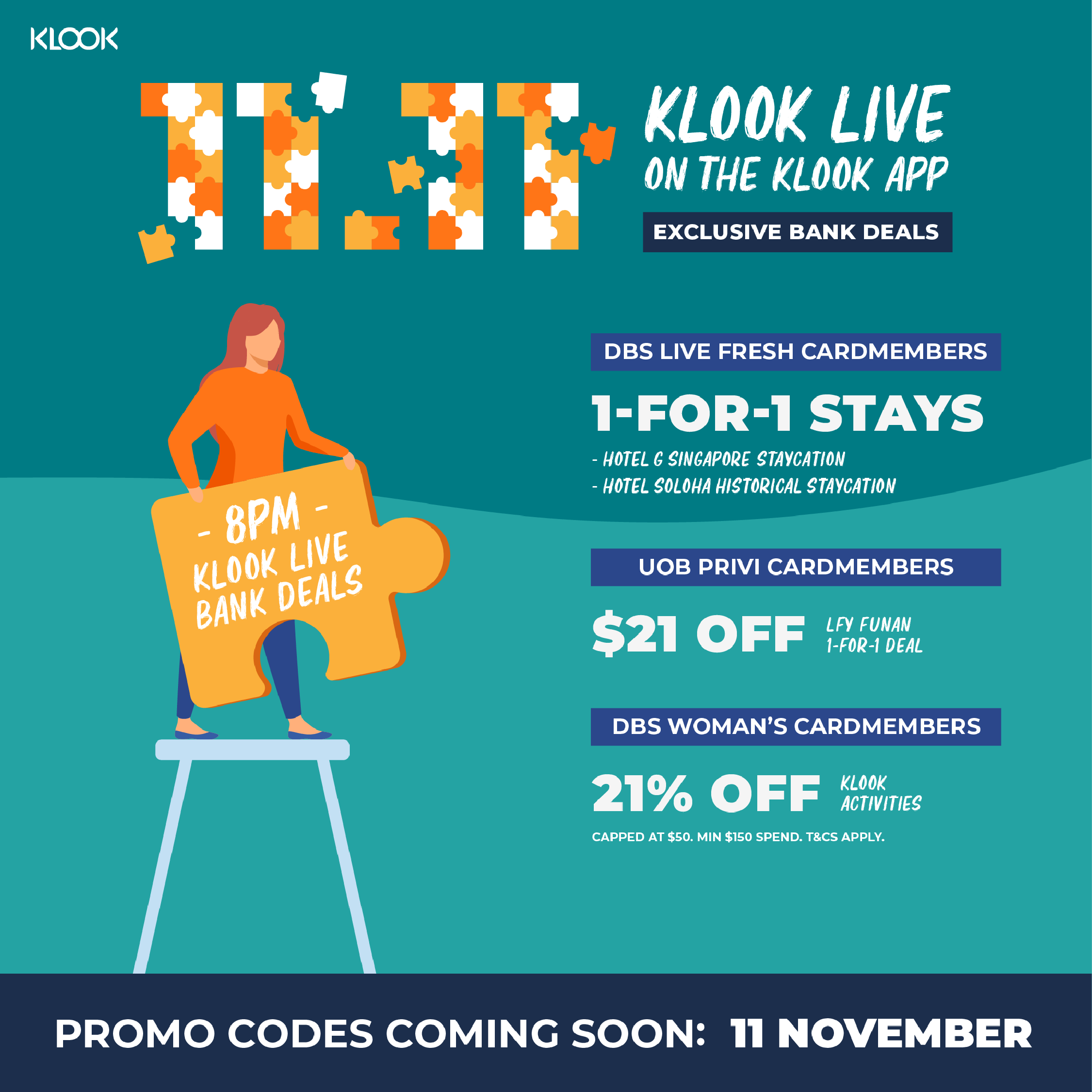 If you've got a DBS or UOB credit card you'd want to check out these deals during the Klook Live session too!
Get a 1-for-1 Hotel G Singapore Staycation package or a 1-for-1 Hotel Soloha Historical Staycation package when you check out with a DBS Live Fresh Card
Get 21% off activities, capped at $50 with min spend $150 with a DBS Woman's Card
Get an EXTRA $21 off your 1-for-1 stay at Lyf Funan with a UOB PRVI Card
These deals are limited in quantity so remember to grab them as soon as they appear!
[12PM & 6PM] Bank Hours to Look Out For!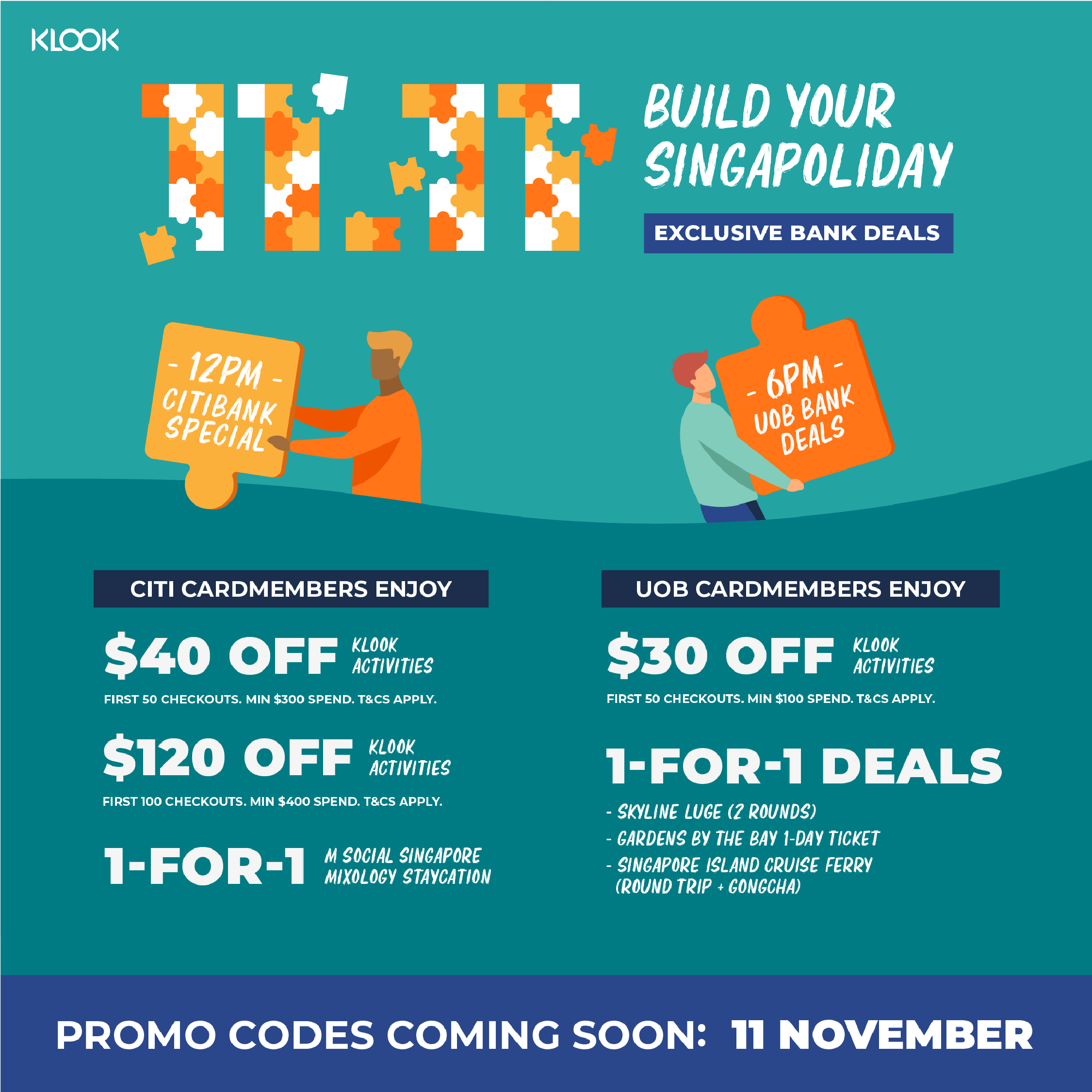 Before you start on your 11.11 spree, there are two timings that you should take note of as they will come in useful for saving more on your favourite activities!
From 12pm to 2pm, Citi Credit Cardmembers will get to enjoy these amazing deals, just checkout with your Citi Credit Card and you're good to go.
Save 20% with the Citi Base Deal – $40 off min. $300 spend on Klook Activities
Save 30% with the Citi Crazy Deal – $120 off min. $400 spend on Klook Activities
Enjoy 1 Night off your M Social Mixology staycation package
From 6pm to 8pm, UOB Cardmembers can save even more when you checkout on your favourite activities using a UOB Credit Card.
Get $30 off min spend $100 sitewide with our UOB Tier up Deal
Enjoy 1-for-1 deals on the Skyline Luge (2 Rounds) package, Singapore Island Cruise Ferry (Round Trip Ticket + $3 Gongcha) package or Gardens By the Bay 1-day ticket package
These deals are limited in quantity and only valid during 11.11 so remember to get them quick!
[Grab your Credit Card Promo Codes here!]