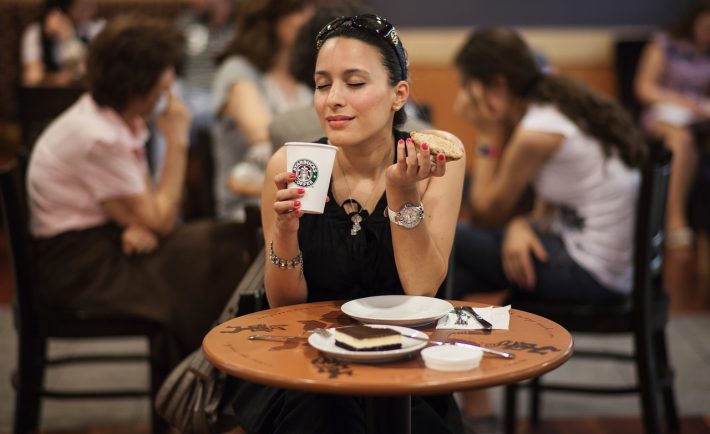 Image Credits: pixabay.com
It is time for a reality check!
There is a huge difference between being late due to family emergencies and being late because you were queuing at Starbucks. Your constant trips to your "coffee haven" can drain your wallet. So, how do you keep your thirst for the daily coffee grind? With clever planning, of course! Try these tried-and-tested hacks to satisfy your coffee addiction:
#1: SHARING IS CARING
While I was chatting away with a friend of mine, our conversation drifted to her pleasant date. She and her mom shared a Venti cup after countless hours of shopping. You see, splitting a Venti cup is cheaper than purchasing two Tall or two Grande cups. Let us take the "Frappuccino" as an example. A Venti frap costs about S$7.60 while, a Tall frap costs about S$6. Splitting the bill with a friend can help you save up to S$2.20 each! Isn't that what friendship is for?
If you are planning to kill time in Starbucks, it is better to opt for the largest size available. Situations such as working on a school project with your classmate or finishing a business proposal call for this strategy!
#2: REAP THE REWARDS
One of the quickest ways to enjoy discounts and freebies is by joining the Starbucks Rewards Program. Upon entering, you will be eligible earn a star for every dollar spent. These stars equate to specific benefits such as a free slice of cake or a free drink. To get started, you must acquire a gift card. Register it thru the Starbucks website or thru the mobile app.
Use the app to stay updated with the latest promotions. What I like most about this loyalty program is the value given to one's birthday month (i.e., by giving a free slice of cake, a free drink, or a free drink upgrade). Furthermore, you can get a personalized gold card. It is an ultimate Starbucks addict collectible, if you ask me!
#3: BRING A CONTAINER
An easy way to save at least 50 cents on your next order is by bringing your own container! Take out your favorite mug, tumbler, or water bottle from the shelf. Then, confidently offer your own container to the Starbucks barista.
Getting S$0.50 off your bills may seem minuscule at the moment but, these savings add up. Furthermore, you are helping save the environment by conserving the resources.
#4: ASK FOR TEA
I am not a heavy caffeine drinker. This is why I prefer drinking tea over coffee. Have you ever considered exchanging tea with a friend? Purchase two different tea bags and ask for hot water. In most cases, you may refill a cup for at least three times to savor its flavor. Do not worry about asking the staff for a refill as it is free!
For tea connoisseurs, it is best to avoid steeping your tea twice. Stick to your drink preference instead of wasting money.
#5: MAKE YOUR OWN
Whether you want to believe it or not, you can make your own iced latte while saving money in the process. Order a triple espresso over ice and head over to the condiment bar. Fill up the rest of your cup with the complimentary milk. Voila! You just made your own iced latte!
Lastly, you can make your own Chai Tea Latte. Instead of spending S$5.70 for a Tall-sized Chai Tea Latte, you may ask for a hot Chai Tea (about S$4.20 for a Tall cup). Fill half of the cup with steamed milk. Not only will this recipe save you a dollar but, it will also contain lesser calories than the Chai Tea Latte.