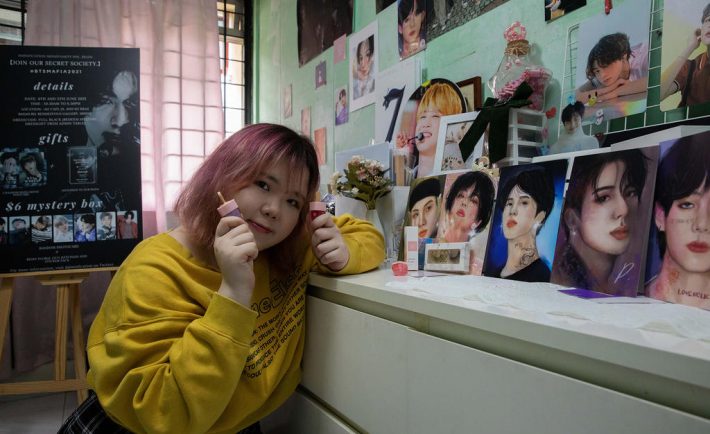 Image Credits: todayonline.com
Peeps who love K-pop should be familiar with BTS. The award-winning South Korean boy band has such an extensive global success that even their country's parliament passed a new 'BTS law' last month.
The revamped legislation allows top K-pop stars like BTS's oldest member, Kim Seok-jin (commonly known as Jin), to defer their military duty until they hit 30. Jin, who turned 28 on Dec 4, 2020, will now continue to thrive at what might be the peak of his career till 2022.
For some fans like Ms Ng Kwok Ching, this is fantastic news. The 19-year-old student is a super fan of BTS and famous for her literary stories depicting the seven pop stars in various make-believe contexts.
Little celebrity recognised by her readers
A reader noticed her at her neighbourhood coffee shop while she was getting chicken rice, something she didn't anticipate would ever occur when she wrote her first story online in 2017. 
"I was very shocked because I don't usually mention my personal Instagram account a lot. The fact that they can remember my face is very unexpected," she commented.
The 19-year-old student who goes by her online nickname jiminfication has acquired a community of over 77,000 readers on Wattpad, a popular social storytelling site among fantasy fiction readers and authors.
Seven stories all on BTS
In her spare time as a pastime, Ms Kwok had always been engaged in writing original works. So the decision to publish BTS fantasy novels was a no-brainer. It also enabled her to cultivate her artistic talents while becoming more involved as a BTS supporter.
As of Dec 31, 2020, she has written seven stories all about BTS. Typically penned in the romance genre, BTS members are put in different hypothetical scenarios with a set of new characters developed by Ms Kwok herself.
"I think I put a lot of my personal touch into these stories," she noted. "So when you read them, it really pulls at your heartstrings."
Her most notable story to date is entitled Rivals. Rivals is a 50-chapter piece in which a high-performing female student, competes with another student at the school played by BTS' Jungkook.
Ms Kwok was able to generate US$1,000 (S$1,320) from multiple sources just for this particular story. On average, she received around US$250 to US$500 (S$330 to S$660) each for her other narratives.
Starting her own cosmetics business with the money
She also achieved one of her childhood dreams to launch her independent makeup company with the revenue generated.
Earlier this year, she created Loveholic Beauty. Using a capital of just US$1,000 (S$1,320), she contracted vendors that sent her formulations for a few lip gloss and eye shadow items, which she tried and checked before selecting the ones she wanted to produce for her shop. She also crafted the packaging design and did all the publicity content herself.
While Loveholic Beauty has not yet made money, Ms Kwok said she intends to keep expanding the venture and her client base.