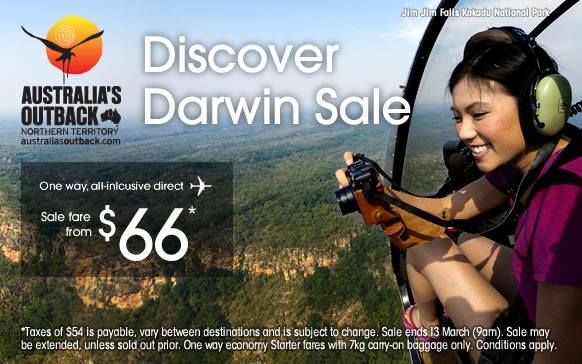 Nothing is quite like Australia's outback. Discover them in the Northern Territory with Jetstar's limited time Discover Darwin Sale until 12 Mar 2015.
Flight to Darwin is just 4.5 hours away, making it the closest Australian's city to Singapore.
An array of activities are packed  for you and you shouldn't miss out some of the must do's in Darwin & Surrounds, Kakadu and Katherine & Surrounds.
Things to do
Kickstart your day with a Litchfield National Park Day Tour if you would like to get close up with the nature, followed by a visit to Crocosaurus Cove in the afternoon which let you get face-to-face with a saltwater crocodile. End your day with a sunset cruise at Darwin's Harbour and this is a good time for a buffet dinner in a perfect setting.
Oh, and you shouldn't leave Darwin without visiting the Tiwi Islands where you can immerse yourself in Aboriginal's culture, buy unique Tiwi's arts and crafts like the batik and silk-screened clothings.
If you have more days to spare, take a self-drive tour to Kakadu National Park and marvel at the Jim Jim Falls and Twin Falls. Not your type? Head over to Katherine & Surrounds where you can take scenic flights and cruises!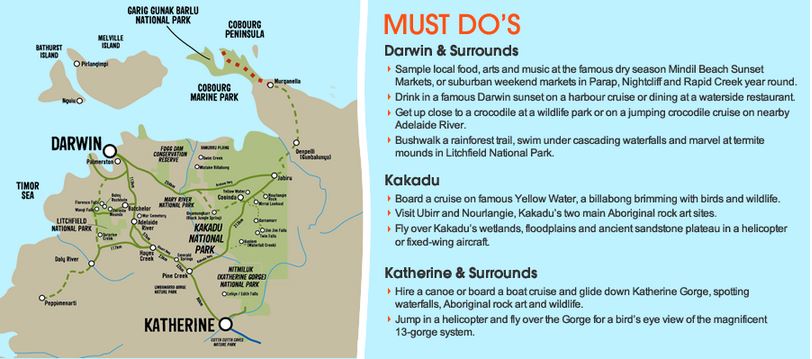 Here's a few itineraries from http://www.australiasoutback.com.sg/
Darwin and Surrounds
Kakadu
Katherine and Surrounds
Flights
Currently with the promotion, Jetstar offers the most value to money flight to Darwin from $120 one-way.

If you prefer to travel on Economy fare, the cheapest fare would be Malaysian Airlines with $496 for a return trip to Darwin. Book from Zuji.

.. or Etihad Airways for a return ticket at $660.91.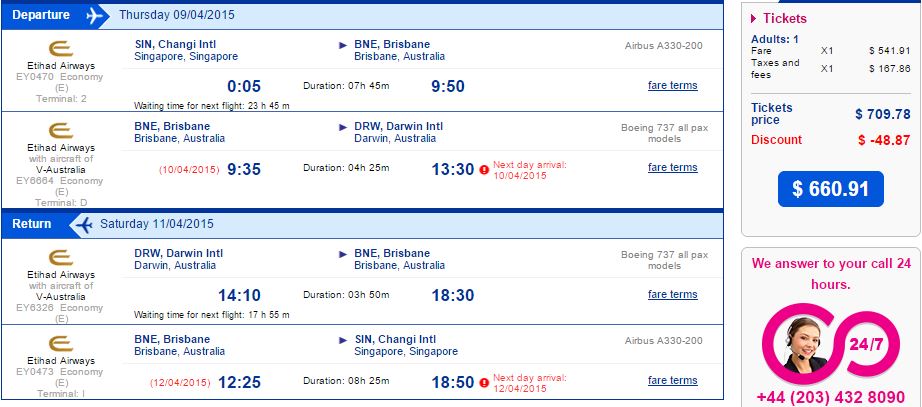 Hotels 
Depending on your budget, there are many type of accommodation you can choose from. If you are on a shoe-string budget, you can consider low-cost options like the Melaleuca on Mitchell located just in the heart of Darwin's city centre with rooms as cheap as $30.87 per night
If you are travelling with a family, you can consider Travelodge Mirambeena Resort Darwin with a double room from $114 per night where it has a stunning pool for your kids.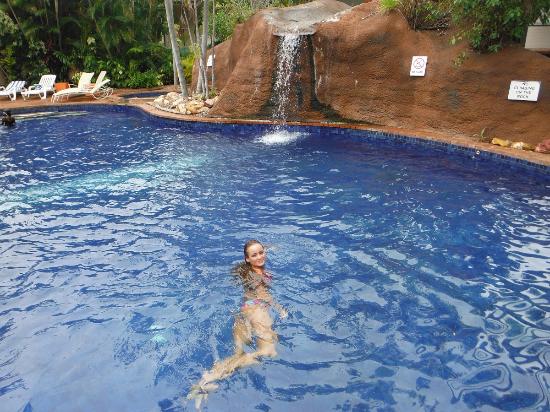 For those who want a perfect view, look no further to Vibe Hotel Darwin Waterfront where it offers stylish waterfront views with a lovely wave pool. It is also centrally located in Darwin CBD for easy access to amenities and getting around is a breeze. Room starts from $235.41 with a 2 night stays in Vibe Guest Room.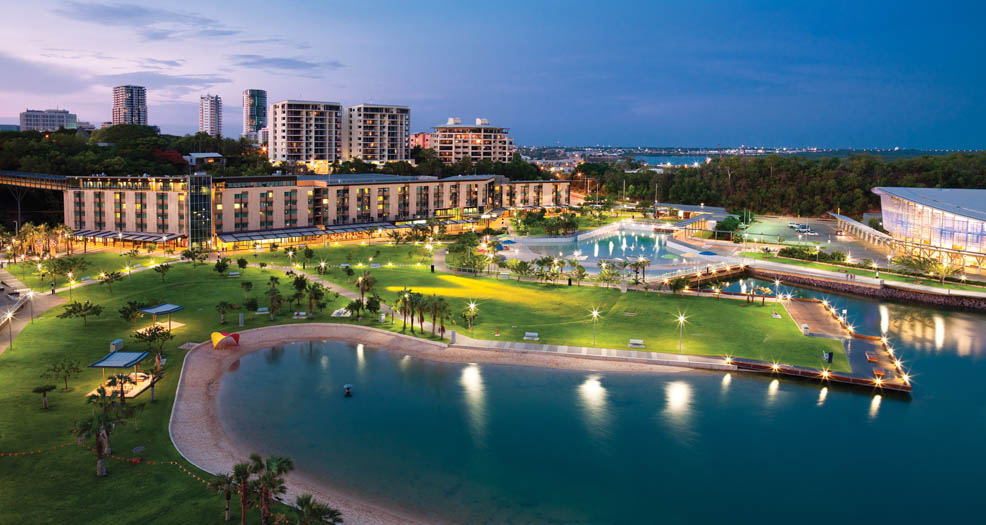 There are plenty of other hotels with different features that may well suit your preferences, just use the filters on our hotels search engine to tailor the best hotels to your needs. Sort from the highest guest ratings, stars, price and distance from a location so you don't have to manually enter the address on a Google map. You are also guaranteed the best price or you will be refunded the difference within 30 days.
With the different attractions awaiting you, it's about time you make your travel plans to Darwin now!