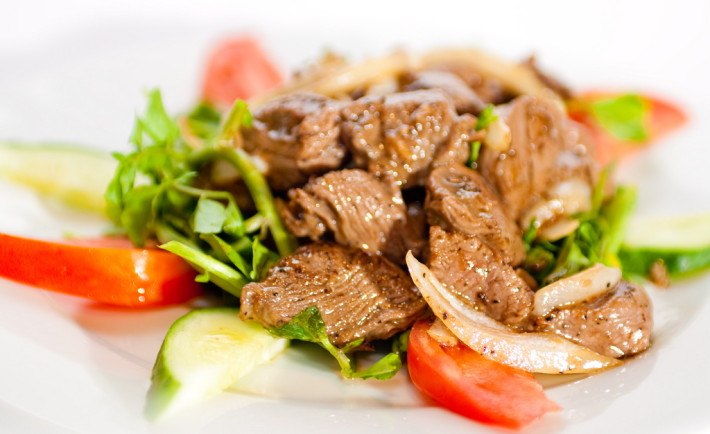 Image Credits: Nick Nguyen via Flickr
Being a food hub of diverse Asian cuisines, Singaporeans enjoy Vietnamese food. Each Vietnamese dish embraces the distinctive flavors of one or more key ingredients such as fish sauce, shrimp paste, soy sauce, and fresh herbs.
Not only is Vietnamese food appetizing, but it also healthy. Serving meals that are mostly low in fat, gluten-free, MSG-free, and rich in vitamins and minerals. So, it will not hurt your health to indulge in these Delicious and Affordable Vietnamese Food Places…
4. THE ORANGE LANTERN RESTAURANT
The Orange Lantern, located in Harbourfront Centre and Killiney Road, offers a wide array of popular and authentic Vietnamese dishes such as Vietnamese Rice Paper Roll and BBQ Beef Wrapped in Betel Nut Leaves. As the name suggests, the place graces in orange and white colors filled with orange lanterns. It is a calming and appetizing atmosphere. Aside from the place, what draws consumers in are the Halal Certified ingredients, award-winning Imperial Rolls, and the yummy Avocado Shake (Sinh Tố Bơ). The price range of the dishes is S$11-20.
Online Rating: 64% Upvotes at HungryGoWhere
Locations:
#01-98, Harbourfront Centre, 1 Maritime Square, Singapore 099253
73 Killiney Road, Singapore 239528
3. WRAP & ROLL
The first to serve freshly made steamed rice paper rolls; Wrap & Roll offers casual yet genuine Vietnamese dining experience. You shall expect tasty dishes at the affordable price range of S$7-20.
What's more? Wrap & Roll is treating your moms on Mother's Day – for free! Mothers will enjoy a complimentary main course along with two items purchased from Roll-It-Yourself or Rice & Noodles section. Call 6694 4111 for reservations and enquiries.
Online Rating: 75% Upvotes at HungryGoWhere
Locations: 4 outlets islandwide, visit here: wrap-roll.com.sg/location
2. NAMNAM NOODLE BAR
Established in 2011 under Les Amis Group, NamNam Noodle bar boasts its classic Vietnamese street food dishes such as Pho and Banh Mi. The owner named Nam Quoc Nguyen preserved the spirit of the traditional Vietnamese cuisine while infusing his own modern spin. Even the ambience of the NamNam Noodle Bar resembles the roadside of Vietnam with its wooden furniture, hard flooring, and vivid lanterns.
The recommended dishes include the "Fresh Southern Rolls" consisting of prawn, fresh herbs, and peanut sauce (S$5.20) and the "Banh Mi B4" consisting of toasted baguettes stuffed with 5-spice pulled beef and chicken floss (S$6.90). The inexpensive prices of the food range from S$3.90-17.90.
Online Rating: 80% Upvotes at HungryGoWhere
Locations: 6 outlets islandwide, visit here: namnamnoodlebar.com.sg
1. LITTLE VIETNAM RESTAURANT & CAFE
Little Vietnam Restaurant & Cafe, one of the raved about Vietnamese restaurants in Singapore, is a place where you can find budget-friendly yet authentic Vietnamese food. Your wallet and your belly will thank you after the meal, as the average tasty plate price per person is only S$12. They have an extensive menu of the classic Pho, noodles, and rice dishes. It costs about S$7 for a bowl of Beef Pho. They also serve the awesome coconut jelly that is perfect for the summer season!
Online Rating: 80% Upvotes at HungryGoWhere
Location: 511 Guillemard Road, #01-25/29 Grandlink Square, Singapore 399849
Source: Wikipedia
Enjoy your meal! 🙂