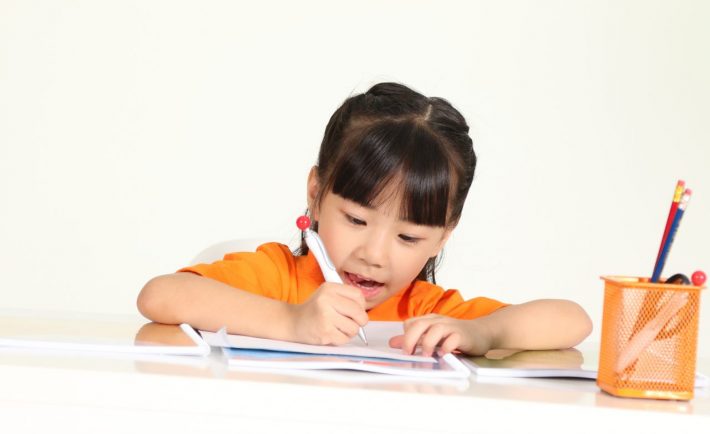 Image Credits: MindChamps
Do you want your kids to become champion expressionists in the future? Start them off from a young age. Writing will stick with your children for almost the rest of their life, be it in school, at work, or in other areas of their daily lives.
Here are some creative writing platforms you can consider enrolling your child in.

Locations: Islandwide from the East to the West
MindChamps should be a relatively familiar big brand name among parents and guardians of primary school kids. Their creative writing programme designed by well-known author Brian Caswell targets little ones aged 6 to 12.
The structure and techniques used at MindChamps complement the primary school English curriculum so your child can relate to what he/she learns in the enrichment classroom. A level will run for 10 weeks with 2-hour lessons happening each time.
During the classes, your kids will be able to use the MindChamps Writing Toolbox to:
Hone their grammar knowledge

Gain opportunities to proofread and edit their writing

Have a hand at broad genres of writing

Be exposed to various writing styles
Sounds awesome? Keep reading because we're just getting started.

Locations: Orchard and Tampines
Julia Gabriel founded Julia Gabriel Centre in 1990. It is part of the Julia Gabriel Education group which focuses on programmes supporting innovative communication, speech & drama, and early childhood.
Julia's unique EduDrama® methodology will craft the learning environment needed for your child to top these areas: language, confidence, expressive communication, creativity, and critical thinking skills.
Let's Read & Write (5 – 6 years / Kindergarten 1 & 2)

Parents who want their kids to get a headstart before entering primary one can sign them up for Julia Gabriel Centre's Let's Read & Write programme. Through experiential learning, your child will cultivate an interest in reading, share their opinions on stories, and have a go at writing short stories.
Think N' Ink (7 – 12 Years / Primary 1 – 6)

It's alright even if you miss out on sending your child for preschool enrichment writing classes. It's not too late to start now! The Think N' Ink programme will aid your kids in comprehending different text types.
They will be able to identify the main and supporting ideas and tackle diverse comprehension questions. If you want your children to grasp a range of thematic vocabulary, grammatical rules, and succeed in their PSLE, this could be for you.
But hold up! Wait till you consider the rest on this list.

Locations: Islandwide including Jurong, Punggol, and Woodlands
The Write Connection's writing enrichment programme has been tried and tested in Sydney back in 2002. You can expect world-class writing pedagogy and curriculum aligned with MOE's.
In selected two-hour lessons, your child will experience language exercises to help them analyse and read like a writer. They will have a chance to be updated with current news to sharpen their general knowledge. Simultaneously, mentors will encourage participants to connect with other classmates through effective communication within the classroom and beyond.
Their very structured curriculum cycle consists of:
Formative Lesson → Formative Assessment → Summative Assessment → Consolidation Lesson
Great for parents who are very OCD.

Locations: Islandwide including Yishun, Ang Mo Kio, and Bukit Gombak
AGrader Learning Centre has creative writing classes for children from primary 1 to 6. Your little one will be able to gain exposure in descriptive writing, narrative and even personal recounts. Experienced teachers will guide your child through brainstorming to ideate their main characters and craft a plot with conflicts and solutions.
Through storybook reading, primary school students can pick up new vocabulary and apply metaphors, personification, and similes in their future writing. Most importantly, instructors will set aside time to review common mistakes committed. Whether its poor expression or incorrect language use, students can reflect on these errors and avoid them going forward.
We're almost at the end. Two more to go!

Locations: Islandwide including Sengkang, Tampines, and Bukit Timah
Write Edge claims to employ the approach of skills-based and thematic-based lessons to prepare their students for PSLE. Through the assorted story topics given every week, your child will be able to deposit new words into their vocabulary bank.
Parents who are worried that these extra writing assignments might stress your precious little ones, fret not. At Write Edge, full composition writings are completed in class at a frequency of 1 to 2 weeks. There will be ample time for them to craft their own stories alongside proper guidance.
Write Edge instructors will also introduce model essays with intriguing plots and relevant vocabularies. Class sizes are kept small and conducive enough for individuals to gain sufficient teacher-student interaction.
The next listing will sum up our list of creative writing platforms.

Locations: Clementi, Bukit TImah, Ang Mo Kio, and Marine Parade
Like the writing programmes we've looked at thus far, Writers @ Work offers various writing line-ups for K2 to primary 6 students. The junior writing programme will set the foundation right and transmit the joy of writing before the young ones start their primary school journey.
As they progress through the years, students will learn how to meet the word count with precision and explosive vocabulary. From primary four onwards, Writers @ Work's dedicated tutors will aid your child in mastering the art of storytelling. By the time they are at primary six, your child should be able to adapt whatever they've practised to ace their PSLE!
Learning how to write does not stop at primary school. If you think your child has benefited over the writing classes, enrol them for Writers @ Work's secondary school enrichment programmes.
It's never too late
We hope you've found this list useful! Amid COVID-19, parents looking for online resources can consider the premium creative writing courses (monthly subscription) by the Writing Samurai. There are several other online crash courses with one-time payments so check it out here for more details.
As Richard David Bach, an American writer, rightly puts it, "A professional writer is an amateur who didn't quit." It's never too late to start honing your child's writing skills! Take action now and make an investment in your child's education you won't regret.