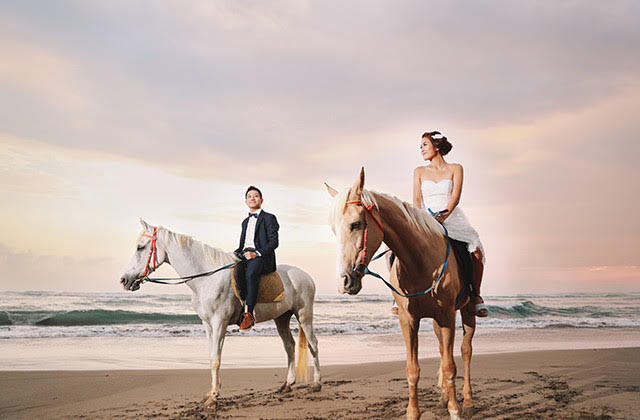 (Image credit: Maxtu Photography on OneThreeOneFour.com)
I caught up with Valerie, who came back from her 3-day prewedding adventure in Bali. She booked a 4-hour prewedding photoshoot package via OneThreeOneFour.com. I invited her to share with us the tips and tricks and the details of her photoshoot. I'm sure soon-to-marry couples planning for an overseas wedding photoshoot would find her story below very useful.
— As told to Scott:
We chose to do the photoshoot on our 2nd day in Bali. We started with the makeup at about 12 noon and Maxtu Photography came to pick us up later.
Bonus Location: Sanur Beach
Although our US$700 photoshoot package only includes 2 locations within 4 hours, Maxtu's team brought us to a beautiful tree near their villa for some shots too! What a pleasant surprise! It's so apparent that they love what they do. Instead of cutting corners, they really went out of the way to think of what would be the best for us.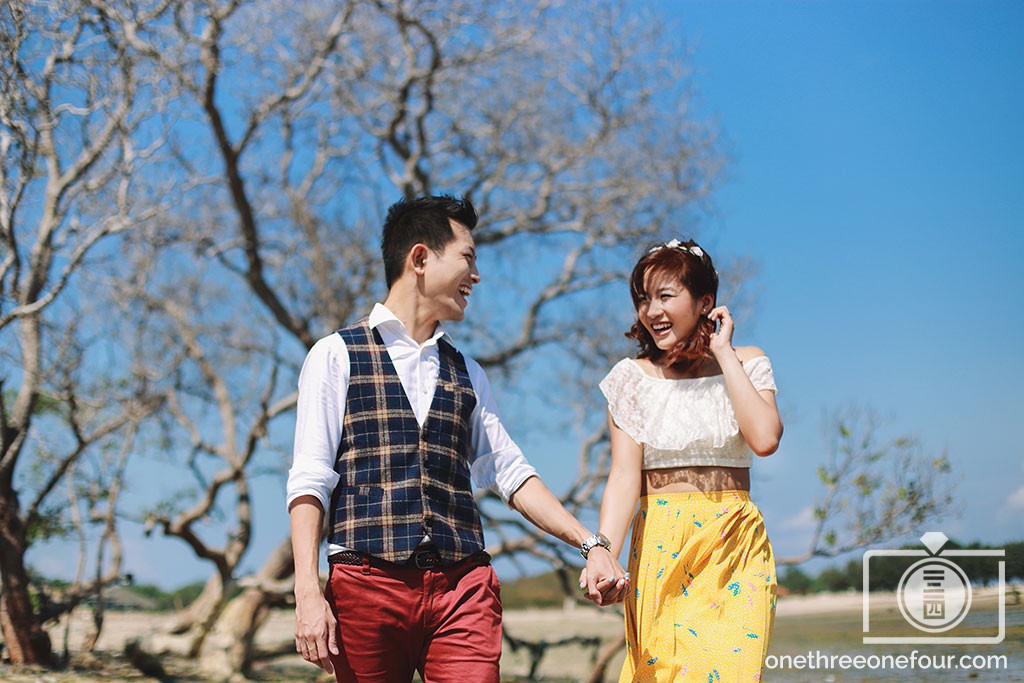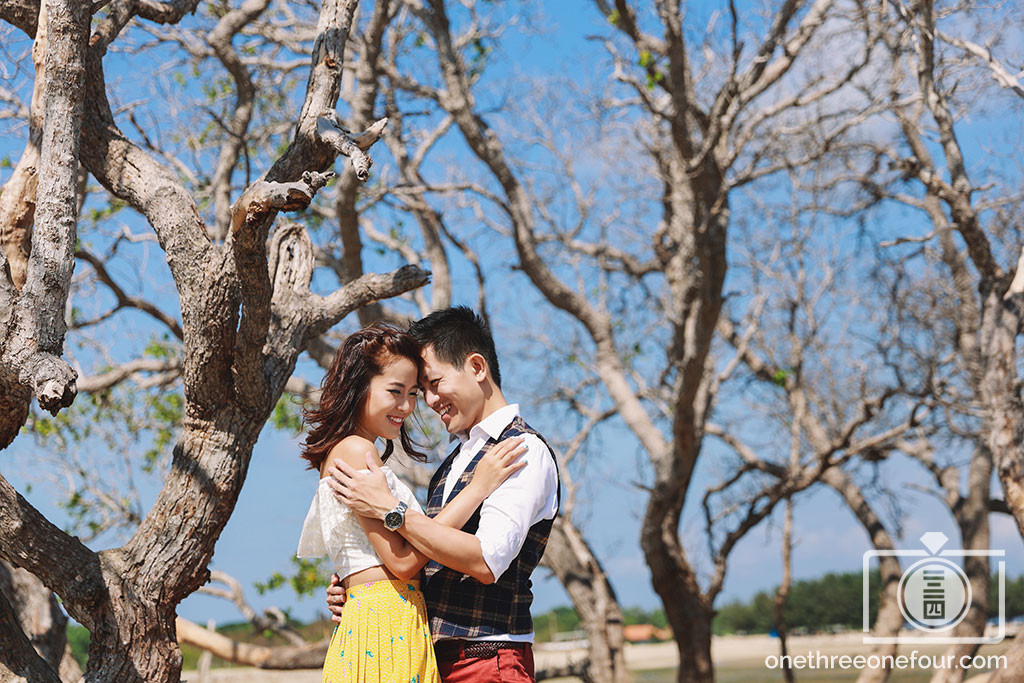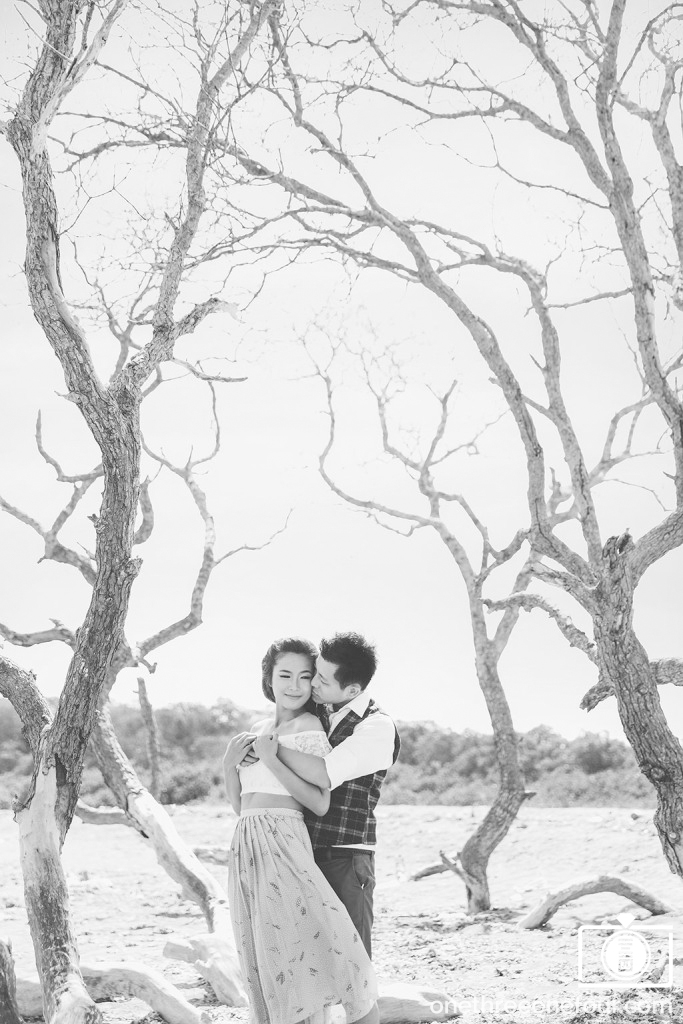 Location 1: Mangrove Forest
For this location, I wanted to do a vintage casual shoot with a little picnic styling. I started planning this in the weeks leading up to the shoot. My Pinterest board quickly got filled up with picnic ideas and casual vintage styles.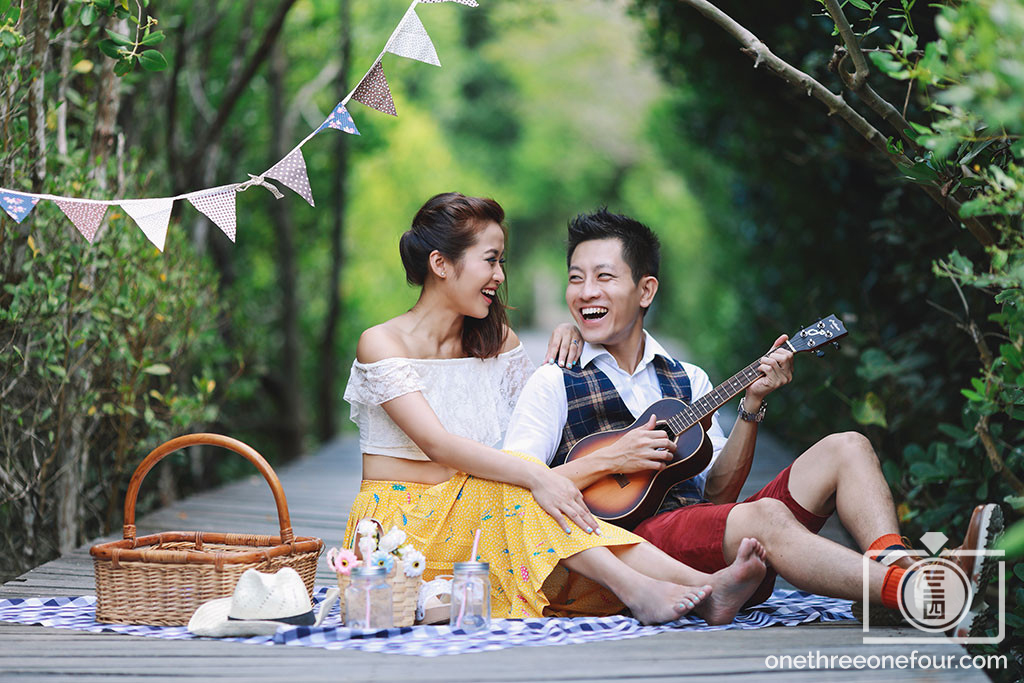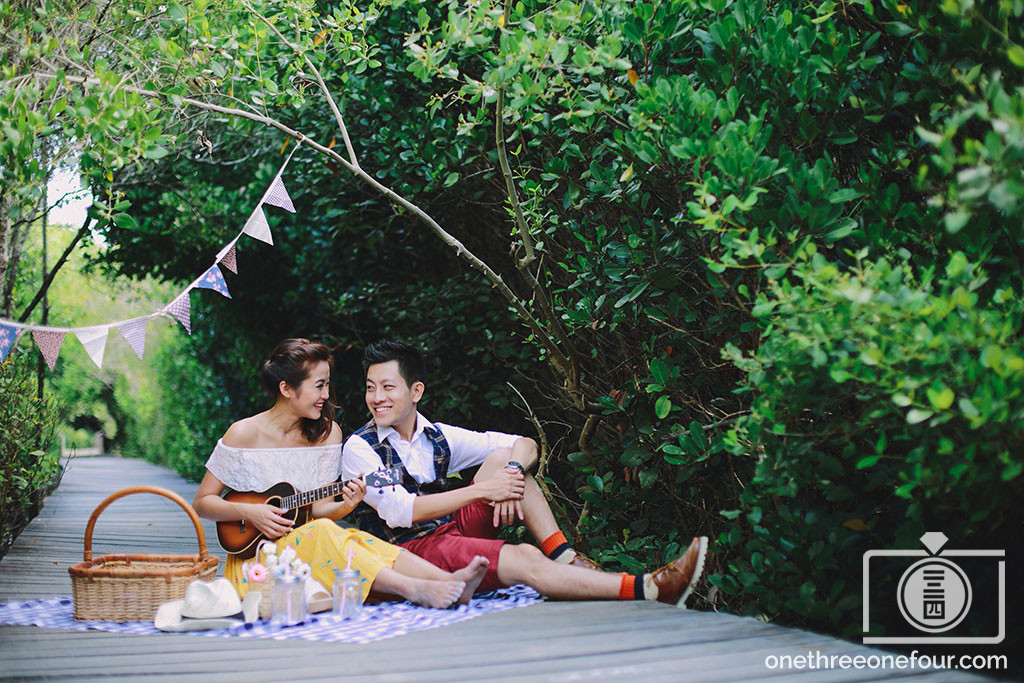 Casual + Vintage Outfits
I mixed a white lace top from H&M with a vintage midi skirt that I got from Haji Lane (S$45). And in my mad rush to the airport I had forgotten to bring my shoes from home so I had to buy a shoe on my 1st day in Bali (S$10.50). The flower headband that I got from Factorie costs only S$1; – S$2 after discount plus a 1 for 1 for sales item. I got 6 headbands in total, for my bridesmaid for my wedding day!
For John, he wore a vintage vest (S$20) over a white shirt. He paired it with his red bermudas and a cute checkered socks from Uniqlo.
Total Estimated: US$58.00
Styling
On top of that, I also added a little more flavour to the styling with some props! I got my Mason Jars from qoo10 (S$10 each), picnic mat from Spotlight (S$20), straw hat from Bali (S$5). The flowers, mini basket and buntings are all from Daiso for S$2 bucks each.
Total Estimated: US$35.00
Location 2: Canggu Beach
We met a traffic jam on our way to Canggu and I was worried that we would not be able to catch the sunset. The sky looked really dark like it was going to rain! I was praying like mad in the car trying to abate my anxiety. We managed to catch the sunset and thank GOD there was still some light when we arrived and we even had a pink sunset!
I had tried to find rental of horses on my own that are affordable and good but not to much success. I eventually approached Maxtu Photography to see if they had any suggestions and they did! The price was so much more affordable than anything I could find – the great thing about having local photographers! Gotta tip our hats to Maxtu for helping us to book the two horses at Canggu beach. We paid US$30 separately for one hour rental of the horses.
Formal Outfit
I got my own gown-looking dress from ASOS, for only S$80 after a 50% discount! I used the same pair of shoe from the casual vintage look! Hehe. As for the head accessories, I wished I had more time to plan for this because I bought it for S$20 from Lovisa.
As for John, we wore an existing suit which he tailored for when he was a groomsmen at a friend's wedding. He bought his bow tie S$10 in Malacca, together with the vintage vest. It was not too bad at all! We did go to Benjamin Barker and bow ties costs like around S$30.
Total Estimated: US$77.00
I'm sooo happy with how these have turned out!
Even though I missed out to glam up myself, I didn't give myself enough time to prepare for my OWN styling, instead cared more about the picnic and John, many people still complimented the look, saying that it looks more natural this way. I'm sooo happy with how these have turned out!
After the photoshoot, we got back to our villa at around 8pm. I felt really bad that Maxtu had to send us back to our Villa and drive up 2 hours to head back to Ubud area. Even though our photoshoot was only 4 hours, the travelling certainly took up more time and they were not calculative about it. So thankful to have met such kind and gracious photographers! We had interesting conversations in the car as well, it was like making new Balinese friends.
After Thoughts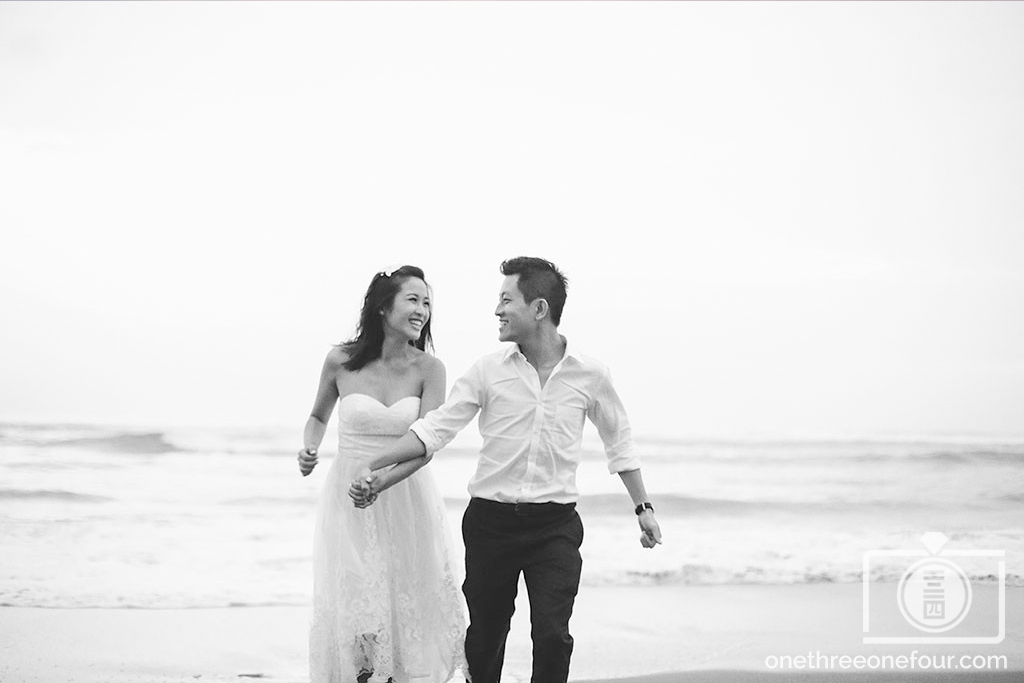 All in all, I'm so stoked to have heard about OneThreeOneFour.com before going to Bali and when they asked for my feedback, I was naturally willing to give an enthusiastic thumbs-up! I praised them for breaking into this unique niche in the market and I think that this is going to revolutionize wedding photoshoot market.
Couples in Singapore who wants to go for overseas wedding photoshoots but are always intimidated by the idea of it being expensive, can simply browse through the price lists and portfolios, all available at one place! There's no need to go to each photographer to ask for the rates and portfolios. This was a mega point for me because I could do all the comparison to my heart's content and I LOVE IT! I'm honestly not sponsored or asked to write this by them, but this service has really benefited us so much!
Bali Wedding Photographer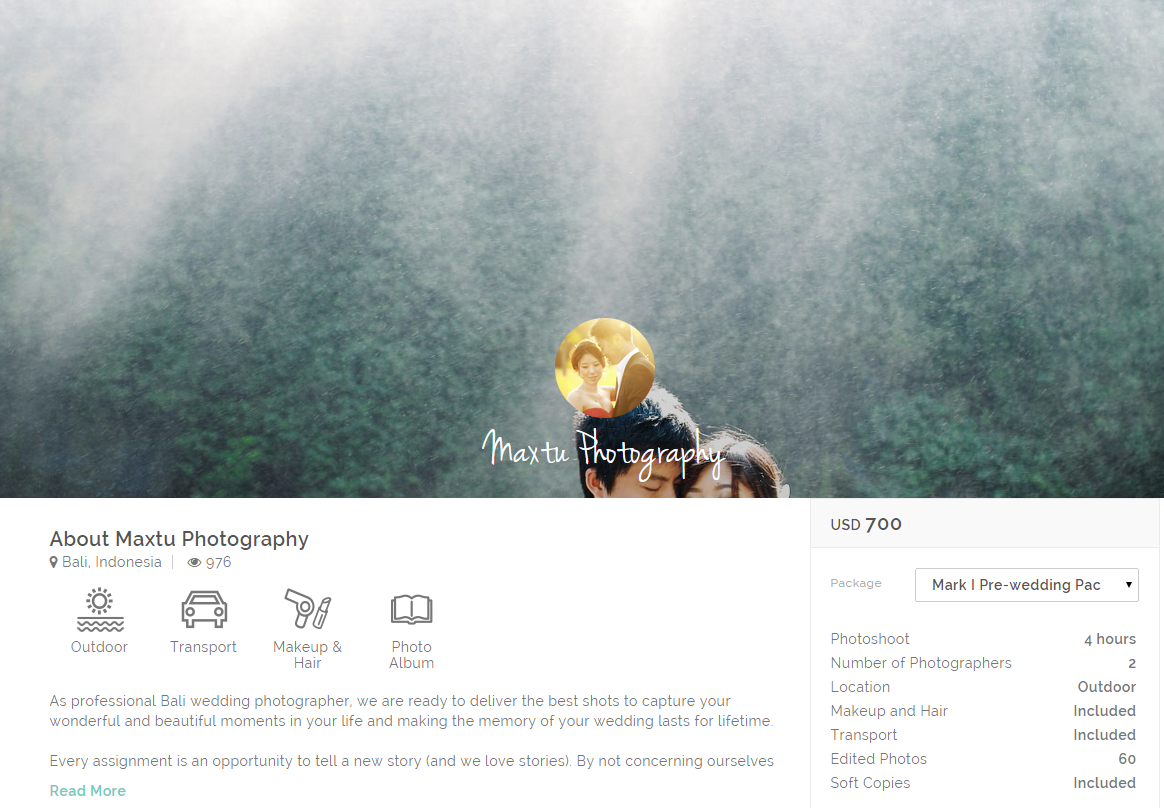 And as for Maxtu Photography, they really over-delivered for our photoshoot in sooo many ways, looking out for us and made us look gorgeous. :') These photos will stay with us until we are old and with grandchildren and we would be able to relive the good times we spent in Bali together for this experience.
Within 1.5 weeks, the edited photos came in and now we just have to find a good deal to print out the photos for display on our big wedding day / for our future home!!
Our Accommodation in Bali
We booked our awesome villa via Airbnb. It's called Little Tree House and it costs only S$66 per night! A quiet hideaway in Sanur and 5 mins away from the beach! We also enjoyed the outdoor adjoining toilet in our room and the pool very much!
—
If you want to know more about the rest of Valerie's Bali trip, head on over to her blog at valziekay.wordpress.com
About the Author: Scott is a writer from OneThreeOneFour.com, a wedding photography marketplace that connects couples with photographers based in different cities around the world. Follow me on Facebook and Instagram for more updates.
(This is a guest post by OneThreeOneFour.)