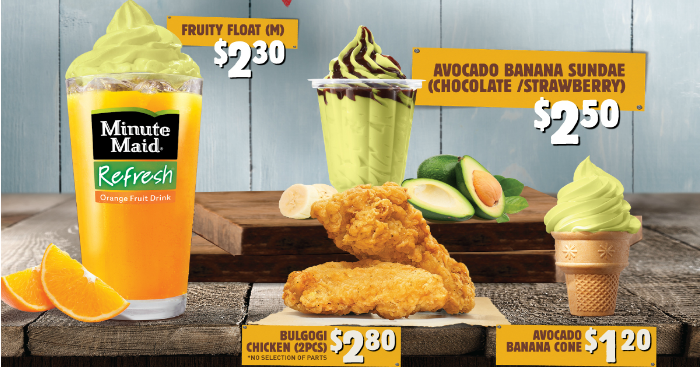 Lit your 'Gram with the Avocado Banana Sundae and Bulgogi Chicken
The avocado, deliciously green and pulpy with lots of creamy goodness, has taken over our lives and our social media feeds. BURGER KING® is set to up the ante on all things avocado. Starting 17 September 2019, the green delight will
take over your appetite with a divine range of Starbuys at BURGER KING®.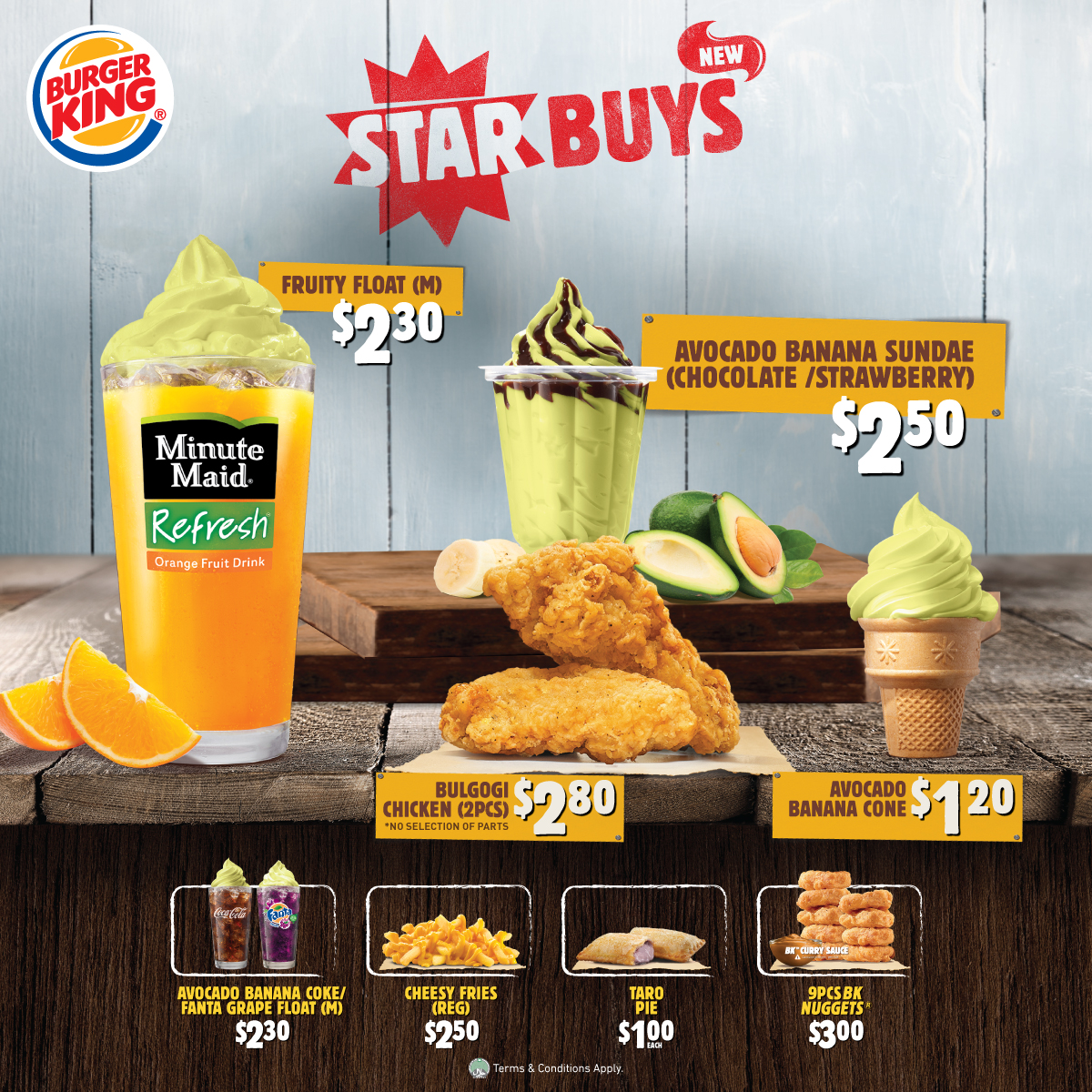 Before diving straight to the desserts, head for the top of the Starbuys list which is the crispy Korean-style fried-to-perfection Bulgogi Chicken. Chicken lovers who like their chicken the Korean way will relish every bite they take.
Next on the list of Starbuys is the Avocado Banana Sundae, drizzled with either chocolate or strawberry fudge. This luscious cool soft serve treat comes with the rich, buttery, and creamy flavours of avocados, coupled with the satisfying sweetness of bananas. Truly the perfect treat to cool down with in Singapore's tropical weather.
For those who prefer their cool soft serve to come in a cone, go for the Avocado Banana Cone. It's all about back-to-basic soft serve wholesomeness served in a crunchy cone.
More chicken delights on Starbuys is the succulent nine-piece BK Nuggets – a real treat to all chicken lovers out there, especially when dipped in BBQ or the curry sauces.
Complementing the BK Nuggets treat is the all-time favourite – the Cheesy Fries, famous for its golden-brown classic French fries which are drizzled with Nacho cheese.
Back to another round of a scrumptious treat is the beloved Taro Pie with its lush taro chunks enveloped within a crispy pie skin. The perfect roundup to any meal at BURGER KING®.
Still going bananas over avocados, the next warm weather thirst quencher is a sure winner – the Fruity Float which is made up of a generous scoop of Avocado Banana soft serve floating in a cool Minute Maid® RefreshTM Orange Fruit Drink. For a fizzy kick in a float, ask for the Avocado Banana Coca-Cola® Float or the Avocado Banana Fanta® Grape Float.
The Starbuys are available at all BURGER KING® restaurants island-wide from 17 September 2019.
(New) Bulgogi Chicken – SGD$2.80 (two pieces- no selection of parts)
(New) Avocado Banana Sundae with chocolate or strawberry fudge – SGD$2.50
(New) Avocado Banana Cone – SGD$1.20
(New) Fruity Float – SGD$2.30
(New) Avocado Banana Coca-Cola® Float / Avocado Banana Fanta® Grape Float – SGD$2.30
BK Nuggets – SGD$3.00 (nine pieces)
Cheesy Fries – SGD$2.50 (regular)
Taro Pie – SGD$1.00
For more information on BURGER KING® and its current promotions, please visit www.burgerking.com.sg.