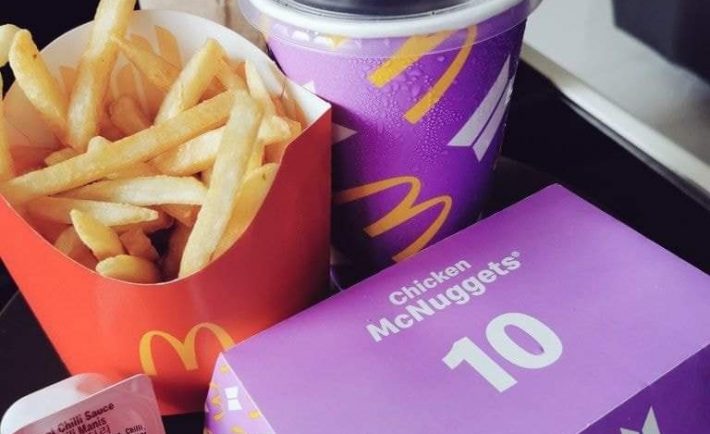 Image Credits: facebook.com/GiaAllana
In 2013, a South Korean boy group called BTS or 방탄소년단 debuted under Big Hit Entertainment (HYBE Corporation). The group smoothly made its way to the hearts of many and had since become a global icon.
With smash hits like Dynamite and Butter, BTS made its way to the No. 1 spot on the Billboard Global 200. In fact, its newly released song Butter blasted with a record-breaking 289.2 million streams and 249,000 sold worldwide in the May 21-27 tracking week.
Another surprise came earlier this year as McDonald's promoted the "BTS Meal". BTS Meal went on sale in South Korea, United States, and 10 other countries last May 2021. This meal consists of a 10-piece Chicken McNuggets, Medium Fries, Coke, and two new dipping sauces. These new flavors are Sweet Chili and Cajun. The packaging for the BTS Meal comes in purple and was printed with the group's logo.
BTS MEAL CRAZE
As BTS' popularity skyrocketed, there have been concerns that the launch of the meal could draw crowds in some Asian countries where COVID-19 cases have risen and where vaccination levels remain relatively low.
McDonald's was instructed to temporarily shut some outlets in Indonesia last week when the introduction of the BTS Meal sparked frenzy. Several delivery riders were seen massing inside and outside of the food chain during the meal's launching. Their local police said that the temporary closure of several outlets was "because they were found to have violated health protocols", including limiting capacity to 50%.
Thus, Indonesian fans created a crowdfunding page to raise money for drivers and their families. They have acknowledged that the delivery drivers faced long lines and possible exposure to the COVID-19 to bring them their meals.
LAUNCH IN SINGAPORE
Due to the tightening of social distancing rules and the ban on dine-in options, the meal's rollout in Singapore was delayed last month. The launch was re-scheduled to June 21 instead. Please adhere to the safety procedures when scoring your coveted meal.
Fans must know that the BTS Meal does not come with photo cards or other related merchandise. Instead, you can order the collaboration's official BTS x McDonald's merch at HYBE Merch.