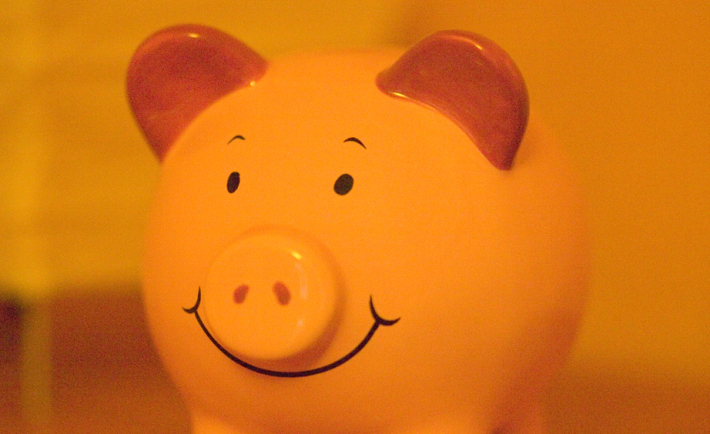 Hey folks, it's time to wake your money up!
If you have come to this page looking for the best bank accounts in Singapore that offers the highest interest rate, look no further.
In a low interest rate environment, everyone should aim to put their savings where their money works the hardest. No doubt it cannot beat inflation, but beside being risk-free, it beats putting your money in a biscuit tin or an account that offers a paltry 0.01%.
There are 8 saving and current accounts that make it to the list. Let's see how they match up.
1. OCBC 360 Account
One of the most popular choice among Singaporean would be the OCBC 360 Account as it offers up to 3.05% interest on your saving account.
There is a base interest of 0.05% and an additional of 3% if you fulfil 3 requirements every month: crediting your salary to the account, pay any 3 bills and spend at least $400 on OCBC credit cards.

2. Citibank InterestPlus Account
For individuals who are planning to insure and invest can look at Citibank's InterestPlus Savings account. You can get up to 2.5% bonus interest if you meet the following criteria:
1. Insure yourself with a monthly premium of $250 for 12months or a single premium of $25,000
2. Spend $25 on Citibank Credit Card

3. Invest $250 monthly for 12 months in a Regular Saving Plan or set away $25,000 in Unit Trusts.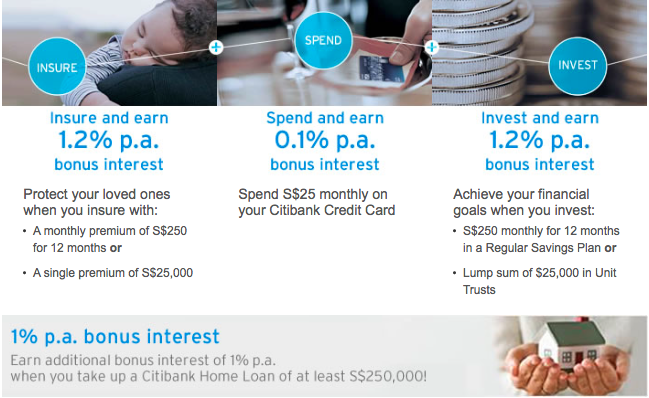 3. DBS Multiplier Account
Our local bank DBS has introduced a multiplier account that rewards up to 2.08% interest. This is a multi tier programme where you get higher interest after meeting the minimum required amount for regular banking. Regular banking refers to crediting your salary, shopping with their debit and credit cards, monthly installments of home loans and crediting your investment dividends from your CDP account.
For the different tiers, refer to the screengrab.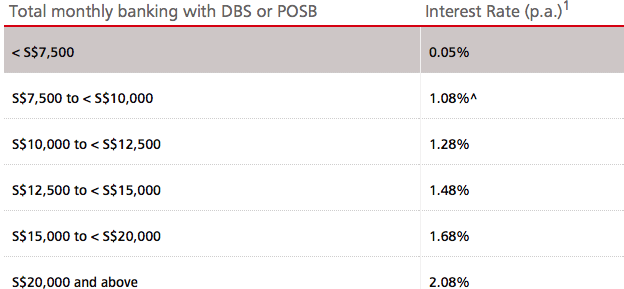 4. Standard Chartered Bonus$aver Account
With Bonus$aver account, you can get interest of 1.88% p.a when you charge $500 a month to your Bonus$aver Credit/Debit card. For those who spend at least $500 a month can consider charging them to these cards to enjoy the interest rate. Take note that the interest is only on savings up to $25,000. Any amount more than $25,000 will get 0.1% interest – the same rate applies if you cannot meet the $500 a month spending.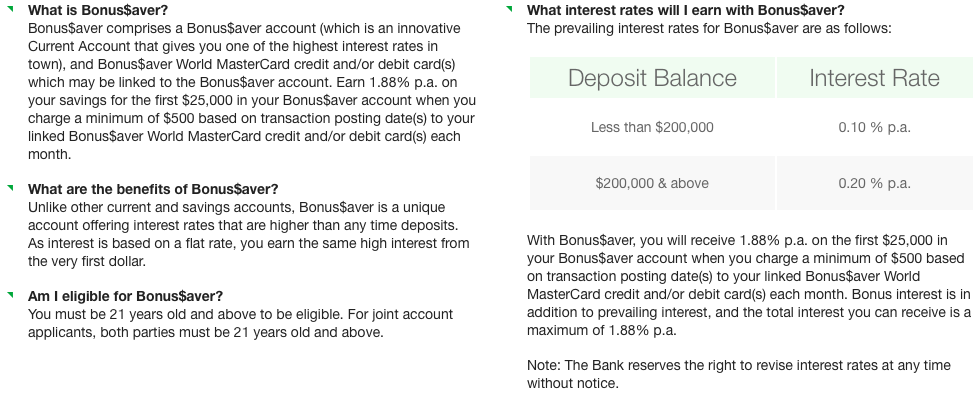 5. Standard Chartered e$aver Account
Currently with a limited time promotion until 31 January 2015, you are eligible for an interest rate of up to 1.35%, subject to terms and condition.

Bonus interest is awarded on the incremental average daily balance from October's average daily balance.
6. Maybank iSAVvy Savings Account
Maybank has a similar promotion as SCB and you can get up to 1.3% interest.

For Maybank, there is a min deposit of $5,000 for incremental average daily balance to be eligible for the bonus interest rate.
7. CIMB StarSaver Accounts
CIMB offers an attractive 0.8% interest rate on their saving accounts. Min deposit is $1,000 and to be eligible for 0.8%, you just need to deposit at least $100/month. If not you will be entitled to 0.5% interest rate – not too bad.

8. ANZ Progress Saver Account
ANZ Progress Saver Account is the next on list. Customers can enjoy up to 0.70% interest rate.
Minimum initial deposit is $5,000 and to be eligible for the bonus interest, just deposit at least $500 a month.

To summarise everything in a table:

| Bank Account | Interest Rate | Pre-requisites |
| --- | --- | --- |
| OCBC 360 | up to 3.05% | Credit Salary, Pay 3 Bills, Card Spend $400/m |
| Citibank InterestPlus | up to 2.5% | Insure $250/m, Card Spend $25/m, Invest $250/m |
| DBS Multiplier | up to 2.05% | Tier based on regular banking amount |
| SCB Bonus$aver | up to 1.88% | Card Spend $500/m |
| SCB e$aver | up to 1.35% | Deposit fresh funds |
| Maybank iSavvy | up to 1.30% | Deposit fresh funds of min $5,000 |
| CIMB StarSaver | up to 0.8%% | Deposit at least $100/m |
| ANZ ProgressSaver | up to 0.70% | Deposit at least $500/m |
(
The rate above are correct as at 18 November 2014 and may subject to change without notifications.
)
Verdict: OCBC 360 has the highest interest rate and the 3 pre-requisites are easily achievable if you are currently employed but requires spending that you would anyway.
For individuals who are unable to meet those spending, SCB e$aver account stood out from the rest with it's current promotion. It will, however, end on January 2015.
Then you can look at CIMB StarSaver account which matches up with an attractive 0.8% p.a interest.
* Update 16 Oct 2015: Credit your salary to any Maybank Savings or Current Account and receive up to S$120 Cash Reward. For more info, visit Maybank's website here.