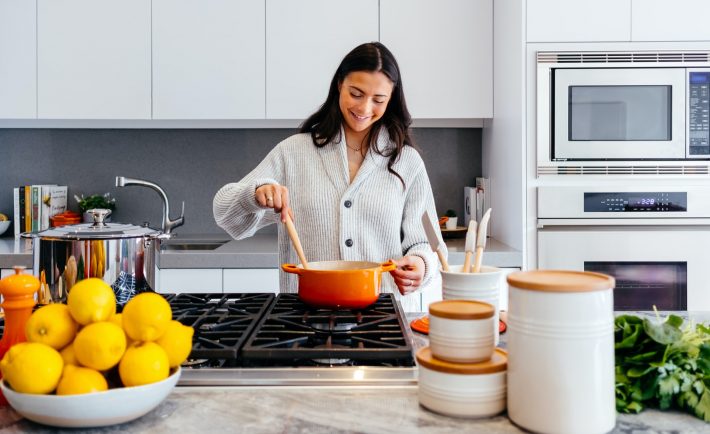 Image Credits: unsplash.com
Nothing screams "labor of love" louder than preparing a homecooked meal for your family. Apart from showing your affection, cooking your own meals can help you save a lot of money. With the wealth of information available online, where do you begin?
KEY BENEFITS OF COOKING AT HOME
1. Cooking at home can help you save money. In most cases, cooking your own means are cheaper than eating out. There are several factors contributing to the reduced price of your meal. For starters, cooking at home enables you to opt for affordable ingredients. Moreover, you will have the power to create your own meal plans and shopping lists. Lastly, you can reheat your leftovers when you do not have time to cook.
2. Cooking at home allows you to connect with those around you. You do not have to be a distinguished chef to prepare delicious meals with your loved ones. Spend quality time together by allowing your kids decorate the desserts you have baked or by preparing a romantic dinner with your partner.
"Cooking is all about people. Food is maybe the only universal thing that really has the power to bring everyone together. No matter what culture, everywhere around the world, people eat together." ~ Guy Fieri
3. Cooking at home encourages control in food portions, especially for people with dietary restrictions. Restaurants do not rely on your preferred food portions. They serve you plates based on their standard portions instead. To get the most out of your money, you will likely finish the entire plate. In contrast, preparing your meals allows you to be more intentional with food servings. Filling your plate with what you can finish aids in reducing waste.
4. Cooking at home enables you to choose healthier options. Fast food typically glistens with high chemical additives, sugar, sodium, and so on. Eating fast food regularly can negatively affect your weight and mood. Eat fresh and wholesome meals by making your own food. Eating healthy meals can make you feel energized on the inside and out.
TIPS ON GETTING STARTED
1. Ask a friend to teach you the basics. Do you know someone who is kitchen savvy? Perhaps, he or she can teach you some of the cooking basics (e.g., steam, fry, and sauté). You can even invite your closest friends for a private "cooking tutorial" via Skype or Zoom.
2. Learn from a local cooking class. Many affordable culinary programs are offered at CCs islandwide. The prices of these classes start from S$16.66. Choose wisely as some of these classes are merely demonstrations with food tasting. Check out the class descriptions and book a slot in the OnePA portal.
3. Keep things simple! Start with the easy recipes and work your way from there. Learn how to sauté veggies, boil egg, and steam chicken. Add herbs, spices, or your secret sauce. Look for quick and tasty dishes online.
4. Give yourself a room for improvement. It is alright to burn the rice or overcook the noodles in your first cooking sessions. After several attempts, things will get easier and tastier. Continue practicing at home.
As time passes, cooking will no longer become a chore. Do not give up!