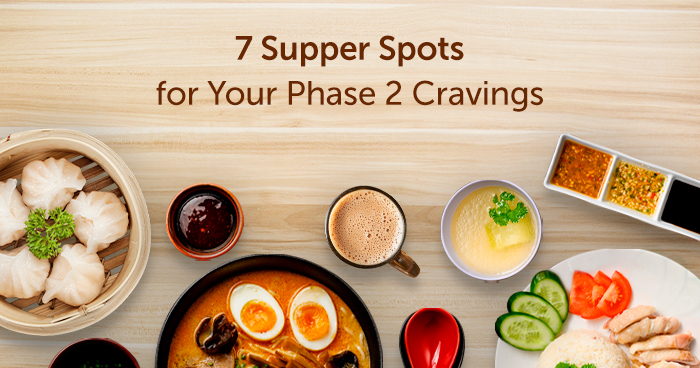 Most of us are well-adjusted to the various safety measures as we enter the fourth month of Phase 2 Circuit Breaker. However, there's still a long way to go before everything can go back to normal. Supper lovers will be familiar with the changes in operating hours of their favourite late-night joints, and perhaps find it a little difficult to fill their tummies after 10pm. To help facilitate our two national pastimes — makan and lepak, we've compiled a list of supper spots worthy of the journey from east to west (or the other way around).
1. The Ramen Stall
The Ramen Stall is a halal-certified restaurant that offers a wide range of Japanese cuisine from fresh sashimi to Okonomiyaki, and of course, Ramen. The location of the restaurant is pretty centralised, which means it's convenient no matter where your supper kakis are at. Fresh sashimi at 2am? Jom!
Address: 787 North Bridge Road, (S)198755
Operating hours: Sun – Thu: 11am – 11pm, Fri – Sat: 11am – 2am
2. Srisun Express
You really can't talk about supper without mentioning the quintessential late-night joints of Singapore, the prata shops. Srisun is no stranger to the night owls and supper-loving inhabitants of this tiny island after being in business for more than 15 years. You'll find all the classic pratas, gorengs and beverages here, along with a new "Impossible Menu" that offers plant-based meat for those with dietary restrictions.
Address: 56 Serangoon Garden Way, (S)555952
Operating hours: 24 hours daily
3. JB Ah Meng
If there's one supper joint on this list you must visit, this is it. JB Ah Meng has hosted several big names in the culinary world, including the late Anthony Bourdain and British celebrity chef Gordon Ramsay. Some of their signature dishes include White Pepper Crab, Fried Garlic Chilli Clams, and the must-order JB San Lou Mee Hoon. This Malaysian Zi Char establishment is probably the best one in Singapore—any better, you would have to go to Malaysia after Circuit Breaker!
Address: 534 Geylang Road, (S)389490
Operating hours: 5pm – 2:15am daily
4. Legendary Bak Kut Teh
The popularity of bak kut teh is self-explanatory. Hearty, meaty and full of flavour, this peppery concoction will warm the coldest souls and power up a defunct planet. There are several big names in the Singapore bak kut teh scene, and Song Fa is leading the way with lines (mostly tourists) that go way out of the door at their Clarke Quay outlet. But if a quiet evening is something you fancy, then Legendary Bak Kut Teh is the place to be.
Address: 154 Rangoon Road, (S)218431
Operating hours: 9am – 11pm daily
5. Mongkok Dim Sum
Mongkok's unmistakable red interiors and bright signboard are hard to miss as you drive along Geylang Road. Their dim sums are priced at $5+/- per dish, making it one of the more affordable 24-hour joints in the East of Singapore for you and your four supper kakis. Al fresco dining is also available if you choose to sit by the road and experience the vibrant Geylang in its full glory.
Address: 214 Geylang Road, (S)389274
Operating hours: 24 hours daily
6. Al-Azhar
Skipped dinner and looking for some calorific food to fill your tummy? You've come to the right place. Al-Azhar is a familiar name for both Easties and Westies with outlets in Tampines, Geylang and Beauty World. This 24/7 joint serves up one of the best naans in Singapore, which means you're going to be dozing off naan-stop on your way home after supper. The best way to get a good night's sleep for sure.
Visit https://www.al-azhar.com/ for outlet locations and operating hours
7. Five Star Kampung Chicken Rice
How can we forget the iconic chicken rice? Five Star is probably one of the only joints where you can find Hainanese-style chicken rice past 11pm. You won't find any tough chicken meat here—they only use kampung chickens which are less fatty and a lot more tender and succulent. Inhale it with fragrant rice and homemade sauces, and you'll immediately understand the kampung difference.
Visit https://fivestarchickenrice.com/ for outlet locations and operating hours
Having supper this weekend (or in a bit)? Use NETS Tap to Pay at these establishments and stand to win $50 every month! Simply spend $30 with NETS Tap from now to 31 December 2020 and be automatically enrolled into the draw.

Find out more about the promotion: https://www.nets.com.sg/promotions/netstap
This article is brought to you by NETS.