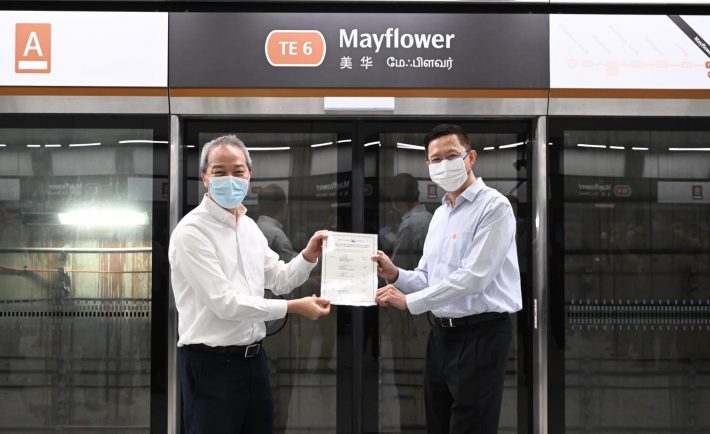 Image Credits: facebook.com/WeKeepYourWorldMoving (LTA)
Represented by the color brown on the rail map, the Thomson–East Coast Line (TEL) is a new Mass Rapid Transit (MRT) line in Singapore. It is currently under construction and is expected to be completed by year 2024. Its completion will provide the residents in the East and along the North-South Corridor a faster access to the city.
The TEL's development spans five different phases. When these phases are accomplished, it will serve approximately one million commuters a day. The first phase of TEL (TEL 1) opened for service last January 31, 2020. TEL 1 includes Woodlands North, Woodlands, and Woodlands South MRT stations. The second phase of the TEL (TEL 2) is scheduled to open in the third quarter of 2021.
EXPERIENCING EARLIER DELAYS
Due to the circumstances brought by the COVID-19 pandemic and further system review, the second phase of the Thomson–East Coast Line had been delayed twice from its original target opening date. A system review was prompted by a five-hour disruption along the line last Dec 4, 2020.
In a glimmer of hope, the Land Transport Authority (LTA) handed over six MRT stations along the second phase of the Thomson-East Coast Line to SMRT last Friday (April 30, 2021). This entails that there will be nine operational stations in the TEL soon.
MORE ON THE SIX STATIONS
The six stations (TEL 2) that were handed over to SMRT included Springleaf, Lentor, Mayflower, Bright Hill, Upper Thomson, and Caldecott. The Caldecott station will become an interchange that connects to the Circle Line.
According to LTA: "The civil and structural works for the six stations have been completed, with some architectural, electrical, and mechanical works ongoing.

LTA has also completed rigorous testing and commissioning of the trains and systems for (the second stage of the Thomson-East Coast Line), including tests to ensure that the new stations operate seamlessly with the three (operating) stations."
Train operator SMRT will continue with more tests to ensure everyone's safety.
UPGRADE IN THE COMMUTER'S TRAVEL TIME
LTA highlights the convenience of faster travels upon the opening of the Thomson-East Coast Line's second phase. By Q3 of 2021, residents from households near (i.e., within a 10-minute walking distance) one of the nine stations can expect travel time savings of up to 50%. For instance, a Sin Ming resident travelling to Republic Polytechnic by public transport will enjoy a 25-minute journey instead of the current 50-minute travel time.
More TEL stations will be opened in the next three years. Moreover, the Jurong Region Line and the Cross Island Line are still under construction. Let us stay tuned!