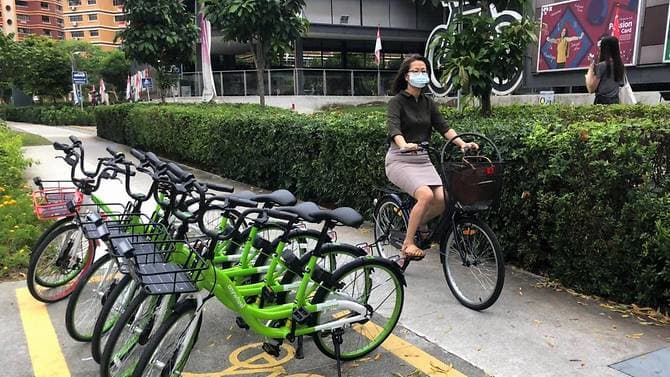 Image Credits: CNA
In line with Singapore's aim to develop its cycling infrastructure as part of a car-lite city, our country is seeing a shift in the mode of transport with more people cycling and buying bicycles. Are you part of the trend?
Bike-sharing operator: Anywheel
According to Anywheel's chief executive Htay Aung, there was a 68 per cent rise in ridership in January compared to the previous month, a 25 per cent increase in February and 20 per cent in March.
While ridership fell by about 23 per cent during the circuit breaker, demand has since sprung back up, with a 39 per cent increase between June and July, he added.
"We believe that the significant increase in ridership is mainly due to our growing fleet size as well as the shift in preference in (the) mode of transport as members of the public are practising social responsibility by avoiding crowded areas during peak hours due to COVID-19," said Mr Htay.
In July, the Land Transport Authority (LTA) granted Anywheel approval to expand its fleet from 10,000 to 15,000 bicycles.
"Based on our trip data collected during this outbreak, our bicycles have been proven to be an alternative mode of first- and last-mile transportation and have the ability to replace short trips between one to two MRT stations or several bus stops," noting that the trend is likely to continue.
Largest player in Singapore's bike-sharing market: SG Bike
SG Bike marketing director Benjamin Oh said, "There is an increasing number of users using our bicycles as a means of outdoor exercise and activities."
Mr Oh is referring to an increased usage around neighbourhoods and outdoor parks such as along East Coast Park, Gardens by the Bay, and the Marina Bay area.
"Following the PMD ban and COVID-19 circuit breaker, we have continuously been working together with foodpanda to provide their riders to use our bicycles," he said, adding that riders who work for other delivery companies also use their bicycles.
Compared to Anywheel's fleet of 15,000 bicycles, SG Bike operates a fleet of 25,000 bicycles in Singapore.
A rise in business for the bicycle industry
The sale of bicycles and related accessories increased in the first quarter of this year, with 8,740 transactions compared to 5,187 during the same period last year, said OCBC group customer analytics and decisioning head, Donald MacDonald.
For bicycle retailer Treknology3, sales for bicycles, helmets, and lights went up by about 20 to 25 per cent in the last few months. Its marketing and distribution manager Azhar Abdullah believes that the upward trend in cycling is because it allows people to head outdoors while adhering to safe distancing rules at the same time.
But BofA Securities analyst Rafe Jadrosich says that the cycling boom is still in its early stages and there is still a long way to go for the trend to peak.