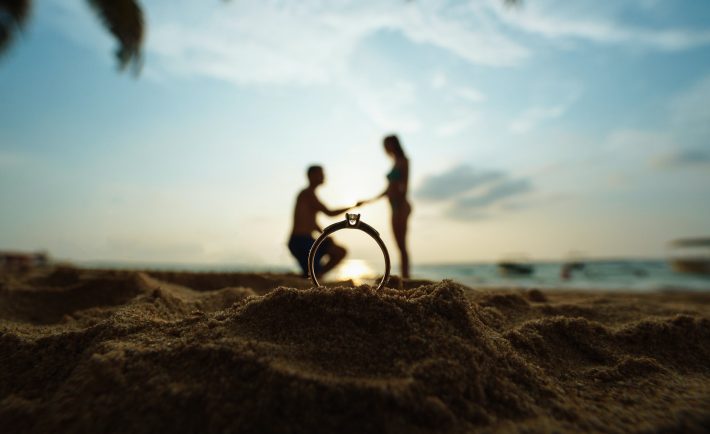 Image Credits: unsplash.com
If you are popping the question soon, you may be pondering about where it shall take place. May this list help you start planning for the perfect proposal in Singapore. Be honest with your emotions. Your genuine intentions accompanied by the romantic ambiance will make your partner swoon.
HENDERSON WAVES BRIDGE
People say that love takes you to greater heights. What better way to propose to your loved one than by declaring your love in the highest pedestrian bridge in Singapore? It is none other than the Henderson Waves Bridge. True to its name, it mimics the distinct shape of a wave as it curves along its entire 274-meter length.
This spot is suitable for couples who love to take an afternoon hike or an evening stroll. Just picture the city lights at night as you prepare for your memorable proposal. It is a popular place, so do not expect much in terms of privacy.
Address: Henderson Rd, Singapore 159557
Visit nparks.gov.sg to know more.
SINGAPORE FLYER
One of the attractions that make Singapore standout is the Singapore Flyer. Feast your eyes on its iconic skyline and famous sites such as Singapore River and Merlion Park. During your special night, you can book a romantic for two with its premium Sky Dining offering.
The Singapore Flyer Sky Dining experience includes:
a. two rotations (60 minutes) on the Singapore Flyer,
b. an in-flight host,
c. a four-course dinner of your choice (i.e., Western, Oriental, or Vegetarian Menu),
d. priority boarding to skip the queues,
e. and complimentary admission to the Time Capsule.
You need to shell out a whopping S$300 (*special online price) to experience this. Remember to book at least one working day in advance!
Address: 30 Raffles Ave, Singapore 039803
Visit singaporeflyer.com for more details.
PULAU UBIN
Home to diverse habitats and overflowing ecosystems, the island of Pulau Ubin is the ideal destination for nature enthusiasts. Depart from the hustle and bustle of the city and explore the island by bicycle or kayak through its tranquil river.
Wait for the golden hour to come. Enjoy the island's rustic charms as you kneel and ask the big question. Surely, it will be a life-changing moment for the both of you!
Address: Pulau Ubin, Singapore 508329
Visit nparks.gov.sg to know more.
SINGAPORE BOTANIC GARDENS
Treat yourself and your loved one with nature's beauty as you explore the wonders of the Singapore Botanic Gardens. It is the first and only tropical botanic garden on the UNESCO's World Heritage List. This place has numerous alluring spots on its arsenal. You can ask the most important question of your life in the Swan Lake, Palm Valley, Learning Forest, Symphony Lake, Ethnobotany Garden, or the new Tropical Montane Orchidetum.
It recently unveiled the Tropical Montane Orchidetum. This Orchidetum spans around 2,480sqm and features the largest collection of high-elevation montane orchids in Asia. Embrace the beauty of your surroundings as you pop the question!
Address: 1 Cluny Rd, Singapore 259569
Visit nparks.gov.sg/sbg for more details.
ST. JOHN'S ISLAND
Nestled in the string of islands on the Southern coast of Singapore is St. John's Island. What was once a quarantine facility in the late 1800s has since become a destination for locals who want a quick getaway from the cityscape. Take your partner in this place to enjoy a variety of activities.
From dipping on the calm waters of the Swimming Lagoon to keeping your eyes peeled for wildlife sightings, you can find the perfect timing to propose while enjoying a fun-filled day. Do not forget to snap some pictures!
Recommended: Fun Activities To Explore In St. John's Island
Address: 12 St. John's Island, Singapore 098600
Visit nparks.gov.sg to learn more.
CHIJMES
With its unique architecture and warm ambiance, CHIJMES is one of the favorite local spots for wedding ceremonies. In fact, its glistened in the big screen through the Crazy Rich Asians film. The place was decorated beautifully to celebrate the wedding of the fictional characters – Araminta and Colin. See for yourself!
Since its inception in the 1840s, the pristine walls of CHIJMES have not aged one bit. You do not have to think twice about considering to propose here. Complete the proposal by making a reservation for a romantic candlelit dinner.
Address: 30 Victoria St, Singapore 187996
Visit chijmes.com.sg to learn more.
Note: As a friendly reminder, the places on this list follow safety procedures for the well-being of all its visitors. Please observe these guidelines and ask necessary questions ahead of time. We wish you the best!