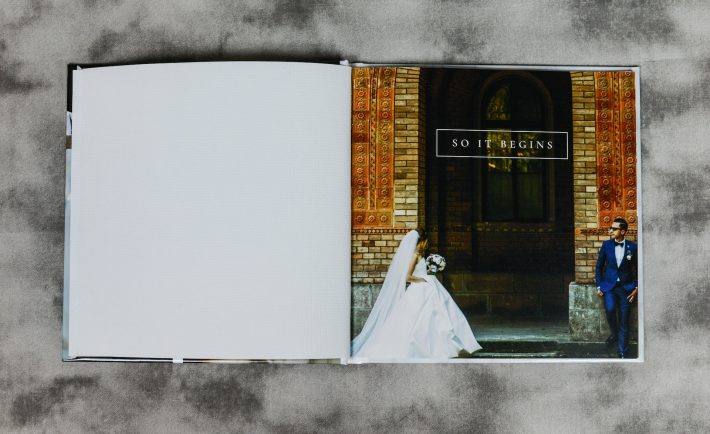 Image Credits: unsplash.com
With hearts brimming with joy and a profound sense of fulfillment, my husband and I celebrated the culmination of our church wedding ceremony in May 2023. Your wedding day is an extraordinary occasion that overflows with cherished memories, and preserving those moments in a meticulously crafted wedding album holds immense significance. In this article, we will delve into some practical and affordable methods to create a stunning wedding album without straining your finances.
#1: SET A BUDGET

Before embarking on the journey to create the perfect wedding album for you and your spouse, it is crucial to plan ahead and establish a budget. Determine the maximum amount you are willing to spend, including the costs of printing and designing the album. Additionally, consider any other fees associated with hiring a professional photographer, if applicable. Having a clear budget in mind will enable you to make informed decisions and smart choices throughout the entire process.
#2: OPT FOR A DIGITAL ALBUM
Did you know that you can create your very own wedding website using free platforms like Zola and Wix? Take into account the option of opting for a digital wedding album instead of a printed one to save money. Digital albums come with several advantages, including cost-effectiveness and the convenience of easily sharing and storing your precious memories.
There are numerous online platforms that specialize in digital wedding albums, offering user-friendly templates and customization options to create a personalized digital album. You can include your most cherished photographs, add captions, and even incorporate music, transforming it into a one-of-a-kind and interactive keepsake.
#3: DO IT YOURSELF
Upon hearing the price of the album from our official photographer, I realized that the best option for me would be to take matters into my own hands. I didn't want to pay someone S$200 for a job I could do myself.
I started by carefully selecting high-quality photos and began searching for digital services that offer top-notch album printing. For example, Photobook Singapore provides a wide range of personalized photobooks, gifts, photo prints, travel albums, home decor, and more. I have personally printed with them twice, and the experience has been pleasant. This hands-on approach not only saves money but also empowers you to infuse your unique personality and creativity into the album.
#4: COLLABORATE WITH FAMILY & FRIENDS
Get the support of your loved ones to create a budget-friendly wedding album that holds a special touch. If you have friends or family members who possess skills in graphic design, photography, or crafting, don't hesitate to reach out and ask for their assistance. They can lend a hand with designing the album layout, retouching photos, or even crafting unique artwork.
By involving your loved ones, you not only save on costs but also infuse your wedding album with a personal touch, making it all the more meaningful and heartfelt.
#5: TAKE ADVANTAGE OF ONLINE PROMOTIONS
Stay vigilant for online promotions, discounts, and special offers from various printing services. Numerous websites and social media platforms frequently feature exclusive deals on wedding albums. Seize these opportunities to save money while still obtaining a high-quality album. Stay connected by subscribing to newsletters and following the social media accounts of printing services to stay updated on their latest promotions.
For instance, Vistaprint regularly offers seasonal promotions on photobooks of various sizes, with three cover options: linen, leather, or photo cover. They even provide an autofill option to simplify the process of dealing with photobook layouts. Small photobooks start at $32.39, and shipping in Singapore begins at $8.99.
CONCLUSION
Creating an affordable wedding album in Singapore doesn't mean sacrificing quality or sentimental value. With careful planning, digital alternatives, a DIY approach, collaboration with loved ones, and leveraging online promotions, you can have a stunning wedding album that captures your special day while staying within budget.