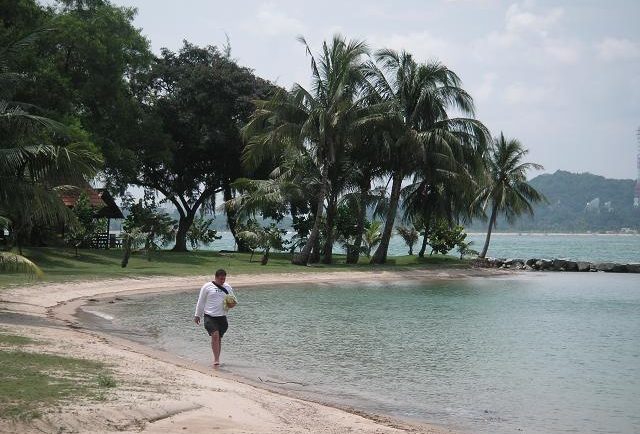 Image Credits: Kilburn2000 via wikipedia.org
Nestled in the string of islands on the Southern coast of Singapore is St. John's Island. What was once a quarantine facility in the late 1800s has since become a destination for locals who want a quick getaway from the cityscape.
St. John's Island is bigger than its neighbors namely, Sisters' Islands and Kusu Island. Despite its size, less than half of the island is accessible by the public. Huge portions of the land are dedicated to research and to lodging. Nonetheless, there is plenty of activities to explore within the island.
If you are all set, start by riding a ferry to get to the island. There are two ferry companies that travel between the Southern Islands. You can either go with the Marina South Ferry or Singapore Island Cruise. Prices start from S$15 (adult tickets).
Sit back and relax as the short ride will last for 30 minutes. You can even choose to sit on the top deck, if it is available. Upon arriving in the island, here are some of the activities that you may explore.
1. GO ON A WALK TRAIL
Refresh your mind by being one with nature as you walk through St. John's Island. The first curated trail on this island was developed to encourage appreciation for its rich biodiversity and history. In fact, you can spot eleven Heritage Trees within the island. Only a selected number of trees have earned the title of Heritage Trees. These trees are handpicked for their exceptional size and their outstanding botanical and cultural value.
The St. John's Island Trail includes fifteen stations marked with signboards that serve as educational resources and station markers. Thus, it will let you see the beauty of its fauna and flora as well as its vibrant history.
2. JOIN THE GUIDED TOUR
Free guided tours are held on the first Sunday of every month. Join the National Park volunteers as they highlight the key features of the St. John's Island Trail. The land-based trail covers 1.6 kilometers and would span for about 90 minutes. What's more? It is free! Do note that registration is on a first-come, first-served basis.
Visit the nparks.gov.sg page for more details.
3. CYCLE AROUND THE ISLAND
If you opt to travel the island through wheels, you may rent bicycles or two-wheel step pedals. Enjoy the cool breeze as you pedal along the island and feast your eyes with its biodiversity.
A pop-up bicycle rental store called Gogreen Bicycle Rental offers access to bicycles, two-wheel step pedals, and tents. Convenience comes with a price as renting a bicycle or a two-wheel step pedal starts with S$30.
4. GO FISHING
Upon exiting the ferry, you will notice how clear the waters are. Try looking down and observing the schools of fish. If you are lucky enough, you will catch a huge range of fish from snappers to groupers.
5. EXPAND YOUR KNOWLEDGE ON MARINE LIFE
As you take a dip on the calm waters of the island's Swimming Lagoon, you will be able to see different sea creatures such as sea sponges and seagrasses. Many of these can be encountered at low tide on an intertidal walk around the island's coasts.
6. INDULGE IN BIRD WATCHING
Keep your eyes peeled for wildlife sightings during your visit to the St. John's Island. Add an element of fun to your sightings by writing down the birds and the animals that you spotted. Take pictures and add that to your "nature journal", which you can make with your child.
What are you waiting for?
Explore the St. John's Island with your loved ones by checking out the ferry schedules and its COVID-19 safety measures. Make sure to pack water, sunblock, insect repellant, and snacks.
There are no stores within the island. It is best to come prepared! You can either pack your essentials or grab snacks like bread at the Marina South Pier's convenience stores. Moreover, please help conserve the beauty of the island by throwing your trash properly.