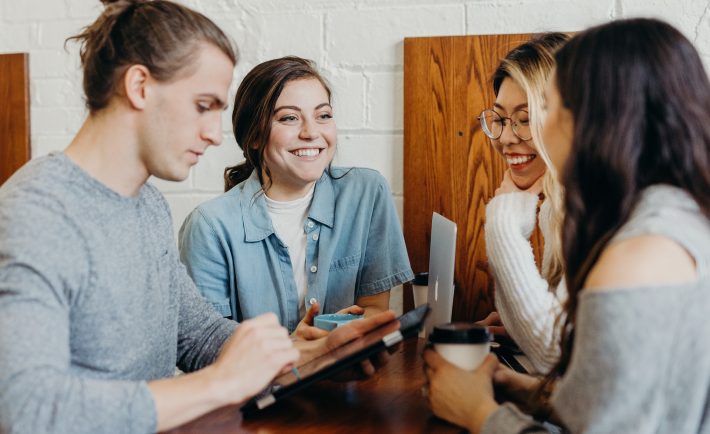 Image Credits: unsplash.com
Fully understanding how the minds of Millennials work is a near-impossible task! However, it is crucial to address a few generation-defining characteristics to help enhance your understanding.
#1: MILLENNIALS VIEW THEMSELVES AND OTHERS AS EQUALS
Regardless of their co-workers' relative seniority, level of education, or other remarkable accomplishments, Millennials view themselves and other generations as equals. You can either interpret this as a sign of entitlement or a sign of secured self-image. The perception of equivalence is partially rooted from the fact that they bring a unique skillset to the workplace, and they know it.
Millennials are fluent in technology compared to previous generations. Their recommendations often provide increased organizational efficiency, and they expect to be taken seriously for that.
#2: MILLENNIALS ARE MORE "SENSITIVE"
Previous generations considered Millennials as more sensitive. A part of it is true and it's not all bad. Millennials have low tolerance for injustice, disrespect, and hostility.
They are willing to speak up about the quality of their experiences (i.e., the good and bad) and are willing to apply compassion in what they do. Thus, they are aware of the harm inflicted by toxic management. They are wary of its risks including burnout and diminished performance arising from unsupportive working environments.
#3: MILLENNIALS DESIRE PROFESSIONAL GROWTH
According to data from Gallup, 60% of Millennials are open to new job opportunities, making them the generation that is most likely to change jobs when they get the chance. Millennials are eager to climb the metaphorical ladder. They keep a constant eye out for professional growth.
The desire for professional growth may be influenced by social comparison and social media. From peers publishing their latest accomplishments on LinkedIn to the implicit follower counts on other platforms, Millennials often measure their accomplishments against their peers.
#4: MILLENNIALS NEED FREQUENT FEEDBACK
Millennials have seemingly insatiable craving for feedback and instant gratification. In response to technology, the Internet has become a background noise for constant positive and negative feedback. Beyond the noise, this generation has come to rely on crowd-sourced data to guide their every move.
Regardless of whether you are giving constructive feedback or compliments, it is important to understand their expectations about frequency when determining how to communicate with them in the workplace.
HOW TO MANAGE THEM
If you are concerned about how to manage them in the workplace, you need to learn how to communicate in a way that encourages them to stay open. For instance, you may start by saying: "I am going to be frank with you about your performance because I see your potential and I trust that you can handle this feedback."
Using this strategy frames the feedback no matter how difficult it is to deliver. Moreover, it puts your employee in a position where being receptive to feedback affirms their reputation as a respectable peer. Additionally, you can provide opportunities for personal and professional growth.
Millennials can be your greatest allies and your hardest working group of employees if you manage them correctly. Consider the generation-defining characteristics mentioned above to guide your leadership style!