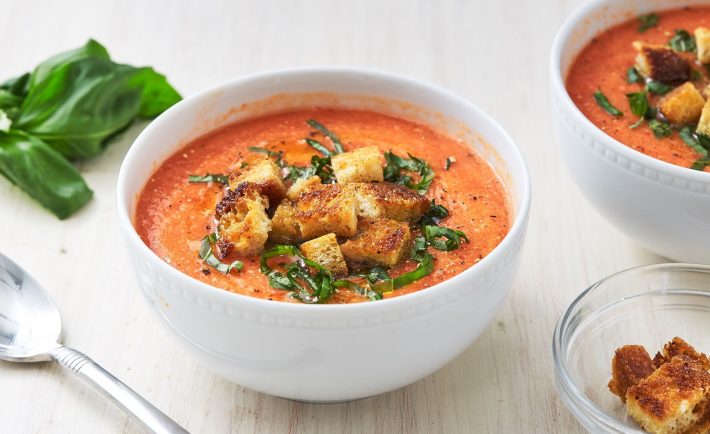 Image Credits: delish.com
Live in Singapore long enough, and you will quickly agree on how easy it is to get dehydrated.
While our sunny island is expecting thundery showers in the first two weeks of August, the news reported that ​​residents could expect a few warm days with daily highs of around 34 degrees celsius. Well, not all that surprising.
Do you know that dehydration often occurs before you feel thirsty? In addition, if you often feel dizzy, fatigued, or have a dry mouth, it could be crying signals from your body begging for water. However, water is not the only solution.
Here's what to eat when you're dehydrated.
Gazpacho
Have you ever heard of gazpacho? A typical summer soup mainly in Spain and Portugal, it's made with a combination of raw tomatoes and vegetables.
No cooking is involved in the process of making gazpacho. You can quickly prepare the refreshing dish by blending raw tomatoes with cucumbers. Add a little olive oil, garlic, onion, bell pepper, and a pinch of salt and pepper to taste. Click here if you need a step-by-step guide on making gazpacho.
Tzatziki
Trust us; we're not here to make your life difficult with uncommon foods in Singapore. We're just offering some alternatives that are not so ordinary. After all, there's no harm in trying something new!
Tzatziki is basically a fancy name for ​​a Greek dip made with yoghurt and cucumber. Do you know that the two ingredients are packed with a high water content of up to 85%? You can make it even tastier by adding olive oil, fresh herbs, garlic, lemon juice, and salt. Here's a recipe on how to prepare Tzatziki.
Soups and bone broths
Soups, especially bone broths, are usually not just high in water content but collagen too. This is a chance for you not just to counter dehydration but to keep up with tissue repair and healthy joints due to overexertion from your daily activities.
While it's easy to dabao a container of soup from the kopitiam, we can't guarantee the low sodium content and potential MSG added. If you have the time, make your own! Simply add water to your preferred ingredients and boil over low heat for more than 8 hours to increase its calcium and magnesium content.
Watermelon, honeydew, and cantaloupe
For folks who find preparing foods a hassle with your hectic lifestyle, do load up on fruits like watermelon, honeydew, and cantaloupe.
To assure you with some statistics, a 152-gram cup serving of raw, diced watermelon contains about 92% of water. Following closely behind are honeydew and cantaloupe with about 90% water content in a given serving. Those prone to stomach discomfort can consider freezing melons in bite sizes and sucking on them slowly like sweets.
---
As we come to a close, it's good to introduce "water breaks" into your work routines too. For those who tend to forget about time when they start working, schedule phone reminders and aim to drink about 250ml every hour during office hours. Make sure your water bottle is placed on a visible space on your desk so you can be reminded to reach out for it easily.
Drink as often as you can!