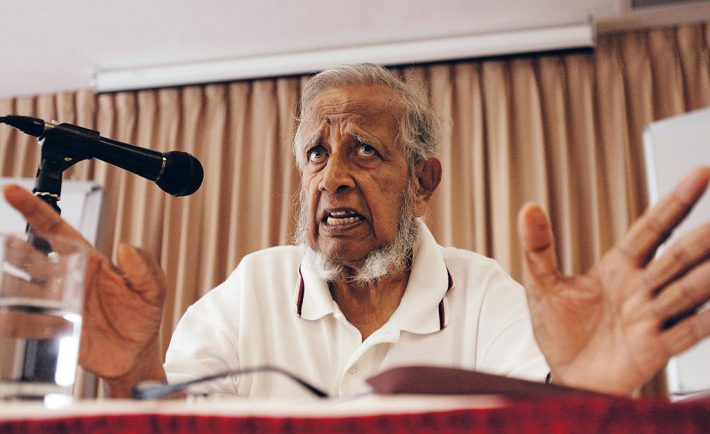 Image Credits: todayonline.com
Mr Kenneth Jeyaretnam, son of the late opposition party leader JB Jeyaretnam, revealed on Tuesday (Jan 5) that a new charity will be set up in his late father's name. His father was the creator of the Reform Party and former chief of the Workers' Party.
In a press release, Mr Kenneth Jeyaretnam, the Reform Party secretary-general, said that the new JB Jeyaretnam Foundation would alleviate poverty among oppressed communities. It was an area close to the heart of JB Jeyaretnam.
A glance at the late JB Jeyaretnam's life
JB Jeyaretnam was the first opposition party candidate to be nominated Member of Parliament during a by-election for the Anson constituency in 1981. At the time, he was also a professional attorney and the secretary-general of the Workers' Party.
He was repeatedly sued by People's Action Party (PAP) officials for his relentless critiques of the government. Eventually, he became bankrupt via court proceedings.
In 2001, due to bankruptcy, he was forbidden from engaging in elections. Later, he was released from bankruptcy in 2007 and founded the Reform Party in 2008. Subsequently, at the age of 82, he died of heart failure in the same year.
Second charity to be set up after a veteran opposition icon
After a prominent opposition figure, the charity which has to be accepted by the government is the second to be established. The first is the Chiam See Tong Sports Fund created in 2017 to help disabled athletes. It was set up by Mr Chiam See Tong, former head of the Singapore People's Party.
Charity will support the older generation and more
Mr Kenneth Jeyaretnam mentioned that the initiative would help the aged, the homeless, and students from families in hardship.
The aim is to support them by allowing them access to amenities or resources and removing or reducing poverty's drawbacks. Students from low-income families can be offered assistance through free or low-cost tuition, and not just by cash or food staples.
"However, we are still at a very early stage and one of our first official activities will be to conduct research and an audit of (clients') needs," he added.
A significant announcement on his father's birthday
The news of the proposed charity drops on the date of Mr Kenneth Jeyaretnam's father's birthday. "Though he can no longer be with us, his legacy lives on to be preserved for future generations," he commented.
As soon as it is registered, fundraising will commence for the charity. Amid the pandemic, though some donations for charities had plummeted, he decided to launch the foundation this year. This is because more people are suffering and the need for charity support is considerably higher than before.
"Despite the pandemic, I decided to coincide this announcement with JBJ's (JB Jeyaretnam) birthday this year and not to delay any longer. We are all very excited and looking forward to getting to work for our communities," Mr Kenneth Jeyaretnam remarked.
Anyone curious to know more about the charity or plan to donate in the future can contact them at [email protected]