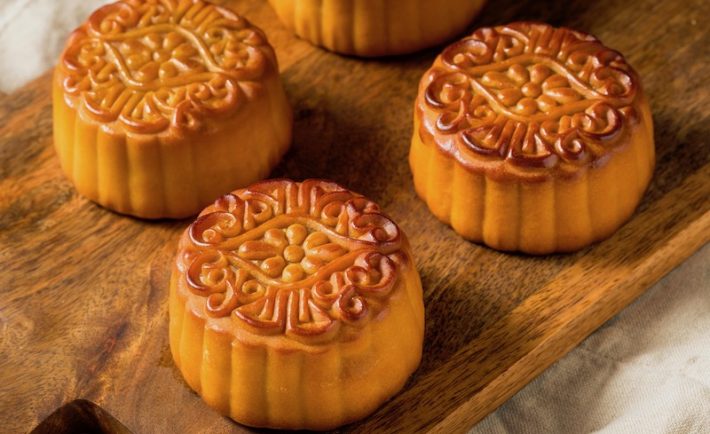 Image Credits: bakefromscratch.com
We have more than a month to this year's Mid-Autumn Festival! To be exact, we will be celebrating it on Tuesday, 21 September.
If it has been a tradition for the family to gift mooncakes or gather together for a tea session, then you've landed at the right article. We will be sharing with you some of the most special mooncake flavours, including one with mala chicken floss to spice up the festival. 
Ready to get started? Let's roll with the list!
#1: ​​Mala Chicken Floss & Salted Egg Yolk Low Sugar White Lotus Paste Mooncake
Contemporary Sichuan restaurant Birds of A Feather has come up with their mooncake box of 4 (S$68) with these 2 flavours:
Mala Chicken Floss & Salted Egg Yolk Low Sugar White Lotus Paste Mooncake

Single Yolk Macadamia Nuts Low Sugar White Lotus Paste Mooncake
The former promises a harmonious blend of Sichuan spices with a pleasant mild spicy note and a heavenly combination of salted egg yolk and chicken floss. Not a fan of mala? You can present this as a gift to a friend or relative. The majestic black box with intricate gold illustrations will make a premium presentable present for that special someone.
Click here to preorder your Birds Of A Feather Mooncake Box.
#2: Sakura Shrimps with Peanut Mooncake
Yes, we kid you not with this concoction of savoury sakura shrimps and crunchy peanuts. It's one of the limited-edition mooncake gift boxes designed by local designer Benny Ong. The box of four consists of:
Assam Tea with Almond Mooncakes

Sakura Shrimps with Peanut Mooncakes
At the time of writing, there's an ongoing promotion which will cost you only S$100.30 (usual price: S$118). Check out more limited-edition mooncake types such as Aged Mandarin Peel, Rose & Red Bean Paste Mooncakes, Mini Custard Bird's Nest Mooncakes, and more here.
#3: White Rabbit Truffle with Cranberry Paste Snowskin Mooncake
Take a trip down memory lane with Singapore Marriott Tang Plaza Hotel's White Rabbit Truffle with Cranberry Paste Snowskin Mooncake. Everyone's favourite milk candy will be joining hands with a rich truffle filling and tangy cranberry paste to reward your tastebuds.
For those who love all things truffle, here are other flavours to try:
Cognac Truffle with Chestnut Paste

Salted Egg Truffle with White Lotus Seed Paste

Champagne Truffle with Milk Green Bean Paste
Place an order here.
While it can be tempting to eat your fill, remember that mooncakes are high-calorie foods and should be eaten in moderation this Mid-Autumn Festival. We will leave you with some numbers so you can plan your intake accordingly:
Have a blessed Mid-Autumn Festival to come. 中秋节快乐!