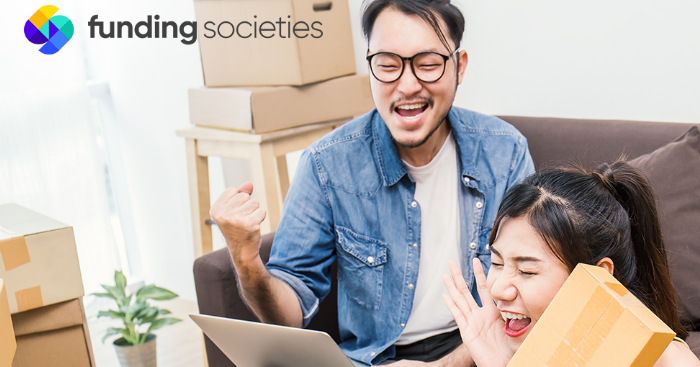 With most companies' financial year ending in December, some of you may have received your bonus in March and are wondering what to do with it. There is no written rule on how you should be utilizing your bonus. Some choose to repay their outstanding debts, while others prefer to splurge on luxury items as a way of rewarding themselves for a job well done in the past year. Building wealth can be a part of your strategy (see what experts say at CNBC and Forbes), and what better time to do it than when you have fresh funds in your bank account?
Wealth building comes in many forms, from saving to investing, be it actively or passively, amongst other strategies. Today, we introduce you to an alternative investment – Peer-to-Peer (P2P) Lending.
Although new to many, P2P lending has changed the financial landscape in Singapore over the past three years. P2P platforms like Funding Societies offer SMEs additional avenues for business financing and give investors more opportunities to diversify their portfolios. In other words, as you see your wealth grow progressively, you're also helping local SMEs grow their businesses.
Here are 4 reasons to consider putting part of your bonus into P2P lending:
1. It caters to all salary and bonus ranges
P2P lending is accommodating in terms of one's starting investment capital. You don't need a huge fortune to begin investing, and you can invest more depending on your risk appetite. For instance, Funding Societies allows you to make an investment from as low as $50. Not to mention, you only need to put in a $1,000 deposit (can be withdrawn at no cost) before you are able to access investment opportunities. Accredited and institutional investors with higher capital and risk tolerance may also put in tens of thousands per investment.
2. Shorter tenures means that you get to see your returns quickly
If you are looking for short-to-mid term investments, P2P lending is a feasible option for you. Many traditional investment products require lengthy lock-in period. Generally, that is not the case with P2P lending as the loan tenures are usually shorter. The tenure for Business Term Loans typically ranges from 1 – 12 months and from 30 – 90 days for Invoice Financing. What's more, you receive monthly repayments from your investments in Business Term Loans (one-time repayment for Invoice Financing), which you may choose to re-invest in new loans, creating a compounding effect.
3. Potentially high returns: Up to 14% per annum
Yes, you read it right. P2P lending has become a part of many investors' wealth building strategy possibly due to its attractive potential returns. Interest rates offered by Funding Societies typically range from 8% to 14% p.a.
While the key risk with investing in P2P lending is the non-performing loans, Funding Societies manages its default rate at less than 1.5% (as of April 2018), comparable to those of major banks. This is done through extensive credit assessment of the SMEs' loan applications to give you quality opportunities to make your investments.
4. It is super easy to participate
Investing can often be time-consuming due to the multiple tools and monitoring required. However, P2P lending is relatively simple to participate in:
Just look out for upcoming deals
Read the respective fact sheets
Decide on an amount to invest in.
Funding Societies further simplifies this process with its Auto-Invest function, which helps investors pre-select investments based on their pre-set criteria. Investors will be notified of the pre-selection and can decide to opt-out or go ahead with the investment. This not only makes investment hassle-free for investors, it also helps them to diversify their P2P investment portfolio by participating in multiple loans.
Start your P2P investment journey today with Funding Societies
Now that you have a clearer picture of P2P lending, consider allocating a portion of your bonus into this form of alternative investment and start earning up to 14% returns. Funding Societies is here to help you begin your P2P investment journey.
Founded in 2015, Funding Societies is the leading P2P financing platform with a Capital Markets Services license issued by the Monetary Association of Singapore. With operations in Singapore, Indonesia and Malaysia, Funding Societies has onboarded more than 45,000 investors in a span of three short years. Now, it's your turn to get hands on investing in P2P lending.
Sign up with Funding Societies now!
Disclaimers
This article is contributed by Funding Societies.
It should not be construed that Moneydigest is endorsing this article or any of the products and services provided by Funding Societies.
Nothing in this article should be construed as constitute or form a recommendation, financial advice, or an offer, invitation or solicitation from Funding Societies to buy or subscribe for any securities and/or investment products. The content and materials made available are for informational purposes only and should not be relied on without obtaining the necessary independent financial or other advice in connection therewith before making an investment or other decision as may be appropriate.