High angle shot of a residential estate with carpark, garden and playground
Since April this year, households in Jurong have been able to choose who they wish to buy electricity from, thanks to the soft launch of Open Electricity Market by the Energy Market Authority. One early adopter who exercised his choice to switch to an electricity retailer is Mr Luqman Haniff, a 30-year old with seven family members staying with him. We share about his journey here.
1. Household Electricity Consumption
One of the first things to look at before switching to a retailer is to find out more about your past electricity usage. That was exactly how Mr Haniff started off his Open Electricity Market journey. By looking through his past electricity bills, he was able to estimate how much his electricity bill would come up to if he were to pay by the regulated tariff or by the rate offered by electricity retailers. This helped him to choose a price plan that best suit his household's needs.
What is the regulated tariff?
Let us take a look at how the regulated tariff is derived. The regulated tariff is reviewed every quarter by SP Group and approved by the Energy Market Authority (EMA). It consists of two key components – fuel cost and non-fuel cost. Fuel cost reflects the cost of imported natural gas while the non-fuel cost reflects the cost of generating and delivering electricity to homes. Below is a snapshot of the historical tariff rates.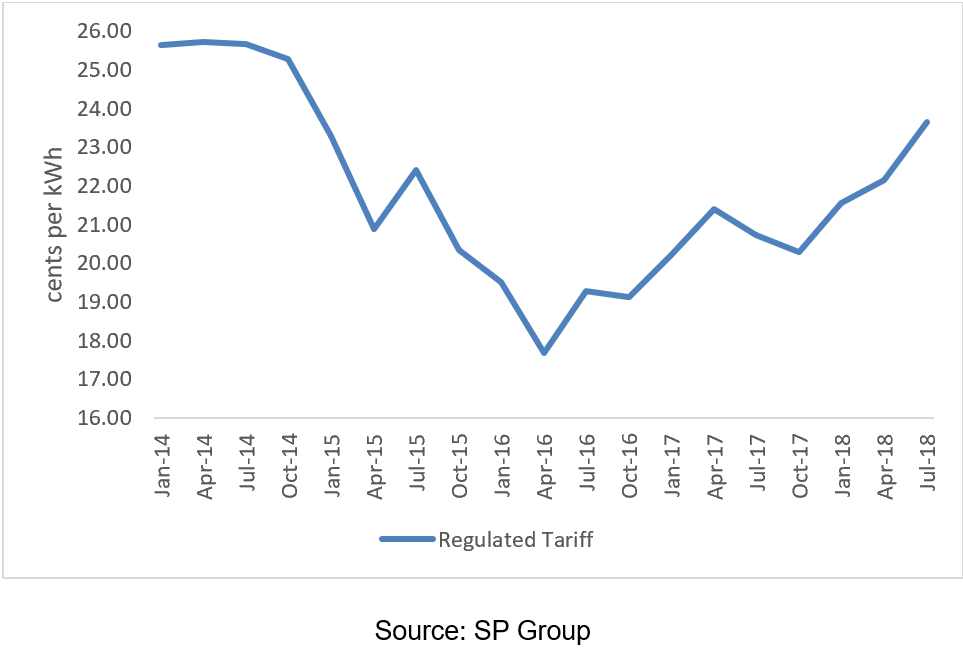 Electricity retailers' standard price plans
On the other hand, electricity retailers are free to customise their price plans according to their business strategies, current market conditions and the level of competition in the market. That said, the two main types of standard price plans are:
Fixed Price Plan– You pay a fixed rate throughout the duration of the contract. This rate may be higher or lower than the regulated tariff.
Discount Off the Regulated Tariff Plan – You enjoy a discount off the regulated tariff throughout the duration of the contract.The rate may change every quarter in tandem with the prevailing regulated tariff.
Besides visiting the retailers' websites to check on their offers, Mr Haniff made use of the Price Comparison Tool on the Open Electricity Market website to compare the different standard price plans offered by retailers. Like him, you can make use of this tool to help you decide on the plan that would be most suitable for you.
2. Consumer Needs
Different households use electricity differently and may also have different ways of managing their electricity expenses. For instance, a family who prefers to keep their electricity bills as stable as possible may find the Fixed Price Plan more suited for them since they could better manage their overall household expenses.
On the other hand, another family may consider going with the Discount Off the Regulated Tariff Plan if they prefer the certainty of enjoying savings no matter how the regulated tariff changes.
Before Making the Switch…
Now that you are almost on your way to signing up with a retailer, do take note of the following as well:
Fact Sheet
Before you sign up for a plan, your electricity retailer will provide a Fact Sheet which summarises key contractual terms of your preferred price plan such as:
Contract duration
Type of price plan
Rate offered by the electricity retailer
Payment terms
Early termination charges, if any
Ask the retailer to explain any terms and conditions that you are unsure of.
Consumer Advisory
Electricity retailers will also need to obtain your acknowledgement on a Consumer Advisory notice which outlines what you need to be aware of before signing the contract.
Promotions and freebies
To draw more customers, electricity retailers may offer freebies such as vouchers and cash rebates. While they may entice you to sign up with them, one thing to remember is that these freebies are usually a once-off benefit. Hence, it is always better to think long-term and make sure you stand to benefit from switching to a retailer in the longer run.
From the get-go, there seems to be a wide range of standard price plans offered by electricity retailers. However, upon closer examination, the plans mainly differ in terms of contract duration and rates and come with different sets of terms and conditions.
As you review your choices, find out about your electricity consumption patterns, compare the different standard price plans by using our check-list and finally, be sure to take note of the things to consider before making the switch. You will be well on your way to benefit from Open Electricity Market, just like how Mr Haniff did!