During the Circuit Breaker, household electricity consumption has increased by 22% as reported in The Straits Times. Even as we enter into Phase 2 of the reopening of Singapore's economy, most workers are still encouraged to work-from-home ('WFH'). Now that our household electricity bill has increased significantly, it has become even more important to switch to an electricity retailer to reduce household electricity bill. By switching to Geneco, a typical household can save over $478 while continuing to stay, work and play at home!
Massive savings with Geneco Super Saver (GSS)

Pay only 17.66¢/kWh with Geneco's Get It Fixed 24 Plan vs SP Group's regulated tariff of 20.97¢/kWh. That's a savings of $378* for over 2 years! No security deposit is required and the rate of 17.66¢/kWh even comes protected with a price match guarantee. Furthermore, when applying for this plan, remember to punch in the online promo code "GSS50" (only valid for Geneco plans 18 months and above) to enjoy a further $50 bill rebate!
Alternatively, if you prefer to be more eco-friendly, why not consider Geneco's Get It Green plan? It is a 100% carbon-neutral electricity plan that allows households to go green without any extra charges. Pay a fixed rate of 17.45¢/kWh for this 12-month only plan that does not require any security deposit as well. It even comes with a Carbon Offset Certificate to remind household members to consume responsibly and sustainably.
That's not all the savings in store.
*Calculation based on $100 average household bill. Measured against prevailing Regulated tariff every quarter for entire contract period and includes GST. Prevailing Regulated Tariff is updated on the 1st of January, April, July and October.
Double-stack these promotions for even more savings
At Geneco, you can double-stack these promotions to enjoy even more savings.
Enjoy an additional one-off $30 bill rebate when you set up recurring payment of your Geneco bills with any OCBC credit cards**! If you choose to pay with the OCBC 365 Credit Card, enjoy a further 3% monthly cashback.
In addition, enjoy $20 bill rebate when your family/friend refers you to Geneco. Once you become a Geneco customer, it's your turn to refer more friends and you will each earn $20 per successful referrals. The more you refer, the more bill rebates you get.
**Limited to first 1,000 new Geneco customers and valid till 31 July 2020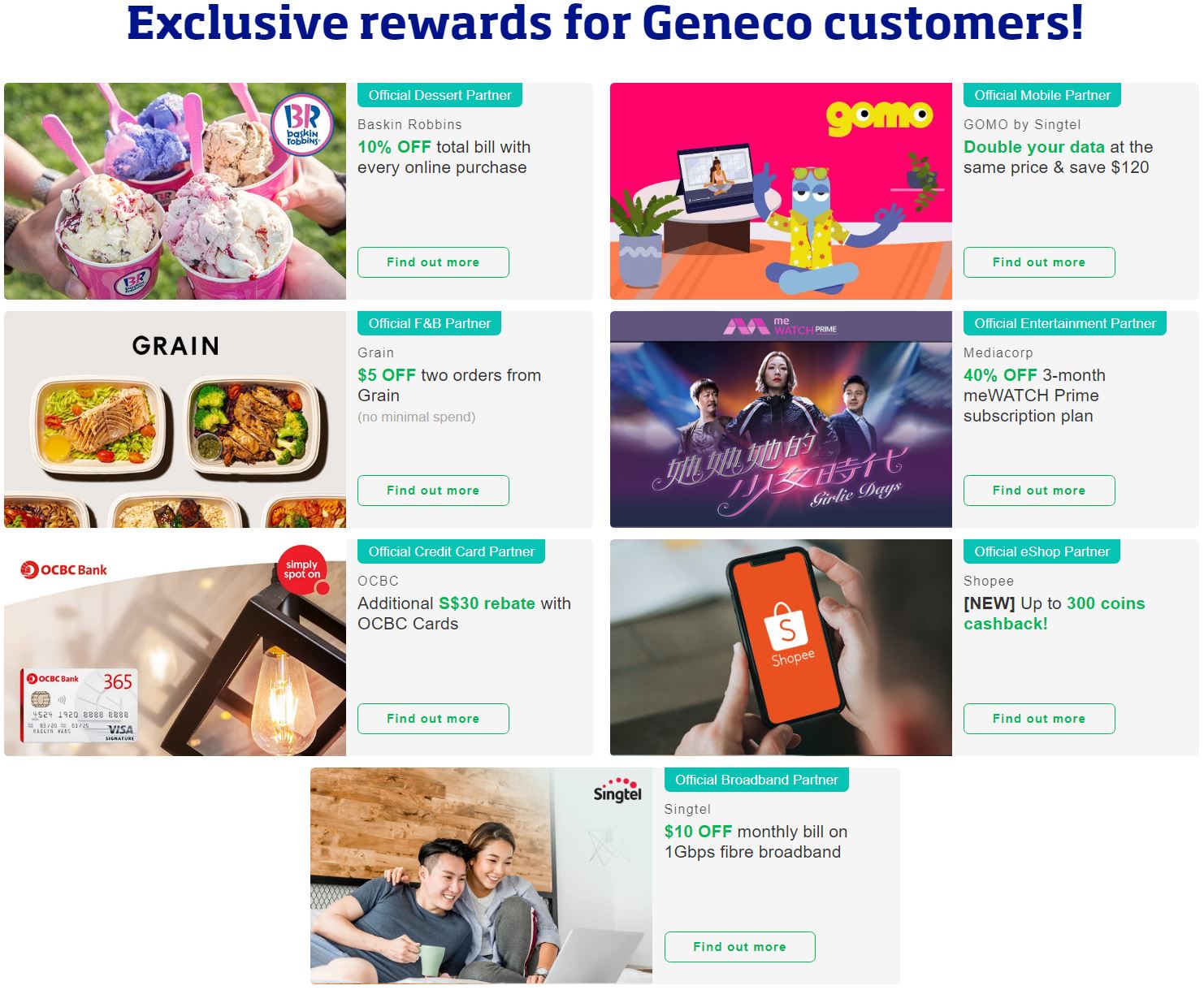 Take action now to immediately reduce your electricity bill
Sign up as soon as possible to enjoy massive savings on your household electricity bill as we continue to stay, work and play at home. Once you have become a Geneco customer, enjoy exclusive deals from its GSS Official Partners (Singtel, Shopee, Grain etc). Finally, don't forget to take part in the seriously addictive game, Geneco Super Saver Challenge, on Instagram and stand to win free electricity for a year worth $1,200 bill rebate.