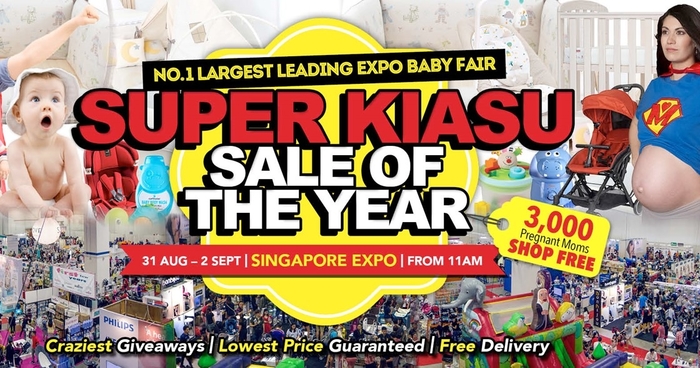 NO.1 LEADING LARGEST BABY FAIR – VOTED BY PARENTS
First time in history, 3,000 pregnant moms get to shop for FREE.
This will be the last mega baby fair of the year. Over 200,000 brands and products + new launches + crazy offers. Everything you need, everything you want will be under 1 mega roof! And, all products are lowest price guaranteed or we refund the difference!
It is the biggest BABY FAIR in HISTORY. All baby products under 1 roof.
Massive baby world playground.
No other baby fair comes close!
Voted Largest & Best Baby Fair By Parents In Singapore!
Up to 90% off top brands
Early bird Frenzy Deals starting from $1
Daily top spender wins $1000 cash!
Unbeatable Freebies & Goodie bags
$30,000 worth of discount coupons for early birds
Biggest milk & diaper sale
Lowest price guaranteed
Free delivery

Stand to win $1000 cash & learn how you can shop for free simply by:
Don't miss the BIGGEST BABY FAIR of the year at Singapore Expo in 2018. No other baby fair comes close.
Mark your calendar:
31st Aug to 2nd September
Singapore Expo Hall 6
Opening Hours
31 Aug – 1 Sep: 11am to 9pm
2 Sep: 11am to 7pm
#babyworld #leadingbabyfair #babyexpo #SuperMom #babyfair