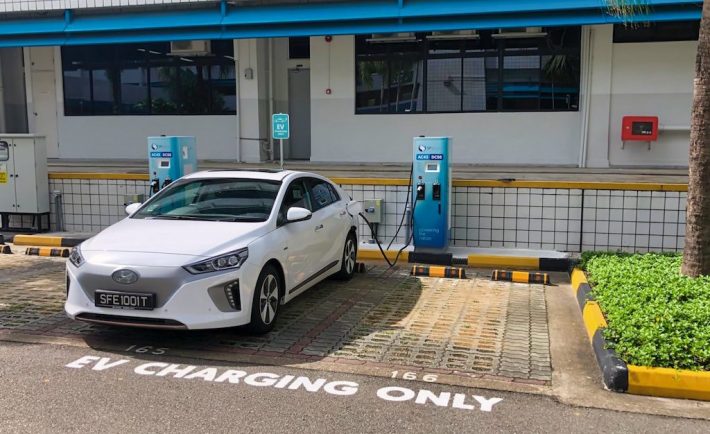 Image Credits: carbuyer.com.sg
Do you know that the question of whether electric vehicles (EVs) can replace petrol and diesel vehicles in Singapore was examined since 1994?
Ex-Nominated Member of Parliament Kanwaljit Soin suggested the possibility of Singapore being one of the world's first cities to increase the use of EVs.
To that, former Environment Minister Mah Bow Tan said that his ministry was monitoring EVs' development in other countries. He added that Singapore would look into their use in our little red dot when such vehicles are commercially feasible.
Indeed, many years have passed, and there has been fast growth in the EV industry. This includes improvements in battery and charging technologies.
According to a Bloomberg report in December 2020, the price of battery packs for EVs is falling so much that manufacturers may be able to devise vehicles similar to combustion engine models without tax rebates.
News has it that two years from now, the average price per kilowatt-hour for a lithium-ion battery pack will cost only US$101.
And to bring our attention back to what's happening presently, Finance Minister Heng Swee Keat announced in his Budget speech on Feb 16 that there will be more incentives to encourage EVs' early adoption.
Here's a quick look if you've missed out on that piece of news:
You may also be interested in reading our recent article on custom ordering a Tesla Model 3 online from S$112,845 (excluding COE).
Meanwhile, here's a look at Singapore's journey with EVs from 2009.
2009
Government authorities began to create an EV task force to determine benefits, nationwide costs, and feasibility of such vehicles on our sunny island.
2011
Two years later, the task force started EV test-bedding, putting us as one of the world's first cities to test EVs at the systems level. There were only three outdoor and two indoor charging stations and nine such vehicles then.
2012
A study was initiated to look into the impact of EV charging on the electricity grid just a year after. Three electric Renault Kangoos were used to aid testing. The EV test-bed also increased with more charging stations and EVs on the road.
2014
2014 marks the start of the EV car-sharing programme trial with 1,000 EVs. The task force then had an RFI (request for information) for companies to submit proposals for the test. They were keen to examine whether a one-way car-sharing model was a possible option.
2016
This was the year where a secondhand Tesla Model S imported from Hong Kong was slapped with a S$15,000 carbon surcharge. The Land Transport Authority (LTA) later relooked at the case and commented that they were in talks with Tesla engineers to see if the Model S was tested correctly.
2017
HDT Singapore Taxi introduced Singapore's first fleet of e-taxis. BlueSG was also selected from the 2014 RFI exercise to run a fleet of 1,000 EVs. This was in alignment with Singapore's car-lite vision as it would reduce dependence on private vehicles. The task force also had plans to facilitate 2,000 charging points across Singapore then.
2019
Tesla's CEO Elon Musk asserted that our government has been unsupportive of EVs. To that, former Environment and Water Resources Minister Masagos Zulkifli responded that Singapore is keen to consider solutions that will address climate problems instead of lifestyle ones.
He also shared the difficulty of having enough charging stations in Singapore, considering a high percentage of our population living in high-density public housing. He added that hydrogen was a better long-term solution.
2020
As part of Singapore's efforts to fight climate change and transit to a low-carbon, low-emissions economy, Mr Heng revealed in Budget 2020 that EV buyers would get a discount of up to 45 per cent on the additional registration fee, with a S$20,000 cap.
He said that Singapore is placing a bet on electric vehicles because it is the most assuring technology. It was also made known that Singapore had plans to phase out ICE (internal combustion engine) vehicles. This would pave the way to cleaner energy by 2040.
These were the three measures highlighted to help Singapore achieve its aim:
Widening public charging infrastructure for EVs

Enhancing incentives to promote early EV adoption

Relooking road tax methodology for cars starting January 2021
2021
Finally, this year, the government unveiled the inter-ministerial Singapore Green Plan 2030. This initiative would steer Singapore to be more environmentally sustainable over the next decade.
Prime Minister Lee Hsien Loong also wrote in a Facebook post that Singapore residents could look forward to more electric vehicles on the roads. New goals pertaining to cleaner energy and lowering Singapore's overall carbon footprint were added:
More EV charging points (60,000 to be exact) by 2030

All newly registered cars need to be of cleaner-energy models from 2030
With that said, Mr Heng also announced on Feb 16 the hiked petrol duty rates as Singapore steps up to fight climate change. Here are the numbers to note:
Premium grade petrol: 79 cents/litre, up by 15 cents/litre.

Intermediate grade petrol: 66 cents/litre, raised by 10 cents/litre.
For visual learners, this might be more informative:
If you're not ready to make the switch right away, that's okay. Not everyone is prepared to jump on the EV ownership bandwagon. However, it would make sense to start thinking about it, considering the changing times.