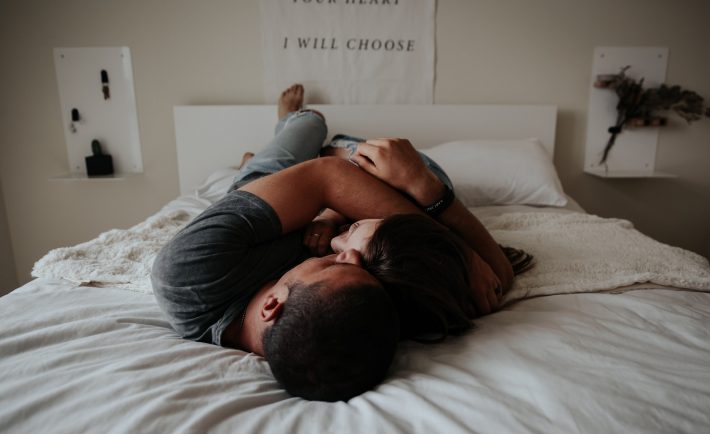 Image credits: unsplash.com
Romance does not have to fade just because you are at home. Considering the impact of the pandemic and the need to practice social distancing, you have probably struggled to keep your indoor dates exciting. Fret not! There are a myriad of creative date activities that you can enjoy right in the comfort of your own home.
Spend Valentine's Day with your special someone with these fun ideas.
#1: DO YOGA TOGETHER
Stretch the night away by practicing couples yoga with your partner. Now is the time find your inner Zen. Poses suitable for couples are more intimate and challenging. It is a shared experience focused more on the connection with one another, rather than just yourself.
#2: MAKE DELICIOUS PIZZA
Add spice to your Netflix and chill by making your own pizza. Try different recipes such as baguette pizza and Marinara pizza.
#3: TEST YOUR SINGING ABILITIES
Do you have a favorite love song? Challenge your partner to a melodious night of karaoke. Sing your hearts out by searching karaoke videos on YouTube. Singing some of your favorite tunes is guaranteed to boost your spirit.
#4: TRY A VIRTUAL MUSEUM TOUR
Whether you are a fan of Vincent van Gogh or cultural art, you can find a virtual museum tour for both of your interests. I recommend watching the National Museum of Singapore's Zoom Into History Video series. It is an insightful look at the artifacts and everyday objects that have defined our nation's past. You can also watch the virtual tours streamed on the National Gallery of Singapore's Facebook Live.
#5: CREATE FUN COCKTAILS
Show off your bartending skills in the comfort of your own space by making a cocktail together with your loved one. Make the Love Potion #9. It is made with gin, lemon juice, simple syrup, and pomegranate juice. Enjoy!
#6: START A BOOK CLUB
Encourage your friends to join your book club. Bring your partner along too. Choose a book to read together with the group and then pick an evening to discuss it over wine and cheese on Zoom or Skype.
#7: HAVE A PHOTOSHOOT
Spare a few hours for an at-home photoshoot. Ensure that your pictures have backdrops and decorations that fit your theme. You can have these photos printed and gathered into an album.
#8: SET THEMATIC NIGHTS
Whether you want to indulge on a game or movie night, you can set February 14 as your "best day ever". You can forgo dinner by turning the lights out and preparing snacks that can boost your movie night experience. If you cannot agree on a movie you both want to watch, consider the first movie you ever watched together. Alternatively, you can play video games. Your partner can either be impressed by your mad skills on screen or will think it is adorable to see you consistently losing.
#9: INDULGE IN A SPA DATE
Drop in your nearest Lush outlet or create your own DIY bath bombs to enjoy a spa date. Have a bath together with bath salts and bath bombs. Afterwards, you can give each other massages with aromatherapy oils. Lastly, you can give your partner a manicure or a pedicure. Complete the experience with matching robes!