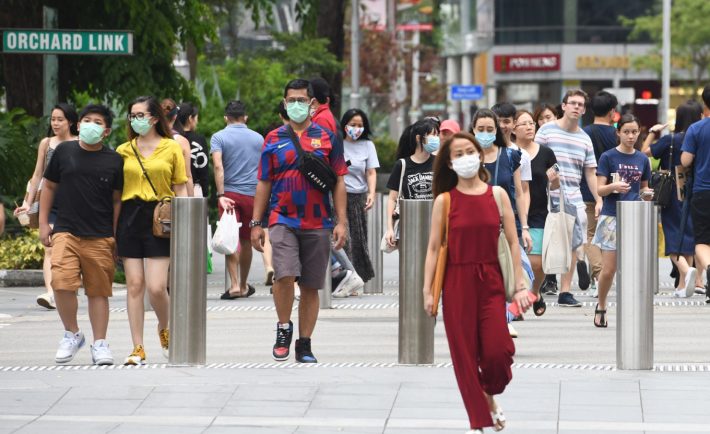 Image Credits: The Jakarta Post
How Much Should You Budget For a Trip to Singapore?
With its amazing futuristic architecture, exotic and unspoiled nature, and hundreds of unique stores and shopping malls, it's no wonder why Singapore is one of the top places to visit in Asia.
However, many travelers (especially those who are visiting Singapore for the first time!) will often wonder how much it costs to travel to the country, and if Singapore is budget-friendly at all.
If you already have the Singapore arrival card for US citizens and are ready to see the Little Red Dot, here is how much you can expect to spend:
Airline Tickets 
Depending on your location, Singapore is either fairly close or on the other side of the world.
Unless you live in Asia or the Middle East, airline tickets will usually be the biggest expense for your trip to Singapore. For quick reference, here is how much a one-way ticket to Singapore will cost from major cities (in USD):
New York to Singapore – $500
Paris to Singapore – $600
Istanbul to Singapore – $1000
Dubai to Singapore – $300
Keep in mind that in most cases, buying a round-trip ticket to Singapore may be significantly cheaper and could reduce the price by 20 to 40 percent!
Another trick to save money is to compare neighboring airline hubs around Singapore, such as Bangkok, Thailand or Kuala Lumpur, Malaysia.
If you find a cheaper flight to one of these places, you can use a budget airline (like Scoot or AirAsia) to fly to Singapore and see two countries in one trip!
Accommodations
Although Singapore is popular with tourists all year round, it is especially busy during the dry season, which runs from December to April. Since this is considered the peak tourist season, it is advised to book your hotel in advance.
When it comes to accommodation, travelers have plenty of options at different price points, including hostels, hotels, resorts, luxury hotels, and guesthouses. As with most touristic cities, the price will depend on many factors, such as location, comfort, amenities, and additional services like breakfast or airport transfers.
Travelers can expect to pay around $50 per night for a double room in an average, 3-star hotel. Those who are looking for prestige and luxury can expect to spend between $100 to $200+ for a 4- or 5-star hotel.
Of course, there is also the world famous Marina Bay Sands, which normally costs from $200 and up to $4,500 per night, depending on the room and season!
To get the best rooms, availability, and price, it is highly recommended to book accommodations as soon as you know when you plan to travel to Singapore.
Food and Drinks
While traveling in Singapore, be sure to try the delicious local food. There are so many excellent cafes and restaurants that are sure to delight your taste buds!
Similar to other Southeast Asian countries, it is customary to eat street food or fast homemade dishes in places like hawker centres, which there are plenty in Chinatown and Little India. Dishes in hawker centres will typically set you back only a few dollars (under $5 per dish).
Breakfast for two in a budget-friendly cafe will cost $10, lunch around $15, and a meal set from McDonald's — around $9. Dinner at an inexpensive restaurant, without alcohol, will cost $30.
Transportation
Singapore has an excellent public transportation system that includes busses, rail (MRT), and even ferry services.
The city is served by more than four thousand buses that easily reach any part of Singapore. A ticket for a regular city bus is calculated by distance, and typically costs around $1 or $2, while longer distances have a price tag between $3 to $8. There are free busses and shuttles around Sentosa Island.
The MRT in Singapore (which is both underground and overground) is considered one of the best in the world. As with buses, prices depend on distance. One trip around the city can cost from 50 cents to 3 dollars.
There is also the monorail, which connects Singapore and Sentosa Island. The journey takes 8 minutes and costs $3. Taxis are more expensive and slower than the metro, but a great choice for families and groups. On average, a trip in the city will cost $8 to 15, and a trip to the airport from the city center will cost $18 to 25.
Due to high taxes, additional fees, and parking costs, renting a car in Singapore will not be cheap. The cost of renting a standard car starts around $70 to $100 per day and will go up depending on the model (SUV, sports car, etc). Likewise, travelers can expect to pay around $1.80 for a liter of gas.
Sightseeing, Excursions, and Souvenirs 
Last but certainly not least, don't forget to leave a little room in your budget for fun!
Although the price for tickets and attractions differ based on the place, you can expect to spend between $5 to $15 for a ticket to a museum or exhibitions.
If you're planning to visit Universal Studios Singapore, be prepared to pay around $60 for a non-resident ticket.
Finally, the entrance fee to the most popular attraction in Singapore (the Gardens by the Bay) starts at $10 and goes up based on extras, like a guided tour or special event.
As for tours, there are plenty of options, including group walking tours to fully private tours. A private tour will cost about $100, while group walking tours start around $20 per person.
No trip to Singapore is complete without souvenirs — thankfully, there are plenty of places to buy gifts, such as Lucky Plaza, Bugis Street, and Chinatown. Prices range from $2 for a simple magnet to $10 for a shirt and onward.