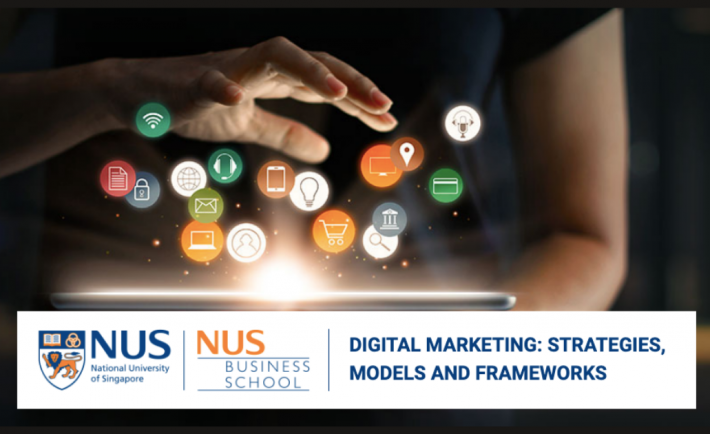 According to Research and Markets, Southeast Asia's digital advertising market is expected to grow by 13.93% and reach over $15.3 billion.
This alone indicates the forecast and power of digital marketing that will evolve over the years alongside the modern consumer.
By harnessing the potential of using marketing tools and technologies to connect with customers, you'll be able to create vital strategies that will grow your business.
Overview of the course

NUS Business School, together with online education provider Emeritus, has designed a "Digital Marketing: Strategies, Models, and Frameworks" course to give you in-depth knowledge of understanding how customers behave with digital technology.
With this information, you can use the right methods to craft the best digital strategies for the broadest customer reach.
"This programme will bring together the art and science perspectives of digital marketing. It introduces you to an understanding of how customers behave with the immense use of digital technology, so with the help of psychology, you will be able to use frameworks and tools available to craft digital strategies to better reach, engage and retain customers," said Dr Doreen Kum, Associate Professor, Marketing, NUS Business School.
Program details
Start Date: 23 February 2021 (Tuesday)
Duration: 2 months (4 to 6 hours per week)
Fee: US$1400 (approx. S$1855) (GST payable for Singapore residents)
Certification
For a two-month online course, S$1855 is not a small sum. Averaging out, a month will cost you slightly less than S$950. For those who can't pay in full at one go, you will be glad to know that there are flexible payment options with instalment plans.
Executives looking to seek promotion with reputable certifications should seriously give this a thought. That's because you will be awarded a verified digital certificate by NUS Business School.
Here's what you can put up on LinkedIn upon course completion: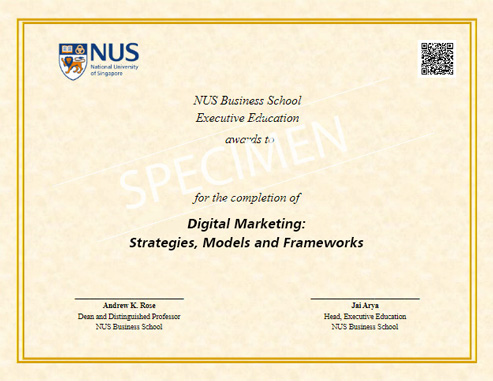 Course trainers
You will be taught by professionals like Dr Doreen Kum and Ang Eu Gene from NUS Business School.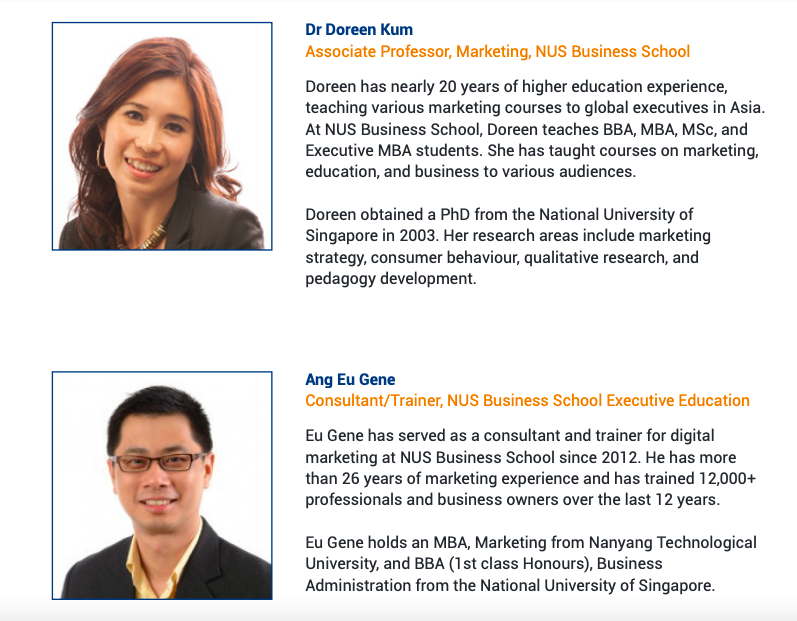 There will also be presentations and interviews from guest speakers of crucial industries. This includes:
Ryan Lim, Principal Consultant & Founder, QED Consulting

Althea Lim, Group Chief Executive Officer of Gushcloud International

Aaron Su Director, Global Product Marketing, Republic of Gamers, ASUS
This is a great platform to connect with trainers and experts through video lectures and impactful assignments. You will also gain the perfect opportunity to engage in real-world practices with fellow participants on discussion boards.
If you're determined to build a brand for your company, make use of customer analytics, or want to create better solutions for your clients, this course is designed for you. It can also benefit you if you have a career in:
Sales and marketing

Business and marketing

Public relations, brand and communications

Consumer-driven industries like banking and finance, healthcare, retail, IT products and services, education, and automotive
What you will learn
Module 1: Transformation in Marketing
You'll look at how digitisation is impacting the marketing world and observe digital consumer behaviours.
Module 2: Reaching Customers: Digital Marketing Channels
Learn about various consumers' journeys and personalities and examine different strategies for engaging them through media and content.
Module 3: Engaging Customers: Social Media
Harness social media as a tool to engage your customers and find out how to build a brand, curate content, and create a personalised experience.
Module 4: Targeting Customers: Planning for Paid Advertising on Digital Platforms
Create highly optimised, goal-oriented paid campaigns that follow up with post-conversion strategies.
Module 5: Targeting Customers: Advertising on Digital Platforms
Craft paid advertising campaigns on some of the most popular social media platforms, like Google, Facebook, YouTube, and Instagram. You'll also learn how to market via email.
Module 6: Measuring Success: Digital Marketing Metrics and ROI
Marketing is nothing without the numbers. Familiarise yourself with an excellent framework for metrics and measurements that will produce a superb ROI through experiments and multi-attribution tracking. 
Module 7: Planning and Executing a Digital Marketing Strategy
Learn how to create a digital marketing strategy from start to end through an optimised and complete framework. 
Module 8: Technology and the Future of Digital Marketing
Everything comes in full circle when you look at marketing's fundamental role in generating business growth and examining its future position regarding GenZ and technology.
"In addition to the up-to-date theoretical framework and foundation of digital marketing, you will learn and experience cutting-edge digital advertising and marketing methods that are highly practical. We are excited to bring you a unique combination of academic theories and practical tactics for your success in digital marketing," commented Ang Eu Gene, Consultant/Trainer, NUS Business School Executive Education.
Case studies

Apart from the well-planned modules mentioned above, all course participants will also be exposed to real case studies. This includes famous brands like:
Dove

Porsche

L'Oréal Paris

Giant Supermarket

The Edison Hotel (a boutique hotel in Penang, Malaysia)
Upskill and upgrade
The "Digital Marketing: Strategies, Models, and Frameworks" course will equip you with some of the most powerful skills to leverage consumer behaviour and grow your business in today's increasingly digitalised world. Through qualitative and quantitative work taught by industry experts, you'll be ready to take your business endeavours to the next level.
Before we sign off, here's a gentle reminder that the course commences on 23 February 2021 (Tuesday). Apply now before it's too late!