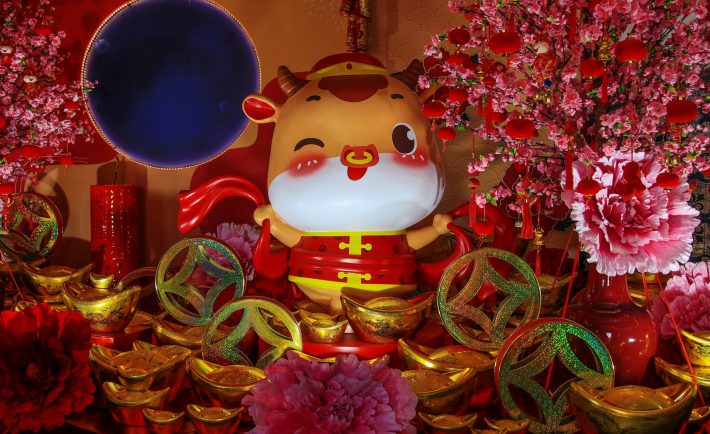 Image Credits: unsplash.com
#1: SINGPOST'S OX-THEMED STAMPS
Last month, SingPost released a set of stamps that marked the arrival of the Year of the Ox. This year's stamps featured two graphical illustrations of the ox by artist Lim An-Ling. She previously designed the 2020 Year of the Rat and 2019 Singapore Bicentennial stamp sets. The set of mint stamps has two denominations namely, 1st Local (S$0.30) and S$1.40. These stamps are part of a new collection of SingPost Zodiac stamp series.
#2: LIFEBOUY'S DISNEY TSUM TSUM OX HAND SANITIZER
Lifebouy released an exclusive hand sanitizer featuring the ox, rooster, snake, and Fu. This collection also offers designs with other Zodiac animals. It is up to you to choose which is the most "incredi-bull". You can get your own hand sanitizer in Lazada, FairPrice, FairPrice Online, Watsons and Watsons Online for as low as S$3.25.
#3: PANDORA OX CHARM
I, for one, am a collector of Pandora charms. I am amazed by the wide selection of classic charms, collaboration charms, and limited-edition charms that Pandora houses. This year is no different! Pandora's Chinese New Year 2021 Collection features an ox charm, a Fortune Cat charm, a mahjong dangle charm and other huat symbols. It retails from S$89 at sg.pandora.net.
#4: TWG TEA GREEN OF FUJIAN TEA
If you have S$48 to spare, you can enjoy the TWG Tea Green of Fujian tea pack. It is a blend of green teas from a remote garden on the celebrated Tai Mu Mountain of Fu Ding in Fujian Province. Let abundance and prosperity enter into your Year of the Ox by checking the nearest TWG Tea Salons & boutiques or by visiting TWGTea.com.
#5: SEPHORA OX COLLECTION
Are you looking for a beautiful yet cow-venient palette that can take you from day to night? Look no further than the Sephora Ox Collection Eyeshadow Palette (S$45)! It features highly-pigmented matte and pearlescent eyeshadows. You can pair your shimmering eye look with the soft pink satin lipstick in their Ox Collection (S$26). The Petal Pink Satin Lipstick has a smooth and silky texture. Get yours at sephora.sg.
#6: BIODERMA SENSIBIO H20 MICELLAR WATER (CNY LIMITED-EDITION)
After applying your makeup, you may cleanse your face with the Bioderma Sensibio H2O Micellar Water. Its packaging showcases a grazeful ox. This CNY limited-edition product was designed for sensitive skin. You can buy this festive bottle at Watsons, Guardian, Lazada, and Shopee.
#7: STARBUCKS' OX-THEMED COLLECTION
Starbucks welcomed the Lunar New Year with their ox-themed collection. It showcases a combination of mugs, tumblers, bearistas, and seasonal snow globes. All these products feature intricate ox prints and designs. The price of these products range from S$18.90 to S$62.90.
#8: CNY GIFT TINS BY YOKU MOKU
The 2021 Chinese New Year limited-edition tin box by renowned Japanese confectionery brand Yoku Moku costs about S$48. The box contains an assortment of cookies such as eight pieces of matcha butter cookies and eight pieces of Cigare. Cigare are delicate cookies rolled with a vanilla flavor and buttery crunch. These treats are packed in a beautiful red tin. Order yours at yokumoku.com.sg.