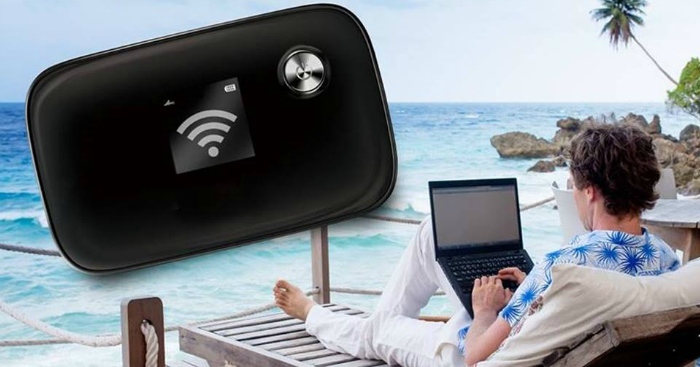 Going by the 4Cs – Convenience, Cost, Customer Service and Companion, Changi Recommends is doing everything for you to make planning your travels less of a stress.
With the ChangiWiFi, you no longer have to worry about forgetting to rent a portable WiFi router before embarking on your trip. Here's why.
CONVENIENCE
More collection points in Changi Airport.
Changi Recommends has increased the number of collection points for your collecting and returning your ChangiWiFi routers, from four to 11 booths!
Spread across all four terminals at convenient and easy to locate spots, collecting and returning the ChangiWiFi routers are now a breeze, settled within minutes upon arrival at the airport. No need to panic even if you are running late for your flight.
Reserve and collect anytime, any day.
Open 24 hours, 7 days a week, reserve and pick up your ChangiWiFi routers at any time of the day.
Last minute bookings? No problem!
Just remembered you need WiFi on your trip on the way to the airport? Order and pick it up on the spot at your departure terminal before you fly!
Certainty of getting your router before you fly.
There was that one time I ordered my WiFi router just a few days before my trip with another company and as a result, I had to send it to my arrival destination's post office (as it wouldn't arrive in Singapore before I fly), locate the post office when I arrive, and all the time worrying if my router will reach on time before I embark on my road trip.
With Changi Recommends, I could have saved all that trouble. No need to trouble yourself waiting for the WiFi router delivery and hoping earnestly that it will reach you in time before your trip. Simply pick it up on the way to the airport and return it at the arrival terminal when you return back to Singapore. All without having to go out of the way and have a blip on your itinerary!
COST
WiFi vs Prepaid SIM vs Data Roaming
Thinking between WiFi router, getting prepaid SIM cards or data roaming? We give you the lowdown below.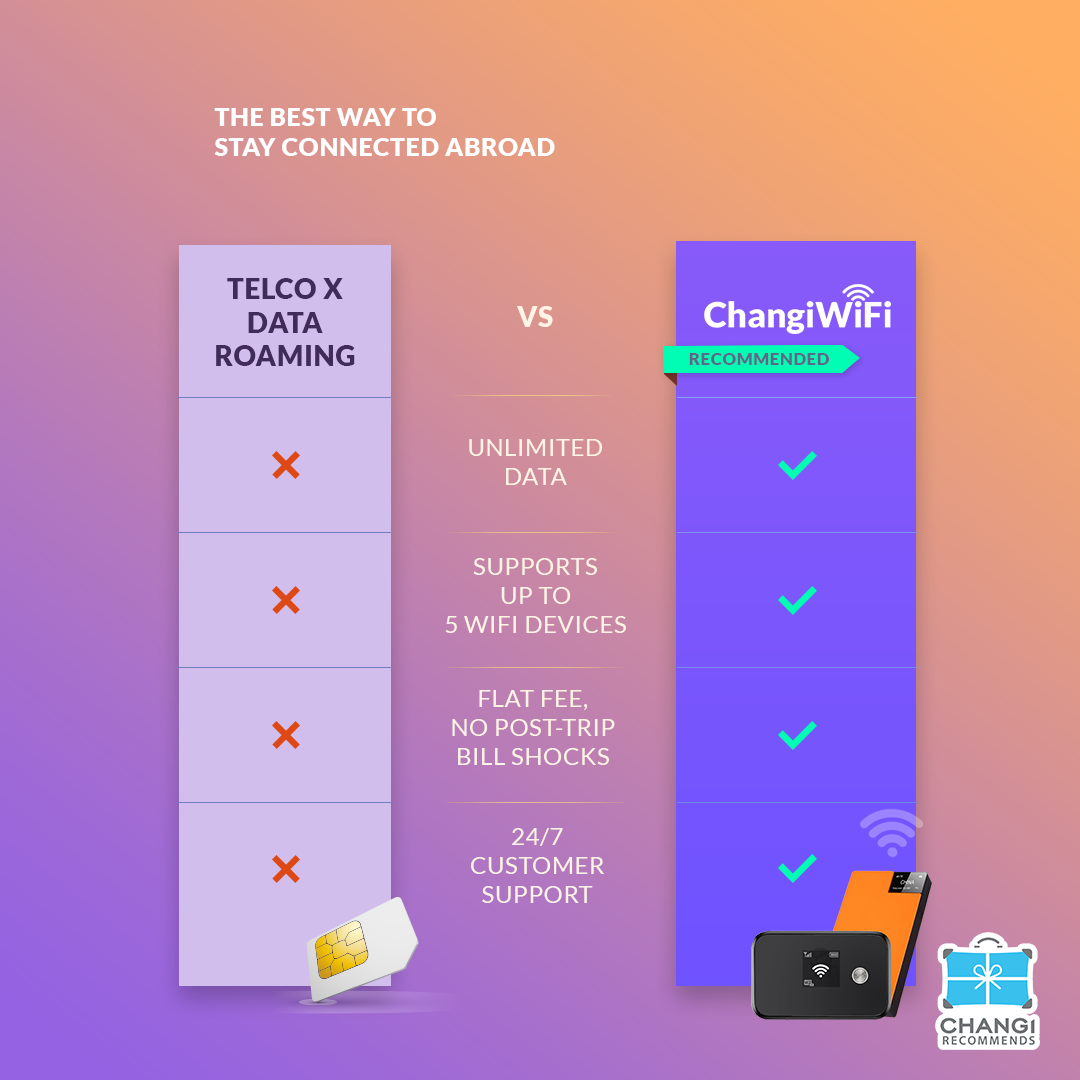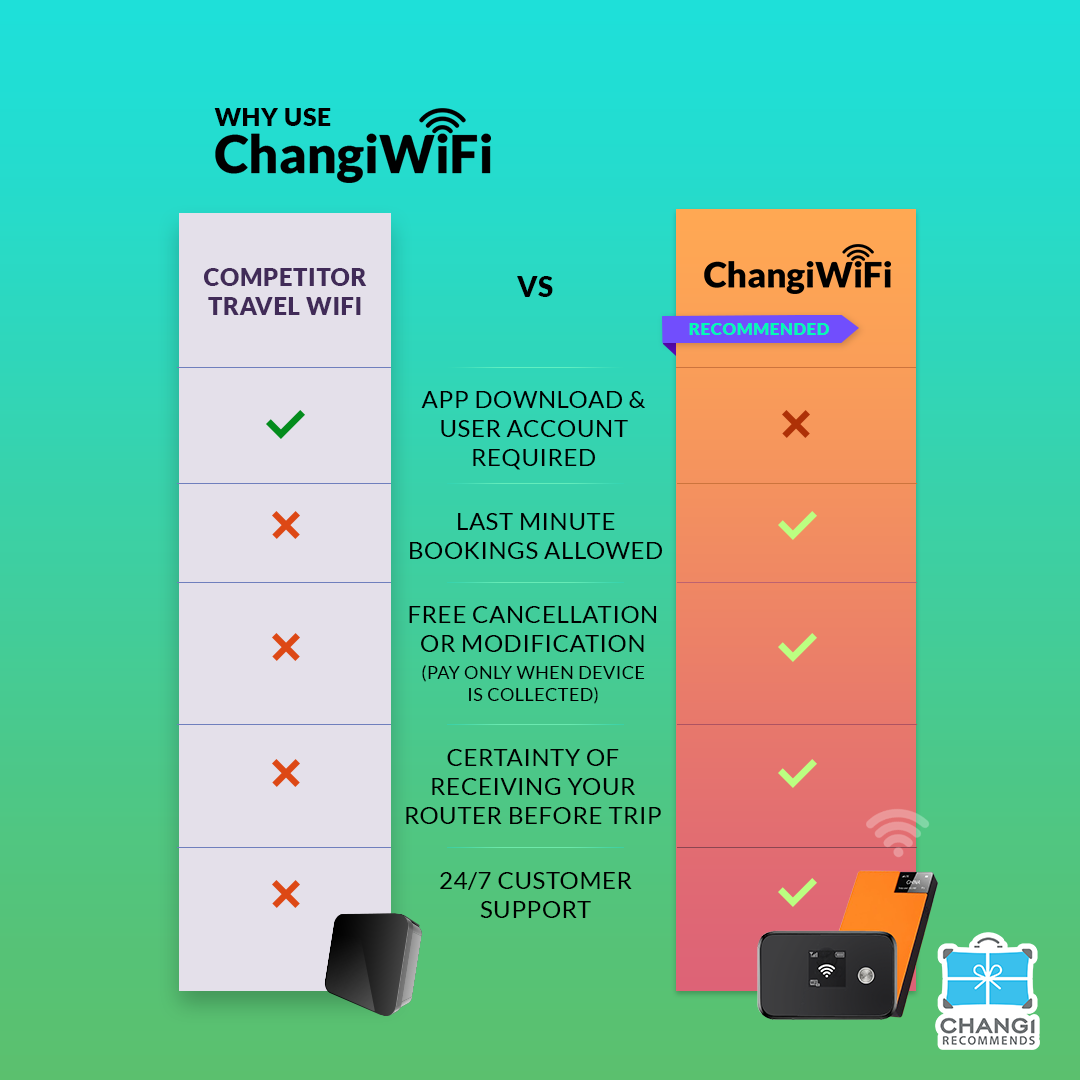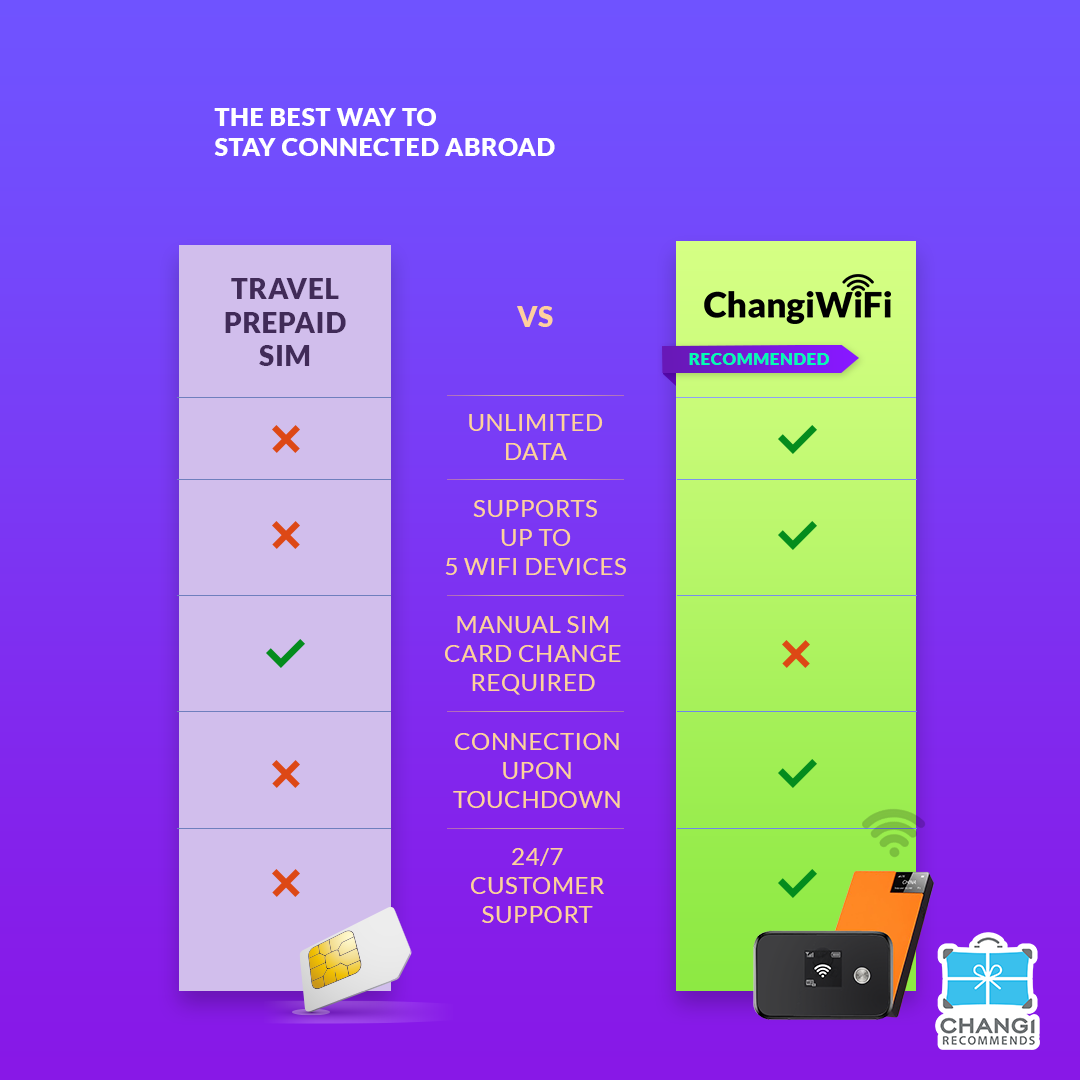 Free cancellation and modification, pay only at collection.
CUSTOMER SERVICE
Customer support 24/7.
We know what a pain that will be if our WiFi suddenly doesn't work while you're on the road. And no other WiFi rental company takes customer support as seriously as Changi Recommends. No matter what time zone you're travelling in, you've got it covered 24/7.
Reachable through any channel
Not only does Changi Recommends offer customer service help round the clock, you can even choose to email, call or Whatsapp them for enquiries and technical support.
COMPANION
Your favourite travel companion
Wherever you go, you can count on this device to keep you connected and on familiar grounds. Whether it is trying to navigate your way around or sharing live updates with your friends and fans back home, it is all possible as long as you have ChangiWiFi.
Exclusive to Money Digest readers: Get 2 FREE days off with a ChangiWiFi rental when you book with code: 2FREEDAYSMD
You can find more details about ChangiWiFi rentals on their website: https://www.changirecommends.com/owifi.aspx