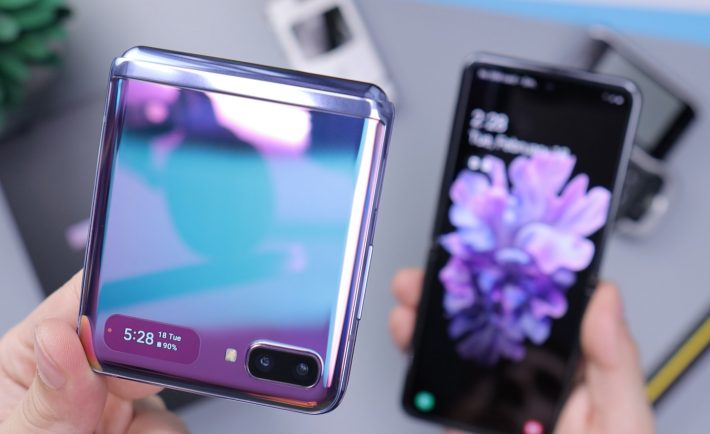 Image Credits: unsplash.com
As I was scrolling through my Instagram feed, I got fascinated with how the latest Samsung Galaxy Z Flip looks like. It reminded me of my old Nintendo Advance SP. For those of you who are unfamiliar with the bygone SP, it is a handheld game console that can fit inside your pocket. Imagine having a smartphone that you can fold inside your pocket!
Introducing Samsung's first glass-screen folding phone called Samsung Galaxy Z Flip. You read that right. Its glass display is its biggest selling point! This smartphone is made from Samsung Ultra Thin Glass, which "sets you up for an epic view with a smooth flat screen". Other folding phones in the market such as Huawei Mate X and Samsung Galaxy Fold have used plastic displays. Hence, the Z Flip feels more premium and fragile as compared to its predecessors. It is a full-screen smartphone that fits in your pocket!
Its 6.7-inch display collapses into half, which will turn any heads whenever you use it. Aside from its physical attributes, another headturner is its unbelievable price. It carries an expensive price tag of $55.50/month for 36 months or $1,998.00 for a 256 GB unit. You may also get it from Samsung's partner merchants such as Singtel. Singtel's Combo 2 allows you to get the Z Flip for a monthly fee of $42.90 or Combo 6 for $99.90 per month. These combos are tied to distinct Singtel plans.
It costs more than the Galaxy S20 and Galaxy S20 Plus. Would you believe that it easily sold out throughout the world despite its hefty price? Well, it is true!
Another battle with the manufacturing of the Galaxy Z Flip is the ongoing prevalence of the Coronavirus-19. Just weeks after the unveiling of the Z Flip, Samsung had to shutdown their plant in South Korea after an employee tested positive of the illness. COVID-19's widespread is taking a toll on the global technology industry and other businesses who are heavily reliant on the Asian supply chain. Disruptions in manufacturing and limitations in travel impedes the success of the current technological scene. The same challenge is felt by the Apple company.
Apple said that it is likely to miss the quarterly revenue guidance due to the COVID-19, which affects the Chinese consumers and the production capabilities inside China. These are unforeseen and uncontrollable circumstances that Samsung, Apple, and other businesses have to deal with these days.
Here is to hoping that we could all gradually recover soon!