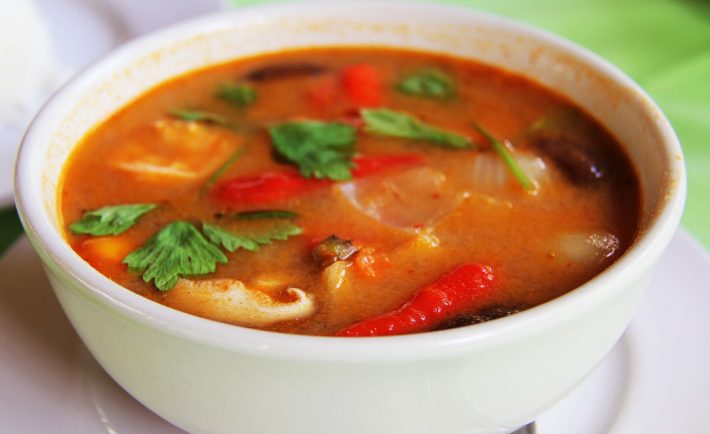 Image Credits: pixabay.com
Singapore is a melting pot of various cuisines that cater to all sorts of palettes including the burning one. By burn, I am pointing out the dishes that evoke a desired intraoral sensation by putting spices such as chilli (or chili) peppers and curry. Fortunately, satisfying your cravings for spicy food does not have to come with a price tag that is beyond S$40!
NAKHON KITCHEN

For people who love Thai food as much as I do, scouting for an affordable yet authentic restaurant can be a hobby. Look no further than the casual experience that Nakhon Kitchen can bring. Most of its dishes are reasonably priced for as low as S$6. However, its seafood dishes range from S$10-12.
Going back to the topic at hand, Nakhon Kitchen's resident Tom Yam Soup is a reward for the spicy food enthusiasts. The extremely spicy soup is garnished with the generous amount of chicken and seafood. The distinctive aroma of lemongrass and the taste of sourness will win your heart in the first bite alone.
 Location: 212 Hougang Street 21 #01-341, Singapore 530212
KKO KKO NA RA KOREAN RESTAURANT

As it turns out, spicy food seems to gravitate toward the laid-back atmosphere. I am referring to the smooth vibe of the Korean Native Language that diners at Kko Kko Na Ra Korean Restaurant can appreciate. What patrons keep coming back to is their version of a tasty fried chicken. The fried chicken has 4 flavors namely: hot & spicy, sweet & spicy, soy garlic sauce, and original. Stretch your dollar by ordering the "combo set" to get an assorted plate that features all the flavors.
Aside from the chicken, take your spicy taste-buds on a joyride as you devour either the Kimchi Chigae and the Spicy Korean Ramen. The prices of the dishes range from S$15-30.
Location: 57 Tras Street, Tanjong Pagar, Singapore 078996
MELLBEN SEAFOOD
Mellben Seafood has grown immensely since its humble days along the Alexandra Road. Spanning with about three outlets in Singapore, Mellben Seafood is known for its delicious chilli crab. You can expect nothing but huge crabs showered with spicy, slightly sweet, and thick chili sauce. You may request to adjust the spiciness to the level that you can easily bear.
Situated at a Kopitiam in one of the HDB estates, Mellben Seafood at Ang Mo Kio is remotely away from the bustling center of the Lion City. Its menu features a wide array of crab meals such as Chilli Crab, Black Pepper Crab, Butter Crab, and Shimmering Sand Crab. The average price per person is approximately S$35. You can save more by sharing a hearty plate.
Location: #01-1222, 232 Ang Mo Kio Avenue 3, Singapore 560232

SOUTHWEST TAVERN
Please offer a moment of silence as I usher the spiciest challenge in town – the "Spaghetti from Hell". Food adventurers and novice alike are familiar with this Southwest Tavern dish. Put your chili tolerance to the test as you chug down a seemingly friendly plate of pasta in under 10 minutes. Come out victorious to win S$100 worth of dining vouchers or other rewards. If you are not eager to participate in this challenge, you may choose the level of spice.
Spaghetti from Hell comes in three forms: the Hell's Gateway (about S$18), the Halfway There (about S$22), and the Level 18 (about S$26). You may also try their Suicide Wings (S$14-22) to intensify the entire meal.
Location: 8 Boon Lay Way #01-33 Tradehub 21, Singapore 609964
This article has provided your with some of Singapore's top spicy dishes. May you enjoy the tasty burns ahead! 🙂