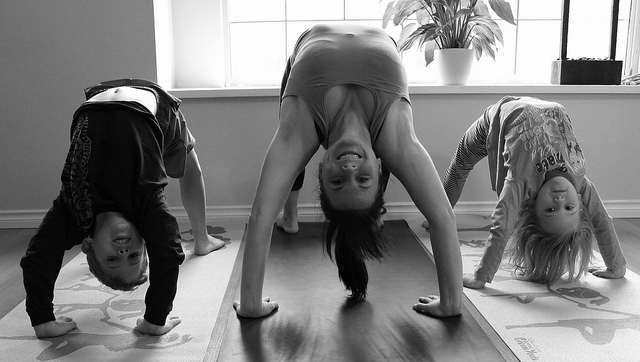 Image Credits: sunchild123 via Flickr
Various people have an impression that Yoga is expensive or that Yoga is only for the elites.
Compared to a monthly gym membership, perhaps Yoga can be considered expensive. Clothes, mats, and other props can be costly. But, if you prioritize the practice of awareness rather than flaunting for fashion then you may find yourself saving a lot more.
As Yoga teachers, you get to immerse yourself deeper in the practice and its doctrines. You become less interested in wastefulness and more interested in conservation. With that in mind, here are 6 Simple Ways to Save Money as a Yoga Teacher…
1. SAVE ON YOGA TOPS
Jessica Matthews, writer on "American Council on Exercise", suggests that you can wear a simple tank top a fitted and stretchy t-shirt, or a sportswear top, whether or not they were designed specifically for Yoga. An inexpensive top or shirt can be just as comfortable as the designer ones.
2. MANAGE YOUR INCOME AND EXPENSES
In order for you to decide on how much you shall save, first you must be aware of how much you are spending. The typical things you will track as an expense are costs on training, travel, clothing, and books. The challenge now is for you to choose on which expenses you can reduce.
3. MAKE YOUR OWN YOGA PROPS
Abby Lentz, founder of the "HeavyWeight Yoga classes", shared some Do-It-Yourself Yoga Props.
a. Yoga Blocks
It is possible to make a handcrafted Yoga Block if you have bulky, unused or old books, yellow pages, phone books, and dictionaries. Just slip a pace of hard cardboard halfway between the pages of the book to make it sturdy and tightly tape the entire areas close.
b. Yoga Straps
You can make your own Yoga strap by knotting two neckties together. You may also use a second-hand bathrobe sash from the thrift shop as branded Yoga straps are just made with cotton straps with buckles.
4. PRACTICE AT HOME
Doing Yoga at home along with a video or audio companion is definitely more cost-effective than attending classes. The Internet has an abundant index of Free Yoga videos, health information, and Yoga poses catalog that you may use.
If your studio benefits include free classes, then take advantage of it. Aside from exercising, you will get a chance to study how different teachers conduct their classes.
5. INVEST IN THE BASICS
Two dollars for a mat and a dollar for bottled water may not seem like a lot, but it will quickly add up over time. Instead of buying or renting cheap Yoga mats, invest on a sturdy one that you can use for a couple of years.
Instead of buying mineral water on the studios you practice, buy a cheap water bottle and refill your own water at home. Through these steps, you will not only be able to save money but you will also be able to reduce waste.
6. Aside from saving money on Yoga, you can also save money through Yoga!
Sources: Yogaanonymous and About.com