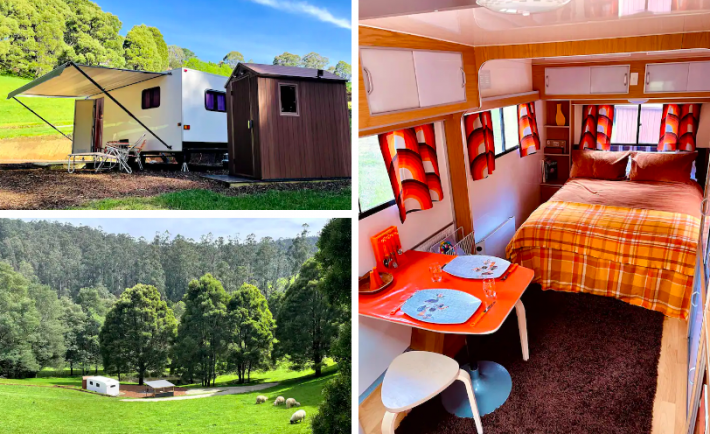 Did you catch my last post on beachfront rental homes in Perth, Australia?
If you've not, you can have a read here:
4 beachfront rental homes in Perth, Australia from $87/night for your National Day getaway
In this post, we're still eyeing the National Day break since we've got some time left till August so there's ample time to request an official leave and plan your trip.
At the time of writing, I searched and saw a 2-way flight at less than $700 to Melbourne and hence this post.
And if you need a holiday with a twist, why not try these campervan-style stays from $91/night I'm about to introduce to you?
Prices reflected are based on dates selected from 9 to 13 August 2023.
Price: $91/night
Step into this vintage caravan, crafted with care in the 1950s. This delightful little home on wheels stretches a cozy 12 feet, offering a peaceful escape in the heart of the Dandenong rainforest. Inside, you will find a snug double bed, just slightly smaller than the standard size. This vintage gem comfortably accommodates up to two people, ensuring an intimate retreat.
The caravan also comes equipped with a heater, guaranteeing a comforting, toasty ambiance during the cooler months. Adjacent to the caravan, you will discover a private ensuite featuring a compact fridge, a refreshing hot shower, and a composting toilet.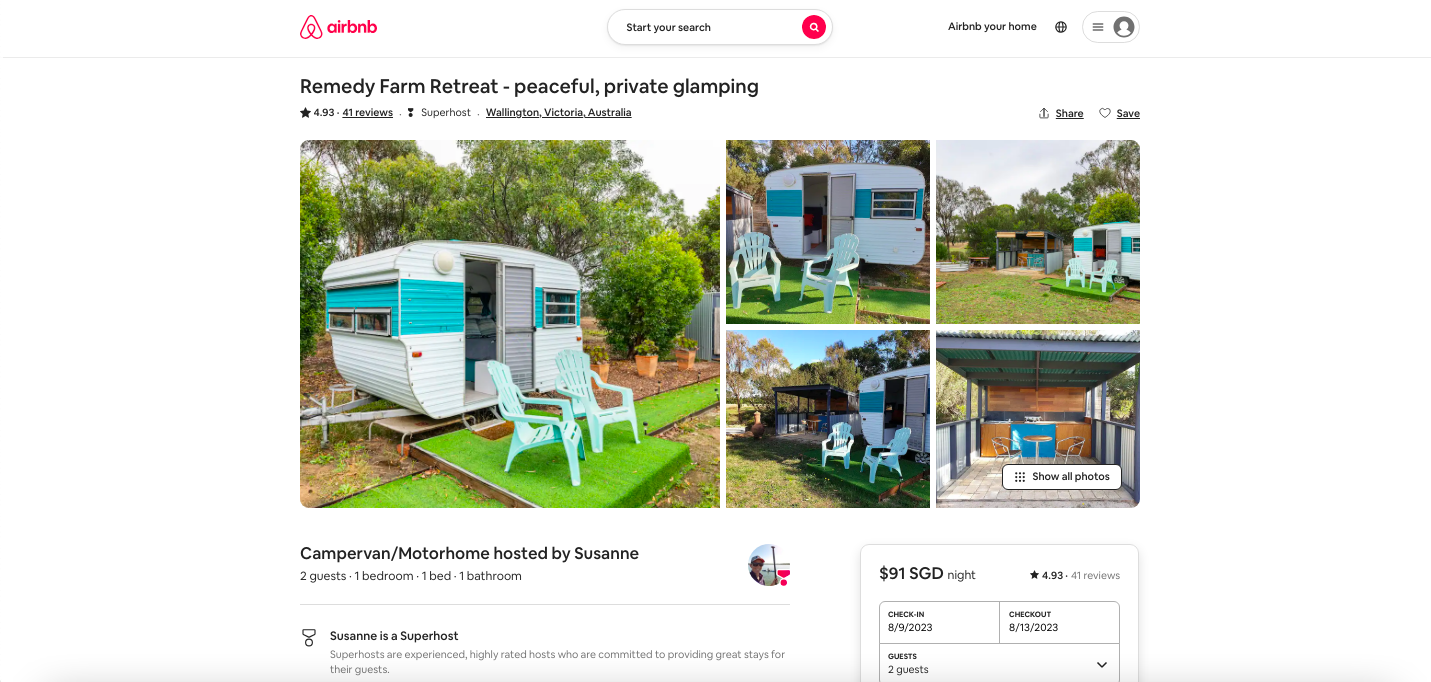 Price: $91/night
Welcome to this adorable little caravan nestled in the serene rural green belt of Wallington. It comes with a cozy queen-size bed, complete with bedding for your utmost comfort. Power is available for essential amenities like lights and charging your phones and small devices.
Outside, a charming deck awaits, furnished with chairs where you can relax and soak in the beauty of nature. You will be equipped with a two-burner stove, grill, and all the essentials, everything you need to whip up delicious meals. When nature calls, the private outdoor shower and toilet facilities are just steps away from your accommodation.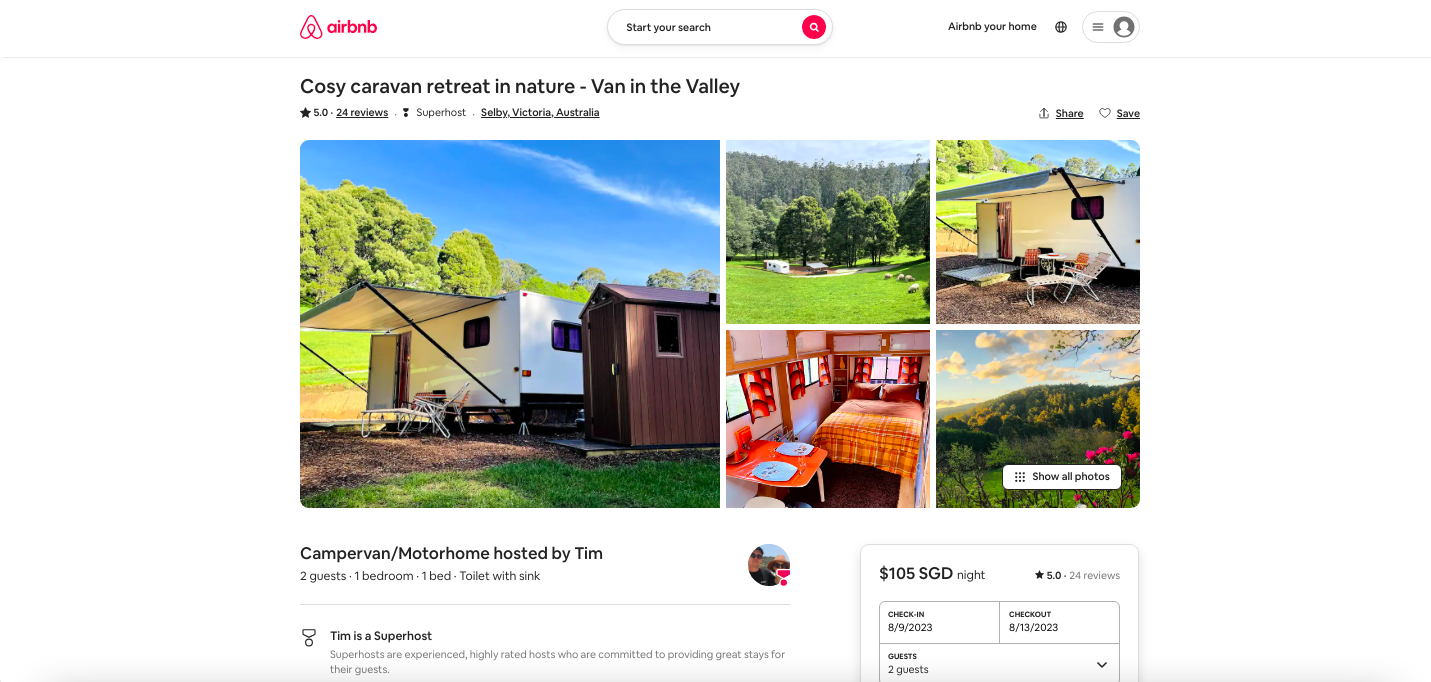 Price: $105/night
This cozy caravan is nestled in the picturesque valley of the Dandenong Ranges, positioned in the lower section of the host's hillside property. You will find a comfortable double bed adorned with high-quality linen. Bedside tables, a small wardrobe, and cupboards are available to store your barang barang and keep them organized.
You will also find a table inside the van, perfect for enjoying meals indoors. The kitchen area is well-equipped and stocked with plenty of plates, bowls, cutlery, utensils, and basic supplies, so you will have everything you need for meal preparation. Venture outdoors and you will discover a BBQ shelter complete with a BBQ grill and a picnic table, providing a delightful space for outdoor dining. For your convenience, the campsite offers a long-drop toilet, along with a separate cubicle featuring a hot water shower.
Your National Day getaway in Melbourne, Australia is waiting with these inviting campervan-style accommodations. Starting from just $91/night, these cozy havens offer a unique way to explore Melbourne's stunning surroundings. Whether you're seeking a peaceful retreat in the rainforest near Mount Dandenong, a rural escape in Wallington's green belt, or a charming stay in the valley of Dandenong Ranges, these campervans provide a touch of wildness for the adventurous at heart. Book your stay today before they get snapped up!