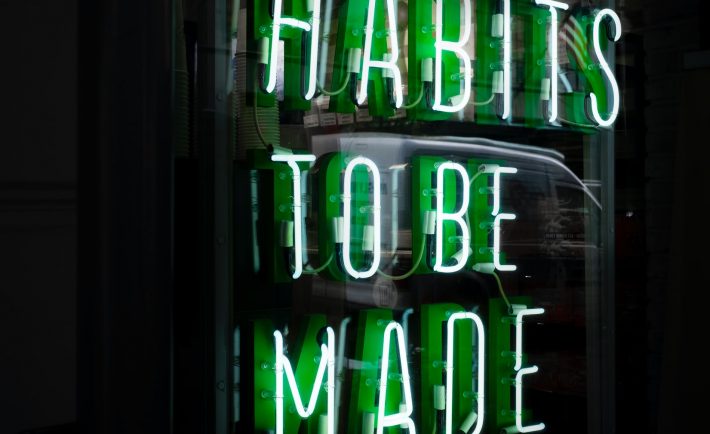 Image Credits: unsplash.com
Habits are powerful. From cycling every morning to praying every night, habits are frequent patterns of behaviors that reflect who we are. It is the selective repetition of activities that shapes our lives. Inevitably, our habits become significant parts of our lifestyles.
We often fail at building habits by setting unrealistic and unsustainable goals. Starting small makes habit building more manageable. Benjamin Hardy compares this concept (micro habits) to compounding interest. When given choice, people would opt to take a million dollars in the bank as opposed to a cent that doubles in value over the course of the month. What most people do not realize is that they will get more payout by taking the second option.
He said: "The doubling penny actually ends up being $10.7 million dollars. Yet, the majority of the growth happens at the very end, and most people aren't patient enough for the big return. The live for the moment culture of today stops people from investing."
Micro habits can change your life. It is up to you to strategize which habits you are willing to integrate in your routine. Here are some of the examples.
#1: WRITE A PARAGRAPH
Whether you are building a robust business plan or a non-fiction book, start by writing a few sentences each day. Make it a goal to write a paragraph by the end of the week. The momentum will build on its own and you will find yourself effortlessly writing more and more as the days go by. In fact, I have written my second book in less than two months. Beginnings are always the hardest.
#2: LISTEN TO UPLIFTING PODCASTS OR SONGS
Open your Spotify or music app and listen to podcasts and songs that inspire you. Children typically benefit from having background music while they learn. You may consider listening to a financial podcast as you travel to work. Great music can put you in an energized working state.
#3: RESPOND TO TEXTS AND EMAILS
As much as possible, respond to important emails and texts as they come in. This way, you will not be left with a backlog of tasks to attend to.
#4: BE LESS REACTIVE
Train your mind to be calmer. When you see or hear something that immediately frustrates or upsets you, avoid reacting first. Analyze your thoughts and take a deep breath. Learning to take small pauses will help you figure out where your emotions come from and what your next action should be.
#5: PREPARE FOR YOUR NEXT DAY
Always come to work or school prepared. Prepare for the next day by allotting a few minutes of your night routine to preparation. Make a simple list of the things you need to bring or tasks that you need to accomplish tomorrow. Then, plan your attire. This can take you about 5 to 10 minutes.
#6: TAKE A POWER NAP
A power nap that can span for 15 minutes is all you need to get back to your optimum performance. It is a skill that you can master for a period of time. You will find yourself accomplishing more by napping once or twice a day.
#7: PRACTICE SAYING "NO"
Our energy levels are limited per day. More often than not, you will come across some of the most demanding people. Ensure that you spend your energy to the things and people that you truly care about. Do not feel bad for saying "no". Ultimately, it is a means of self-preservation.
#8: DRINK MORE WATER
It is recommended to drink about 8 cups of water a day. Just focus on drinking one more glass a day. Then, it will become a part of your routine.
#9: EAT ONE LESS UNHEALTHY SNACK A DAY
It is easier to skip one unhealthy snack a day than to overhaul one's entire diet. Focus on one unhealthy item that you can live without that day. Just one!
#10: CELEBRATE SMALL WINS
This year has been all about counting our blessings. Big wins do not come by often. Boost your morale by celebrating small wins. There is a reason why people rush to go to the game's "boss level". We constantly want to be rewarded. So, every time a small positive event happens in your life, consider it a "win". You may treat yourself to a hearty lunch or write it down in your "success journal".
Celebrate small wins. You deserve it!