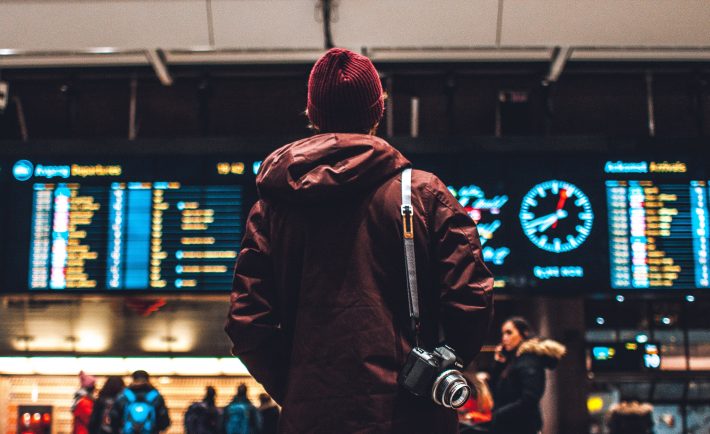 Image Credits: unsplash.com
Have you tried solo traveling before?
As someone who has been there and done that, I've enjoyed it thoroughly. But at various ages and life stages, I agree that it can be different for everyone. For those who've tried it once but didn't enjoy it that much, I want to say:
Give it some time, and you will notice the magic.
Overcoming the fears of traveling alone
If you're a foreigner in the world of solo travel, you will undoubtedly experience anxiety.
But rather than dwelling non-stop on the things that can go wrong, why not channel your energy into the things that can go right?
Just think about the new people you will meet and the stories you will hear. Those really excite me. And having traveled umpteen times, I assure you that traveling alone is not that bad.
How to make the most of your time alone
Being alone doesn't mean you have to be "alone" all the time. I mean, there are opportunities to socialize.
You can start conversations with people you meet on the streets, join day tour groups, and be open to meeting new faces—locals and foreigners.
As an introvert, I'm okay with being alone but that doesn't mean I'm not sociable. Over the years of solo traveling, I've met many new friends through day tours I've joined via Klook and Kkday.
I've also met nice folks (and some weird ones) on CouchSurfing.
View this post on Instagram
It's really all about keeping an open mind.
Getting ready for a safe, enjoyable vacation
If you're an absolute newbie or don't have much experience with solo traveling, you're probably in need of some advice. Lucky for you, here are some pointers to get you started:
Choose the right destination
I'm not trying to be biased here but certain destinations are flagged as a little more dangerous than others. Just do a search online and you will probably see a list of cities you should avoid in 2023.
Just as you (probably) won't walk into an expensive restaurant for a first date without researching, the same goes for your first solo trip. Information online is abundant so make use of that and read up thoroughly before you go.
I'm a planner and maybe you're not. But having a big-picture plan helps to navigate precious days abroad and this works especially if you don't have a whole month to "waste." Since most of us have fixed annual leave and with only a week or two to spare for a holiday, let's make full use of it.
Beginner tips for aspiring solo travelers
If you've never traveled by yourself, the first trip might surprise you a little. And that's okay. Just…
Keep an open mind. Whenever things don't exactly go as planned, take advantage of the opportunity to try something new or simply go with the flow. Rigidity gets us nowhere. Stranger things can be fun!
Also, take small steps to get used to traveling alone. Folks who do not dare to take the first step, why not start by making short trips to neighboring countries? This will help you get used to the idea of being alone gradually without having to deal with the nerves of traveling to a faraway land right from the get-go.
And please, when in doubt, take flight. Whether it's an invitation to visit a lesser-known local pub or a dodgy alley that doesn't scream "Explore me!", walk away.
Advantages of solo travel that last beyond your trip
For peeps who've tried it once but are still uncertain, I urge you to give it another go. That's because the beauty of solitary travel and the advantages it brings is priceless.
There is more room for self-reflection when your daily schedule is not determined by what someone else wants to do or by the feeling that you must tread along to avoid unnecessary conflict (even besties fight on trips!). 
Because there is no one else to lean on except for yourself, you build on your confidence to face challenges, no matter how daunting they may seem. Tip: While it's cool to navigate unfamiliar areas by yourself, choose the safer ones.
Solo travel necessitates independence and the freedom to think for oneself, whether it's spending hours studying a map before beginning a climb or becoming engrossed in conversation with a stranger from a completely different culture.
So, what say you?
As we close, I just want to remind us that we're people of different personalities and what is enjoyable for me may not be for you. But still, if you've yet to try solo traveling, I encourage you to open your mind and try. My first solo experience was not so smooth, I'll be honest, but it was an adventure I lived to tell (more on that when the time is right). So give your guts a chance to surprise you, and you might find that solo traveling is not as bad as it seems.