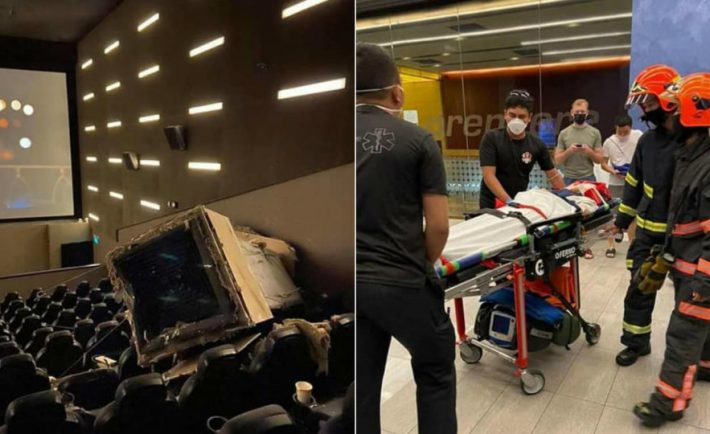 Image Credits: coconuts.co
Slightly more than a week ago, we read in the news that two people got injured after a ventilation duct collapsed during a movie at Shaw Theatres in NEX shopping mall. In all honesty, this incident could have happened to anyone.
It got many people thinking about insurance claims, the legality of personal and protection claims, and what one has to do if they were to encounter such an unfortunate accident. If that is you, here's what you need to know about protecting yourself should you encounter an accident in a public space.
#1: Make an insurance claim immediately
Justin Chan, Head of Dispute Resolution at Tito Isaac and Co, shares that as soon as an accident in a public space happens, an individual should inform their insurer(s) immediately. Also, it's advisable to engage a solicitor who can point you and your claims in the right direction.
In the case of the injured cinema patrons, lawyers would most probably advise the affected parties to inform the mall. This way, the mall can then inform their respective insurers. Mr Chan adds that a similar letter will be written to the cinema operator, where they would have some sort of policy which would cover accidents within the cinema for their patrons.
#2: Know where accountability lies
A question to consider is the location where you got the injury. Mr Chan said that in this particular case of the injured cinema patrons, the cinema is the occupier of that particular space. "The occupier owes a duty of care to their cinema-goers," he adds.
But if you're at a common public space in the mall like staircases, corridors, or open waiting areas, the responsibility will fall back on the mall. 
Mr Chan also stated that every able-bodied person should have insurance at this point in time. "But if you don't have your own personal insurance, then you would leverage on the occupier's insurance."
#3: Other useful actions to take
If you do not need to make a trip to the hospital immediately, Mr Chan advises the public to take pictures of the accident site. Also, see if you can spot any closed-circuit televisions (CCTVs) on the premises.
"Last but not least, get medical attention," he said. Mr Chan reveals a personal experience where a simple headache experienced by his client grew into a multitude of physical ailments. While you may not feel the health effects immediately, there may be underlying issues so seek advice from a medical professional.
Key takeaways
Inform your insurers, contact the public space's management, and engage a lawyer.
About Tito Isaac and Co
Tito Isaac & Co is a homegrown, Singapore law practice founded in 1999. The law firm advises, plans, and executes legal solutions to help individuals and enterprises preserve, protect, and build on their strategic interests and business positions.
They provide a full suite of services ranging from litigation, arbitration and dispute resolution, specialist & private client interests to corporate advisory and transactional work. 
If you need legal advice, phone them at +65 6533 0288 or drop them an email via [email protected]