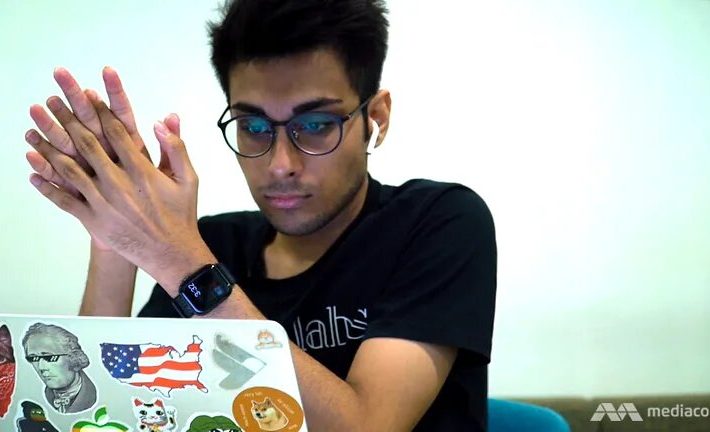 Image Credits: CNA
It seems like 19-year-olds are doing great things at the prime time of their lives. Yesterday, we wrote about a 19-year-old student who earns up to S$1,320 writing one fanfiction story about BTS. Today, we will be focusing on another 19-year-old student who is a chief executive officer (CEO) of a US$25 million tech start-up company.
Harsh Dalal is the name to note. The Singapore permanent resident is also a student at Singapore Polytechnic (SP), where he studies business administration. He currently heads Team Labs, a software development company, with 120 employees across eight cities.
Harsh's childhood years
Harsh frequently moved until a few years ago, when his family purchased an apartment in eastern Singapore. When his family migrated here from India, he was only six years old. As a shy child, he struggled to build and sustain long-term friendships with new neighbourhood children.
"I lost all my friends every time I moved houses. It was daunting for a socially awkward kid to go around looking for friends every time we moved. So instead of being at a playground, I'd be at home on my laptop, coding or doing other stuff," he remarked.
At 11 years old, he took up coding through watching hours of YouTube videos. After his Primary School Leaving Examination (PSLE), he received a discarded iPhone 4 from his mother which he succeeded in jailbreaking.
"I have an aversion to being controlled. It's difficult to be myself if I have something constraining me," Harsh commented.
Fascinated by the iOS system, he began to search Apple Developer discussion boards for further deets. He then found four friends from the United States, Russia, Norway, and Singapore between 14 and 17 years old.
His tech venture started at the age of 13
Together with his teenage friends, Harsh created one of the first screen recorder apps in 2014. Though the app recorded five million downloads within a few weeks, it was not profitable.
"We didn't make any money out of it, foolishly because we didn't expect it to actually take off," recalled Harsh. "It was a missed opportunity. We didn't know how to monetise the app."
Though his first venture did not bring about income, the app's popularity set the stage for this tech entrepreneur whose business services clients such as Coca-Cola, Google, and Hilton.
An alternative app store – iDownload Pro
With the app's success, the group went on to create an app store called iDownload Pro. It's a platform where developers can upload apps rejected by the App Store. Though there were more than 3 million downloads, they eventually shut down iDownload Pro in 2015 due to hefty costs. At that time, Apple was tightening down on third-party app stores as well.
But it did not stop them from advancing.
Started offering web and software development services
With prices from US$99, the group began selling web and software development services they marketed on their website and through Google Ads. 
Since they were too young to incorporate the business officially, one of the teens persuaded his father to do so for them in the United Kingdom, and their first customer offered them US$299 to build a website.
"The profit margin was, like, non-existent," recollected Harsh. "If I went and worked at McDonald's for the same amount of hours, I'd probably have earned more."
Clinched a US$100,000 project to develop a marketing app
But things got better for them, and they were offered a US$100,000 project to create a marketing app for a multinational company. With the money in, each took home US$10,000 and pumped the remaining funds into the business.
"I'd never seen so many zeros in my life until that point," said Harsh, who was 16 then. "That was when my mindset shifted also. I was taking my O-Levels and making this kind of money. So I wondered if it made sense to keep studying."
Maintaining close friendships a challenge
Though some of his classmates were contemplating what to do after the O-Levels, Harsh had already drafted his post-secondary school plan. He also earned himself a spot at Singapore Polytechnic through the Early Admissions Exercise.
But maintaining close relationships with his peers was a challenge.
"There's a level of commitment required for these relationships that I sometimes am not able to live up to," he said, adding that some of his polytechnic schoolmates are aware that he is the owner of a start-up.
A shift in focus led them to develop their first software platform
With all that said, the company turned its attention on software development in 2017. Since staff were in various time zones, the team wanted to build an internal tool to communicate. This thus prompted them to create their first software platform, Xenon.
The platform helps developers to plan, create, and deliver their software products in the cloud collectively. To date, Xenon has around to 70,000 customers.
Raising funds for the company's growth
Harsh sent dozens of emails to venture capital companies to generate funds for its development, but only some replied. One venture capitalist even told him that he was too young to be eligible for investment.
"I was crushed and demoralised. I wondered if it was worth struggling this much for funding," Harsh recalled. But he is no longer troubled by such remarks after the company gained a US investment company's interest.
Team Labs has received US$9.8 million in Series A funding since 2017 and, for tactical reasons, is currently based in San Francisco. Grand Canyon Capital, Startup Capital Ventures, and the sovereign wealth fund Korea Investment Corporation are among its shareholders.
Harsh is also the remaining co-founder out of the team of five. The others have left for various reasons including for further studies or to start new ventures. The 19-year-old will also be taking time away from his company for two years for National Service after his graduation from SP this year.
"It's very difficult to even think about leaving everything and doing something else. The good thing is that there are other talented people at the company. The Basic Military Training at least can be a decent break that I deserve after so much time working on the company," Harsh noted.