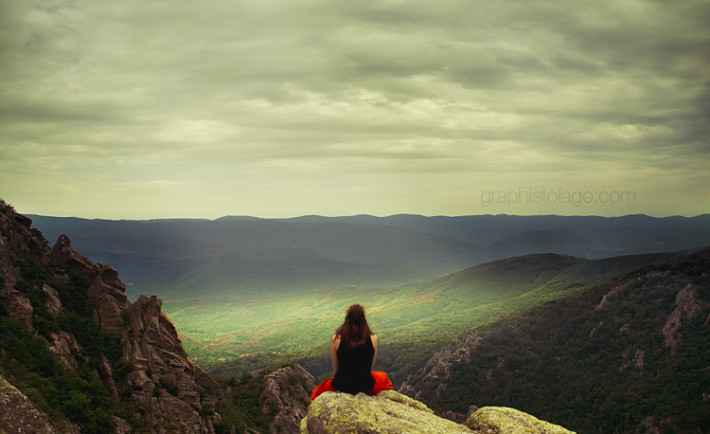 (Image credit: David Jubert, via Flickr)
"As you travel solo, being totally responsible for yourself, it's inevitable that you will discover how capable you are."
Living in one of the smallest and safest countries in the world, it is impervious that majority of the Singaporeans aren't as independent as the greater part of the world growing up. The sad fact that we aren't able to defend ourselves and be as "street smart" puts us in a real disadvantage. Not to compare to anyone, but instead a disadvantage to ourselves when we set foot into a new territory on our own. Born with a silver spoon in our mouths, the world beyond this little island that we grew up in can be very intimidating.
As a Singaporean myself, travelling out alone is definitely something I really enjoy, but nonetheless it was daunting at first especially in a country where I've never been to before. I had the chance to travel out alone recently, and for me, it was awe-inspiring and refreshing. For those of you who have been considering travelling solo, here's my two cents worth of tips.
Do Research
Possibly one of the worst things to do is take a flight to a country you know nothing about. Aside from all the attractions and sightseeing spots, certain countries tend to charge tourists a different rate from the locals. Knowing things such as which cab services to take and where the best places to shop are will shed light on what you can expect to ensure you'll have a smoother trip and less hiccups.
Read Also: Your Ultimate Guide To Planning Your Europe Trip
Back Up Plans
Unexpected things happen more often than not when you least expect, and so you should always be prepared. Keep a photocopy of your passport, travel details, extra cash and maybe a credit card somewhere in case things go awry. A thumbdrive with the soft copies saved will also do the trick. You might also want to save the number of your embassy and bring along a power bank to charge your mobile, laptop and any electronic peripherals that may comes in handy.
Check out the Traveler ID App in iTunes.
Travel Light
People travel alone for a vast number of reasons – be it to shop, explore or take a break from their hectic schedule. Since you'll be alone, it'd be best to take your own luggage with you all through the way just to make sure it's in safe hands. Keeping your baggage light allows you to move around more freely and, maybe also shop more. The Samsonite Firelite is crafted from woven thread of polypropylene with Curv technology making it one of the most durable and lightest bag under five pounds. (Costs $465 on eBags with 15% discount from vPost)
Be Cautious Of Your Surroundings and Personal Belongings
Self-explanatory, the small bag you carry around should be guarded with all you've got – it is in fact, all you've got when you're out roaming the streets. Best to be observant of your surrounds and people: not paranoid, alert. Make sure you create clear labels and tag your bags.
Weigh Your Decisions
Travelling alone means you can do whatever you want, whenever. But with great power to decide, comes great responsibility to return in one piece. Jumping off that cliff sure looks like great fun, but know what you're getting into before taking the leap.
With that said if you're still hesitant, take the adventure to a place you've been to before or a place where the popularity can speak simple English. Here are a couple of places which has loads of unexplored adventures that are good for starters with a budget:
Australia
Being the sixth largest country in the world, there's definitely places you've yet to visit and things you've yet to do. From diving to visiting the beautiful Ayers Rocks, this country's beauty will sweep you off your feet. Love camping? Bring along your outdoor gear!
Read Also: 25 Places You Need to Visit in Australia
Thailand
A popular destination amongst Singaporeans, the Land of a Thousand Smiles is rich in culture. Although language may be a barrier, the signs and directions are quite clear. With the help of the people, it shouldn't be a problem at all.
Read Also: 10 Best Places to Visit in Thailand
The Philippines
The Philippines is similar to Singapore with majority of the population able to converse in English which makes travelling around easy as pie. The lot of beautiful beaches and the world's biggest shopping mall at your dispense ensures that you have everything you need.
Read Also: 14 Places to Visit in the Philippines in 2014
Hong Kong
A highly cosmopolitan city, Hong Kong is full of scenic gardens, fantastic hiking trails and great food. One of the biggest cities in the world, you'll never finish exploring Hong Kong's uniqueness. If you love shopping, you would definitely fall in love with the night markets along Temple Street.
Read Also: 20 Must Visit Hong Kong Attractions & Travel Guide
Malaysia
One of the more technologically advanced cities in Asia, it is the hallmark of an ideal exotic locate. From the wild forestry to the skyscrapers in the city, it's like being in two places at once.
Read Also: 10 of the Best Places to Visit in Malaysia
Before you embark on the greatest adventure of your life alone, be sure to book your flights by comparing the fares from SkyScanner without compromising on your safety. Book your hotels with the best rates with our hotels search engine: http://hotels.moneydigest.sg