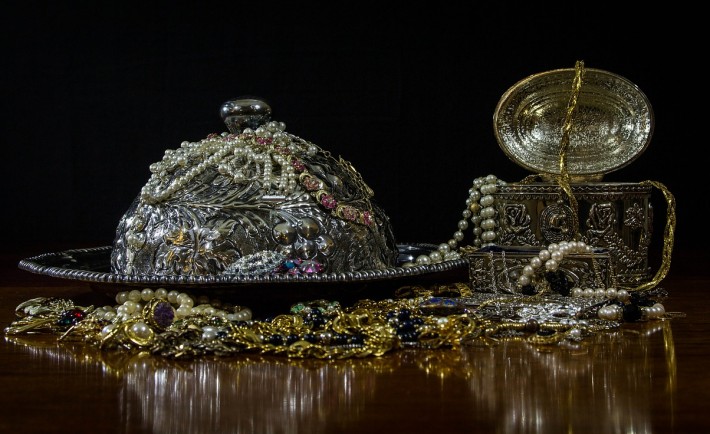 Image Credits: pixabay.com (License: CC0 Public Domain)
More than just a sparkling indulgence, investing on jewelry is an embedded tradition in many Asian cultures. In fact in Indian and Chinese cultures, jewelry can be given as gifts as individuals approach the marrying age.
To these cultures, investing in gold jewelry is a sound investment. Truly, gold has continued to rise, up to five-fold in a decade, in value despite the worldwide economic slowdown.
However, anyone who is considering jewelry as a means of investment needs to carefully contemplate on its advantages and disadvantages.
Here are some of them:
LABELS
It is not just about what jewelry pieces you buy but where you buy them. Pieces with designer labels are more susceptible to the erosion of value (over time) as you are paying mainly for the marketing costs.
For example, a sterling silver necklace sold by a lesser known retailer in the third world country may cost about S$15 while a sterling silver necklace sold by Tiffany & Co. in the first world country may cost about S$400! They are made of the same material but the branding and craftsmanship attached to it makes the difference.
PORTABILITY
Jewelry is an investment that you can wear. Whether it be gold rings, silver necklaces, and diamond earrings, you can always carry your wealth around wherever you go.
PRICES
The craftsmanship can add up to 30% on the price of the actual jewelry pieces. So if you want to benefit from the full price of gold alone, you can invest in products and funds that are associated to gold. For example, you can consider SPDR Gold Shares as they are backed by gold exchange-traded fund.
VINTAGE
Some pieces from the past are still fashionable today. Vintage jewelry from 1920s to 1930s have strong linear designs incorporating diamonds and platinum that can very much look modern!
Furthermore, second-hand jewelry (e.g., at auctions) are less expensive than contemporary pieces as they are not affected by the mark-up of the retailers. If you purchase this from a source that has low costs, it can prove to be profitable to own.
TRADITIONS
As said above, a positive side in jewelry investment is keeping one's heritage. In fact, India is one of the world's largest gold market due to the cultural demands during Deepavali and wedding season (i.e.,jewelry may be offered as wedding dowry).
The embedded notion is that jewelry retains (if not increases) its value over a long period of time. Although, this is not always the case.
The value of investments and gains can go up as well as down. Sometimes your may get back a value lesser than the amount you have invested. This is why it is recommended that you seek expert financial advice first before making any investment decisions.