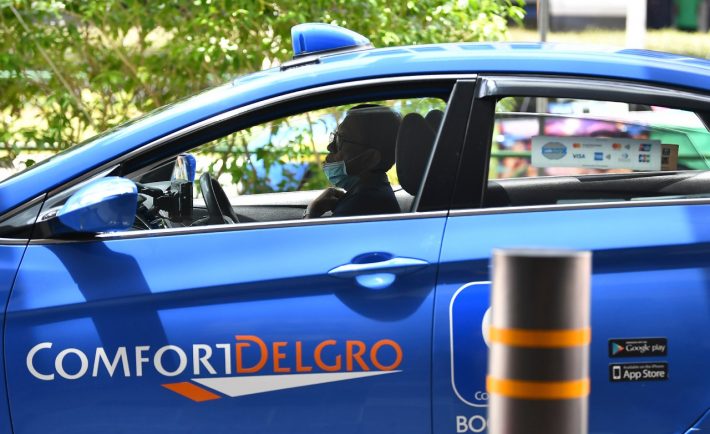 Image Credits: The Straits Times
Earlier this month, the latest quarterly labour market data revealed that Singapore residents' employment situation is recovering. But according to National Trades Union Congress secretary-general Ng Chee Meng, the general health situation will be a significant factor in determining how the economy will recover from its dip this year.
For some taxi and private-hire car drivers facing massive income drops, it might be too long a wait. There is no doubt that Singapore has come a long way in battling the virus. While we've made notable progress is the reopening of the economy, many livelihoods are still affected.
More than 50 per cent reduction in income
Kirsty Foo, a ComfortDelGro taxi driver who relies mainly on street hails and regular customers, is one who's feeling the pinch. The 60-year-old lady who used to take home about S$3,000 before COVID-19 is only earning about S$1,000 after deducting rent, petrol, and parking charges.
Others are turning to alternative platforms to add to their lost income.
Gojek driver Mr Soon had to take up delivery work and temporary night shifts at Pizza Hut during the circuit breaker period because his then income could not even cover his vehicle rental. The 50-year-old shared that he was only earning a base rate of S$4 an hour at Pizza Hut.
Though Mr Soon's earnings have improved to S$2,000 now and he has stopped working at Pizza Hut, one-third of his wages come from additional gigs via Lalamove and Gogovan.
Both Ms Foo and Mr Soon, including many interviewed drivers, are pondering over calling it quits in this 'new normal'. Considering the long hours, income, and sustainability, it's not hard to understand why.
Bound by existing taxi or car rental contracts
But it's not easy for some since they have to keep to existing taxi or car rental contracts. Although Ms Foo has recently taken a course on e-commerce and is keen to have a go at it, her written agreement with ComfortDelGro ends only in September 2021.
Similarly for Mr Soon, his one-year contract with a partner of Gojek's rental initiative GoFleet will only end in 2021. Terminating the contract is out of the question since he will have to forfeit a S$1,500 security deposit. There is also an early termination penalty of up to six months of his rental fees. All in all, he could lose over S$15,000 to void the pact.
Phase 3 won't bring about substantial changes
Mr Soon also mentioned that Singapore entering phase 3 will not bring about remarkable improvements to the business. Though he agrees that demand will increase, he adds that as long as all workers continue to work from home and Singapore has no tourists; it will never be the same.
Another driver, Andy, temporarily left Prime Taxi in May considering the cut in his pay. The 38-year-old who has to support his wife, four children, and in-laws, said it made no economic sense for him to continue. Since 90 per cent of his income comes from airport pick-ups and regular business travellers, the closed borders have greatly affected him.
"If the airport is not open, our slice of the cake is only that big," Andy commented.
Thankfully, Prime Taxi approved the suspension of his five-year contract signed in September 2019 without forfeiting his S$4,000 security deposit. Andy is currently doing deliveries for Lalamove using a rental car which he pays for S$1,400 a month (less than S$50 a day).
Extra hours & lesser revenue forcing drivers to job hop
Peter Quek, a ComfortDelGro taxi driver, estimates that he will have to work an extra 15 to 20 hours a week to match the amount he earned last year.
His projection of collecting S$55,300 in fares for 2021 is a 30 per cent reduction from the amount made in 2019. This is even after factoring in the S$9,000 Self-Employed Person Income Relief Scheme (SIRS) paid out this year.
The 44-year-old man who had sent out more than 100 job applications this year said, "That's why I am desperate to get a new job. I am not looking out for another SIRS. I am looking for something more permanent and long term."
Grab driver William Ong, 48, is also searching for new job opportunities after his monthly income fell from about S$3,500 to S$1,500. He pointed out that there are no surge fares during the usual morning peak hours, but he would still drive a passenger from Serangoon to town in the morning on standard rates.
Drastic changes to incentive schemes
But COVID-19 is not entirely at fault. Many private-hire car drivers highlighted the drastic changes to incentive schemes as factors for a reduced income.
Grab driver Mr Ong said that such bonuses used to make up 45 per cent of his S$4,000 monthly income but have since become insignificant. Another driver on both the Grab and Gojek platforms, Mr Maverick Tsao, revealed that incentives used to form 25% of his earnings in 2019, but is now barely hitting 10 per cent of it.
With all that said, some cabbies are still optimistic about the gradual reopening of the economy. 52-year-old ComfortDelGro taxi driver Frankie Chew remarked, "Singapore is already opening up and people are coming out. The most difficult challenge (during the circuit breaker period) has already passed, so we will definitely be able to pull through."