Get ready, Marvel fans! Brace yourself for an extraordinary experience at Jewel, as the Marvel Avengers assemble for a remarkable exhibition that will transport you into the epic world of superheroes and adventure. Set to captivate visitors from 26 May to 13 August 2023, this thrilling event promises to be an unforgettable journey for fans of all ages. With an array of stunning installations and interactive displays, Jewel offers a unique opportunity for you to step into the Marvel universe and unleash your inner hero.
Avengers Assemble @Shiseido Forest Valley! Life-sized photo spots and exciting displays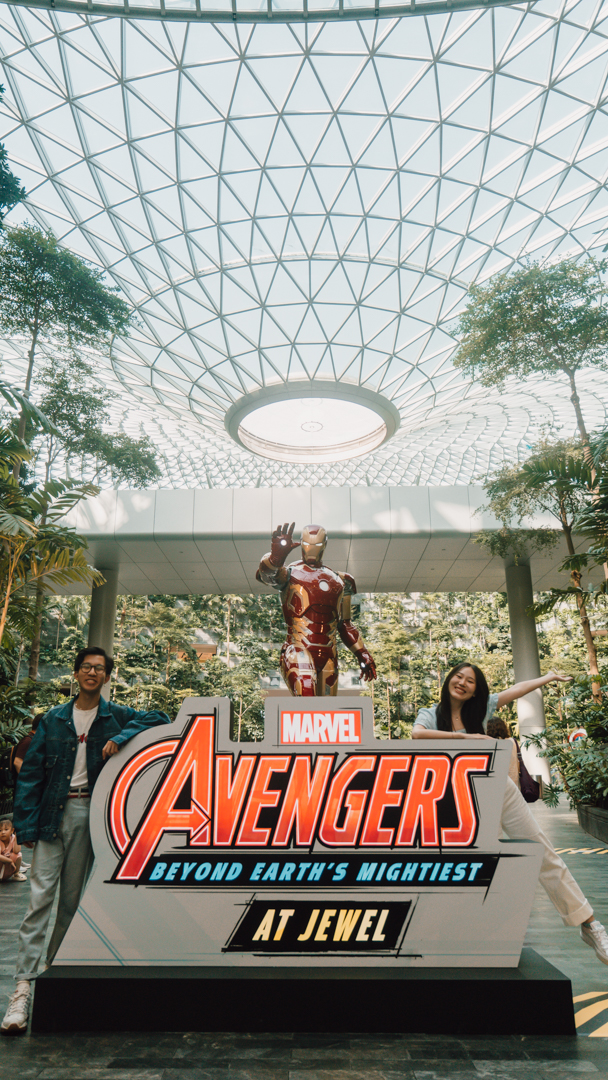 Prepare to be greeted with an awe-inspiring sight as you step into Jewel's Shiseido Forest Valley. Standing tall at a staggering height of 5 meters, an impressive Iron Man statue extends a warm welcome at the North Entrance. This larger-than-life representation of the beloved Marvel superhero is sure to capture the attention and imagination of visitors as they embark on their journey into the captivating world of Jewel.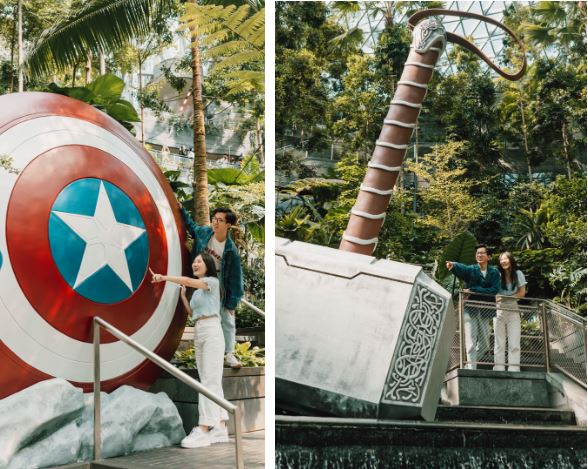 Prepare to be amazed by the colossal 3D displays that showcase two iconic symbols of the Marvel universe. Behold the sheer grandeur of Captain America's indestructible Vibranium Shield and Thor's mighty Mjolnir as they come to life in larger-than-life proportions.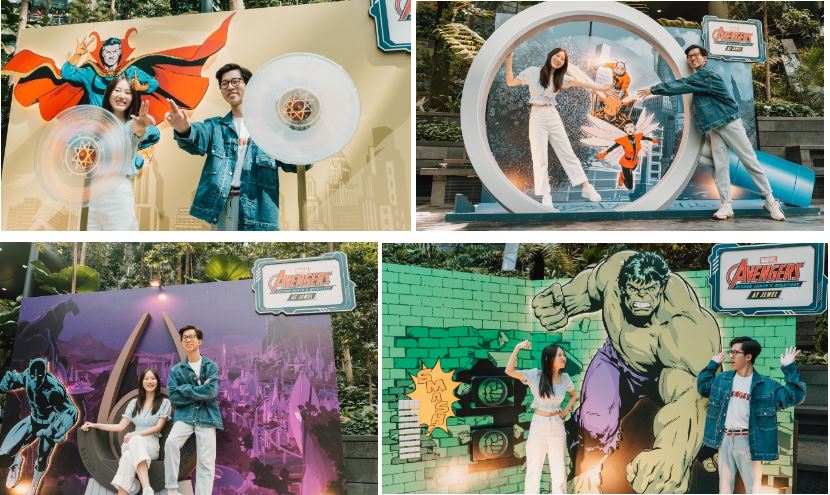 Prepare for an exhilarating adventure as you explore the other four interactive displays featuring some of Marvel's beloved superheroes. Step into the world of The Incredible Hulk, where you can test your strength against the green behemoth. Take on the challenge of the strength meter as you throw punches and see how you measure up against this mighty Avenger.
Next, immerse yourself in the mystic arts with Doctor Strange. Activate holographic fans and defend yourself from mystical threats, just like the Sorcerer Supreme himself. Engage in a captivating interactive experience that will transport you into the realm of magic and mystery.
At the Black Panther display, take a moment to strike a regal pose on the throne of Wakanda. Feel the power and grace of the Black Panther as you channel the spirit of the king of the hidden nation. This is your chance to capture a memorable photo that embodies the strength and dignity of this iconic hero.
Join forces with Ant-Man and The Wasp as they shrink down to miniature size. Stand before a life-size magnifying glass and witness the astonishing effect of scaling yourself down. Feel the excitement of being part of their world as you explore the intricacies of their shrinking abilities.
Avengers Forever @ Canopy Park. Epic storytelling of The Avengers through time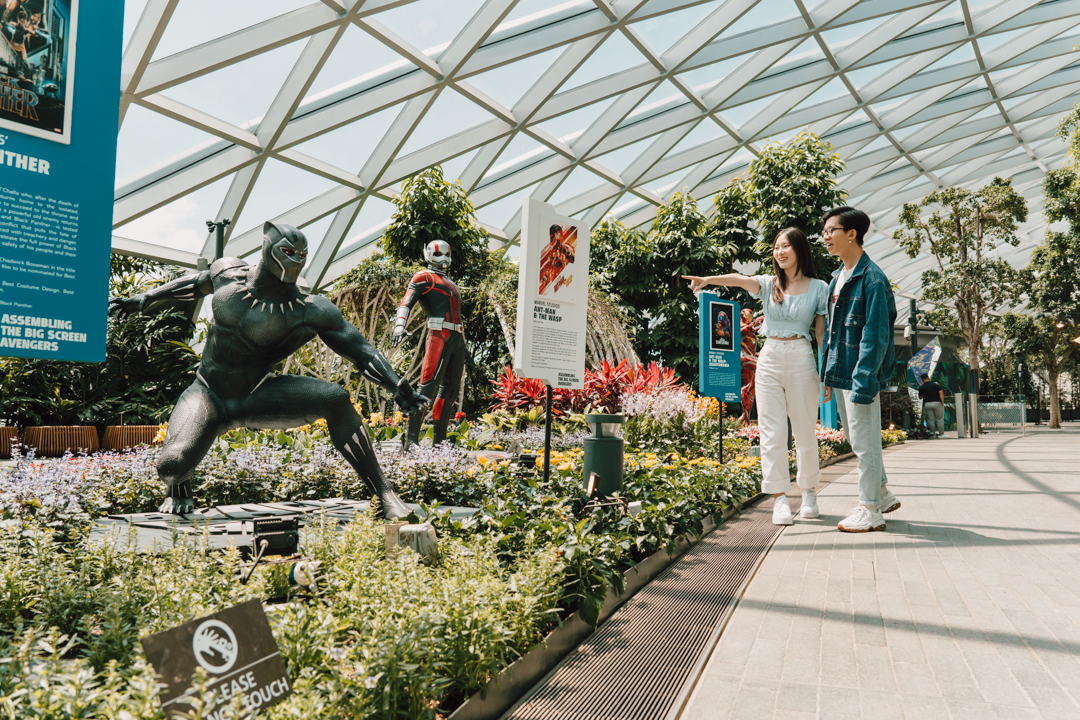 Immerse yourself in the enchanting ambiance of the Petal Garden, where you'll discover captivating life-sized displays of beloved Avengers from the Marvel Cinematic Universe. From the miniature marvels of Ant-Man and The Wasp to the regal presence of Black Panther, the Petal Garden offers an array of iconic characters that are picture-perfect and sure to delight both day and night.
Marvel-inspired Light & Sound Showcase
Prepare to be awe-struck by the breathtaking Marvel-inspired Light & Sound showcase at the HSBC Rain Vortex, where the iconic Avengers take center stage. This extraordinary display brings together the magic of water projections and the majestic backdrop of the world's tallest indoor waterfall to create a truly mesmerizing spectacle.
Witness the power and grandeur of your favorite Avengers as they come to life in a symphony of light and sound. The HSBC Rain Vortex serves as a canvas for these water projections, transforming the cascading waters into a stunning visual representation of the beloved superheroes.
From 26 May to 13 August 2023, immerse yourself in this unforgettable experience, available at specific times for your convenience. On weekdays (Monday to Thursday), the Light & Sound showcase will captivate audiences at 8 pm. On weekends (Friday to Sunday), there are two showings at 8 pm and 10 pm, allowing you to choose the perfect moment to witness this breathtaking display.
Marvel merchandise available in Singapore at Jewel
Prepare for an ultimate shopping experience at The Wonder Store, nestled in the basement level of Jewel. Here, you'll find a haven of delights tailored specifically for enthusiasts like yourself. Get ready to embark on a shopping spree filled with exclusive gift-with-purchase promotions that will add an extra layer of excitement to your Marvel-inspired haul.
But that's not all. Make your way to the Action City pop-up, conveniently located next to the Concierge Counter on Level 2. This specialized space is a treasure trove of merchandise that will make any Marvel aficionado's heart skip a beat. From toys and stationery to apparel and figurines, the array of items available is sure to cater to every fan's desires.
---
Photo credit: Jewel Changi Airport Devt.