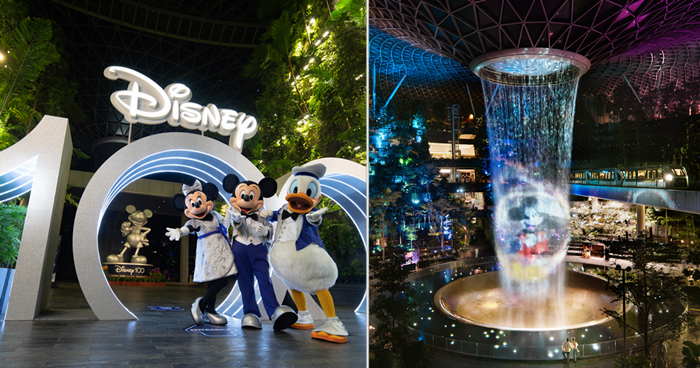 Celebrate 100 years of Disney wonder with Jewel Changi Airport
Disney fans, check this out. Jewel Changi Airport (Jewel) has launched a range of Disney-themed activities to pay tribute to nearly 100 years of iconic storytelling from The Walt Disney Company.
Enjoy spectacular displays and experience wonders featuring some of Disney's most beloved characters.
Fans can also shop for Disney merchandise and collectibles at Disney-themed Year of the Rabbit Tsum Tsum pop-up store located at level B1 (#B1-219/220).
LIGHT & MUSIC SHOWCASE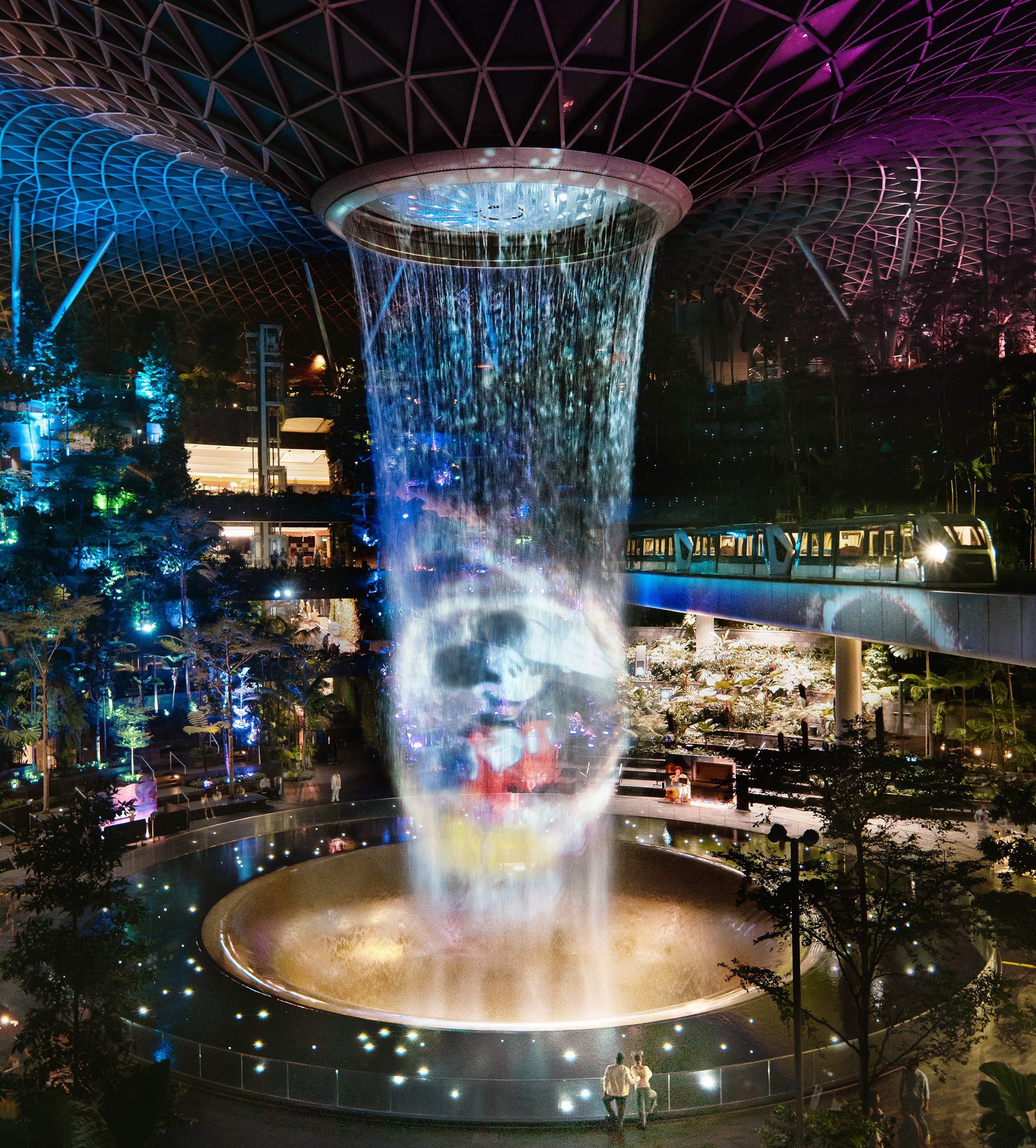 13 January – 15 January 2023
HSBC Rain Vortex
Be enthralled by the new Disney100 Light & Sound show featuring a plethora of characters from  iconic Disney films over the century.
Exclusively for the launch weekend from 13 to 15 January, catch an extended version of the show at 7.30pm where fans can sing along to favourite classics like When You Wish Upon A Star, A Whole New World and You've Got A Friend In Me while feeling the exhilaration of traversing through Portals from Avengers: Endgame. As part of the 7.30pm showcase, there will also be a special performance with appearances by well-loved friends from Disney so come join us a  for a surprise at every turn!
DISNEY-THEMED PHOTO SPOTS INCLUDING A 4-METRE PLATINUM MICKEY STATUE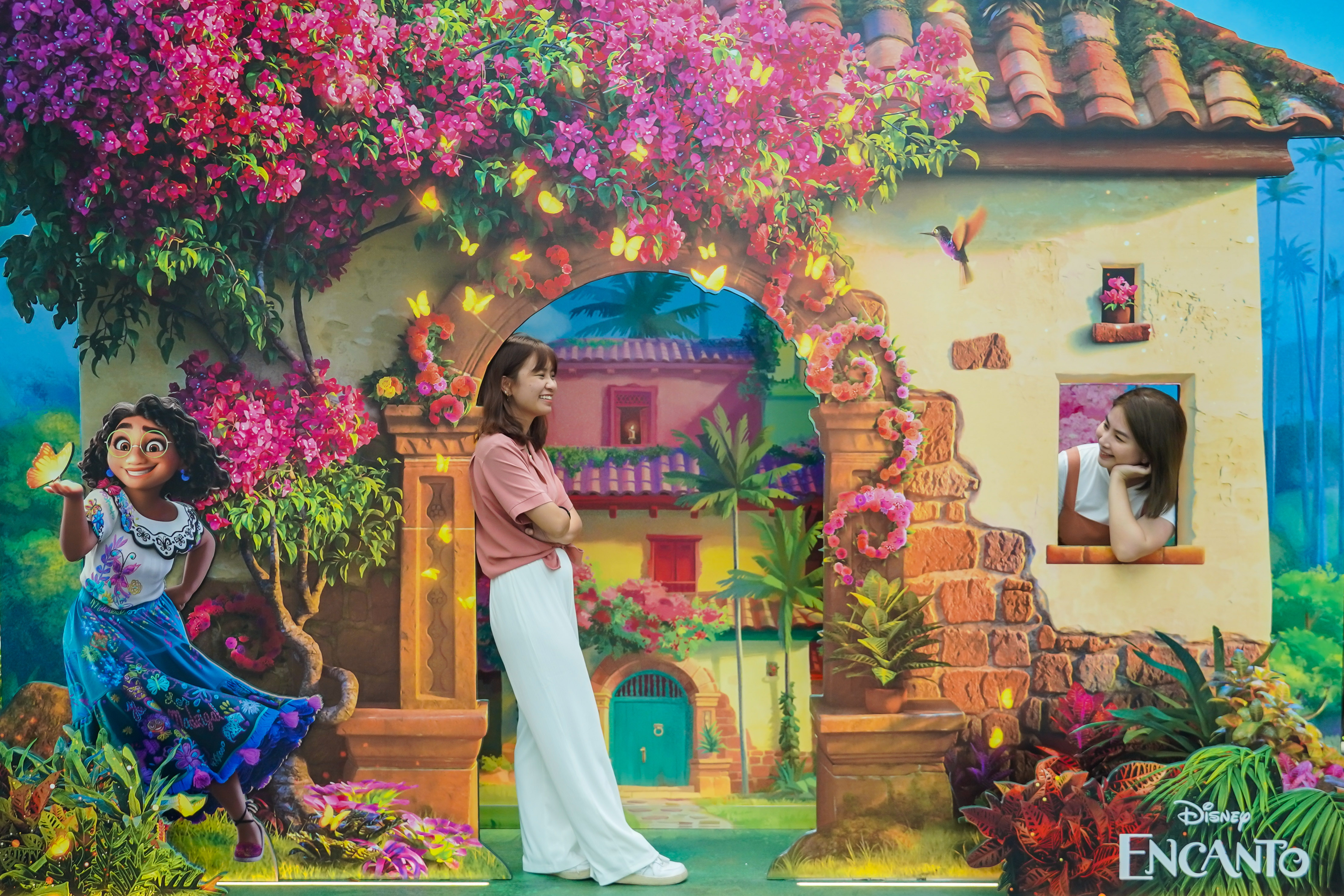 13 January – 9 April 2023
Shiseido Forest Valley
Step through the Disney100 archway and emerge in front of a 4-metre-tall platinum statue of Mickey Mouse. Explore exclusive Disney-themed photo spots only on display in Singapore at Shiseido Forest Valley. Inspired by scenes from Disney, Pixar, Marvel and Star Wars movies, these interactive photo spots at the Shiseido Forest Valley and Canopy Park are sure to bring back fond memories all while capturing new ones!
In collaboration with the Singapore Tourism Board (STB), four other photo spots have also been created with a local twist. Discover interesting elements of Singapore combined with intriguing features from some of Disney's films such as Singapore's national flower, Vanda Miss Joaquim, with the flowers seen in Encanto, as well as images of the red pandas residing in River Wonders with Turning Red, and more.
MEET & GREET WELL-LOVED FRIENDS FROM DISNEY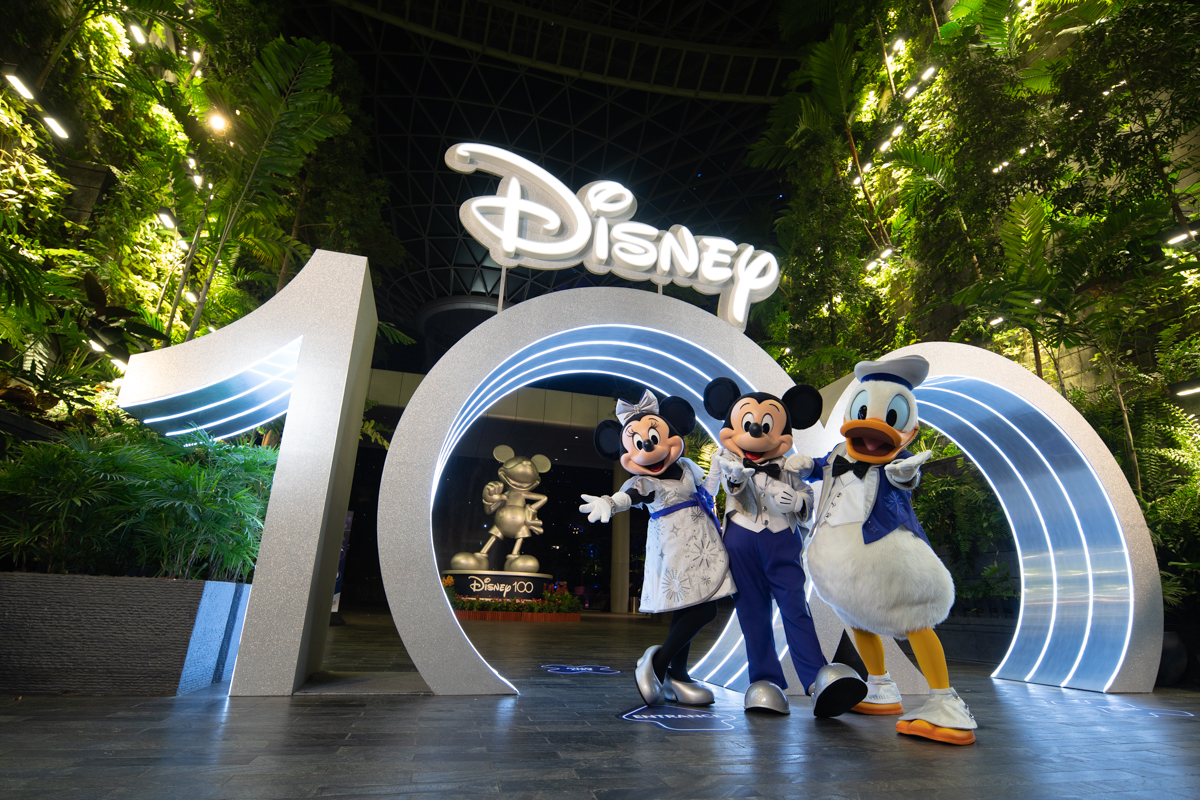 13 – 15 January 2023
Shiseido Forest Valley
Timings: 1pm, 2pm, 4pm & 5pm
As part of their launch celebrations, some well-loved Disney friends will be stopping by Jewel for a special meet & greet!* Join them at these times to say hi and create some picture-perfect memories with your loved ones.
* Terms apply
The meet and greet is open to the public
No purchase is necessary
Meet and greet passes will be distributed fifteen (15) minutes before each session on a first-come, first-served basis
Only guests with meet and greet passes will be accommodated
Each meet and greet pass is valid for one (1) family/group
One family/group comprises a maximum of five (5) people
Strictly one photo per family/group
Participants should use their own devices for photographs
No food, drinks, pets, luggage or strollers allowed inside the meet and greet area
Kindly look after your personal belongings and valuable items. Our meet and greet crew, the management team, Disney or Jewel, are not liable for any loss or damage to your personal belongings
Passes are limited and subject to availability
FREE ENTRY TO CANOPY PARK
13 – 15 January 2023
Canopy Park
What better way to immerse yourself in the celebration than to come dressed in outfits inspired by your favourite Disneycharacter! From 13 – 15 January 2023, visit Jewel all dressed in your best Disney-inspired outfit to be granted free admission into Canopy Park*
*Terms apply
Valid for admission from 13 – 15 January 2023.
T-shirts with printed Disney characters, or solely donning tiaras or masks will not be considered for entry into Canopy Park.
Some examples of Disney movies' characters includes: Inside out, Monsters, Inc., Cars, the Disney Princess franchise, Frozen, Coco, Finding Nemo, Toy Story, Lion King, Winnie the Pooh, UP, the Marvel franchise, the Star Wars franchise, The Incredibles, and many more
Some examples of non-Disney movies' characters includes: Minions, Pokémon, Paw Patrol, The Boss Baby, Kungfu Panda, Puss in Boots, Shrek, SpongeBob SquarePants, Madagascar, The DC Superhero franchise
Accompanying guest(s) not dressed in Disney character will require a Canopy Park admission ticket.
Please refer to Jewel Changi Airport's website https://www.jewelchangiairport.com/ for the latest Attractions operating hours.
Jewel Changi Airport reserves the right to amend or add to the terms & conditions at any time without prior notice.
DISNEY-THEMED YEAR OF THE RABBIT TSUM TSUM POP-UP STORE AND THE WONDER STORE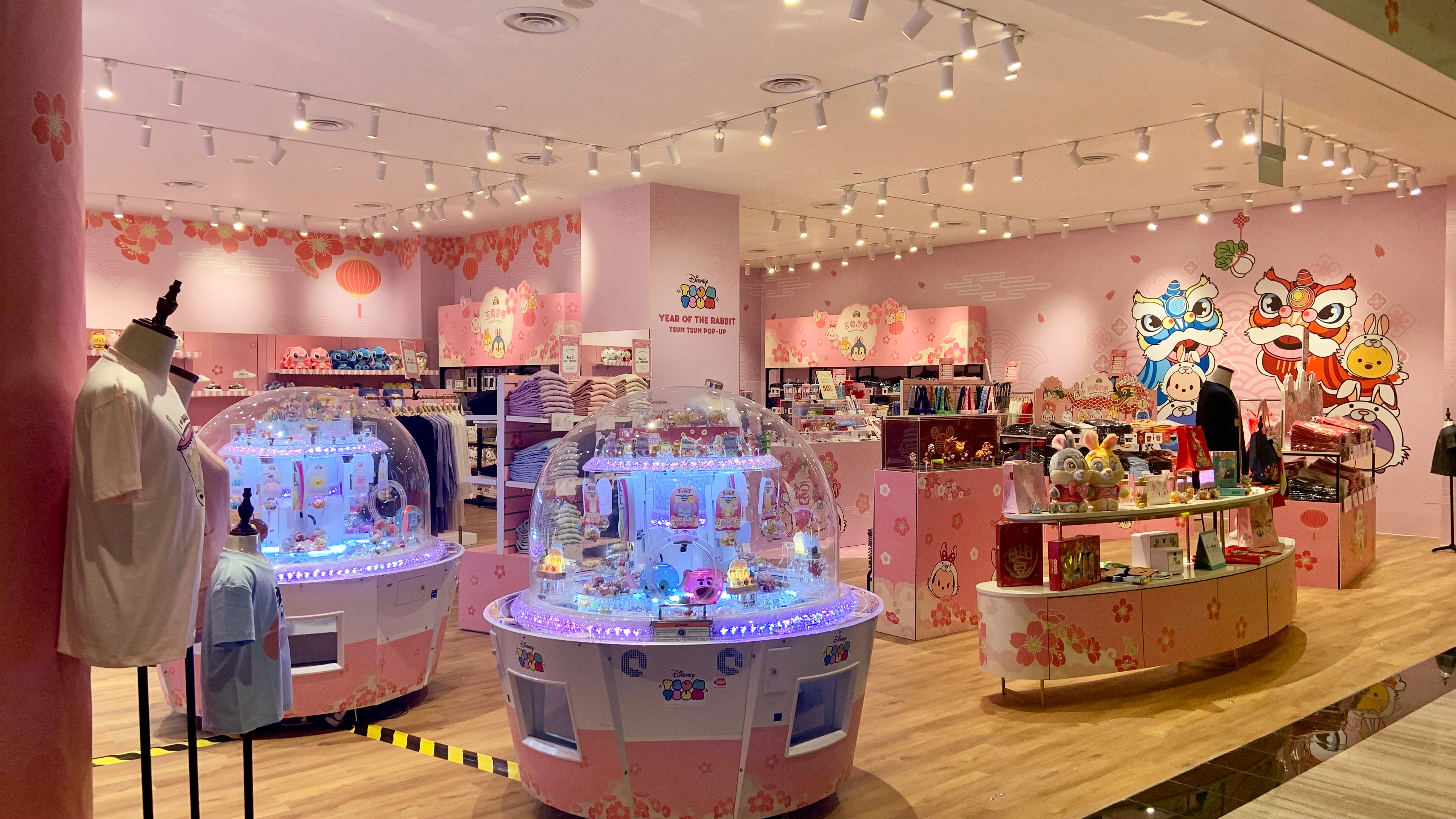 12 January – 26 February 2023
Disney fans rejoice as you shop to your hearts' content in the Disney-themed Year of the Rabbit Tsum Tsum pop-up store, on level B1 (#B1-219/220). The Disney-themed pop-up store at Jewel, one of the largest in Singapore, will offer merchandise such as toys, stationery, apparel, homeware and more.
1 March 2023 – 30 June 2024
From 1 March 2023 onwards, the retail pop-up will be transformed into The Wonder Store which will feature Disney100-themed merchandise, with a wide assortment across Disney, Pixar, Marvel and Star Wars.
Apart from the pop-up store, select stores all around Jewel will also be retailing Disney-inspired merchandise including apparel, footwear, jewellery, leather goods and stationery.
Please click here for the list of participating tenants.