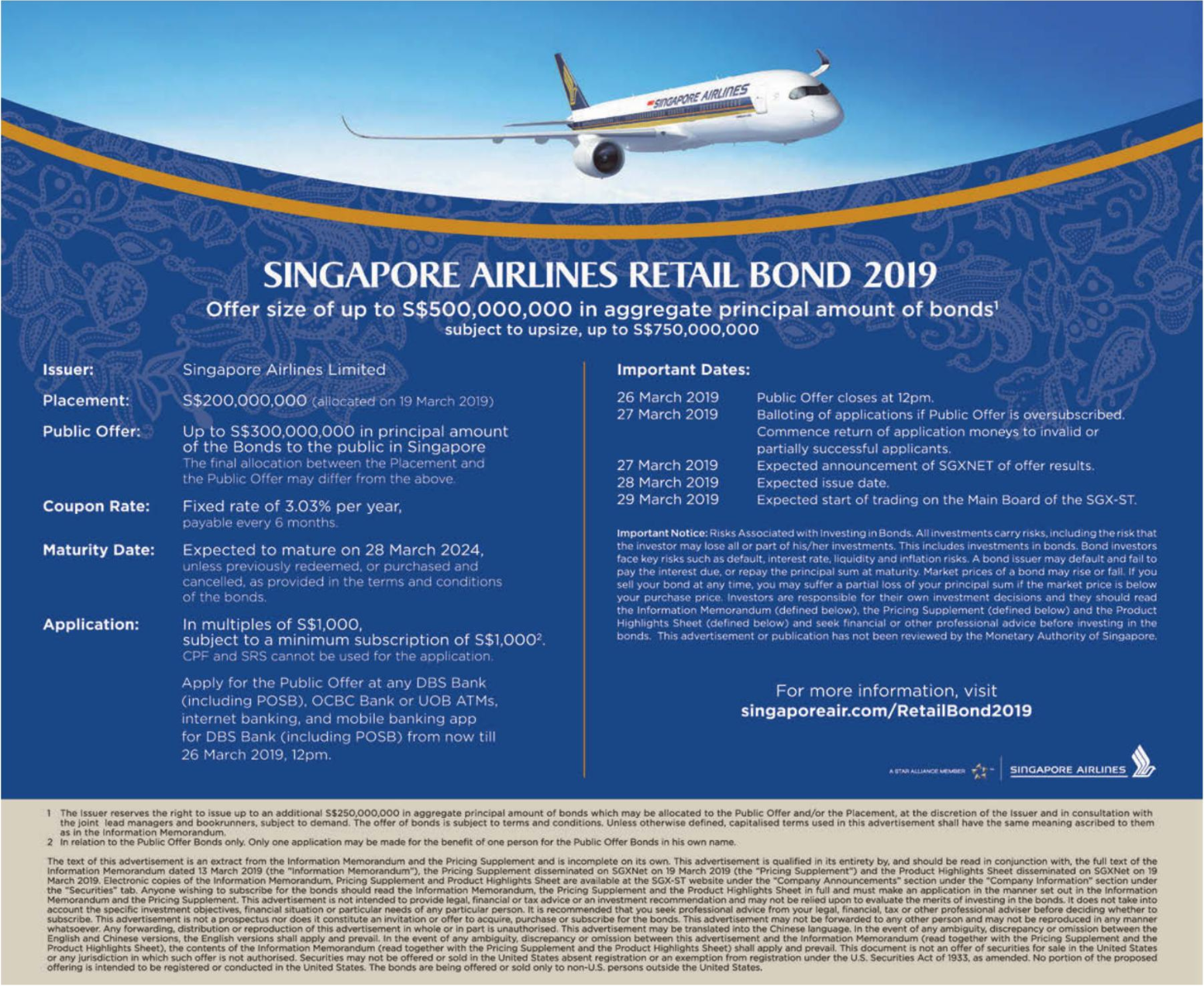 SIA RETAIL BOND 2019
Application from 20 March 2019, 9am, to 26 March 2019, 12pm
The SIA Retail Bonds (the "Bonds") are interest-bearing debt securities issued by Singapore Airlines Limited. Investors will receive a fixed interest of 3.03% per annum, semi-annually on 28 March and 28 September of each year until the maturity date of the Bonds.
Up to S$300,000,000 will be offered to the public in Singapore ("Public Offer").
Funds from the Bonds will be used for aircraft purchases and aircraft-related payments.
HOW TO APPLY (for Public Offer)
Application period
The Bonds under the Public Offer will be open for application from 9.00am on 20 March 2019 and close on 26 March 2019, 12.00pm.For DBS and OCBC, applications can be submitted 24/7. For UOB, applications (both ATM and ibanking) can only be submitted between 6am to 9.30pm, daily.
Where to apply
ATMs of DBS (including POSB), OCBC and UOB (together the "Participating Banks")
Internet banking websites of the Participating Banks
Mobile banking application of DBS (including POSB)

Denominations
The minimum amount is S$1,000 and in multiples of S$1,000 thereof.
Application fee
A non-refundable fee of $2 will be deducted from your bank account at point of each application.Only one application is allowed for one person under the Public Offer. Multiple applications will be rejected.
CDP account
You will need to maintain an individual Central Depository (CDP) securities account and link it to your bank account with direct crediting service (DCS).
Prospective investors who wish to open a Securities Account with CDP directly must submit their application via post to CDP's office at 11 North Buona Vista Drive #06-07, The Metropolis Tower 2, Singapore 138589. Alternatively, prospective investors may submit their application personally at CDP's service centre at 11 North Buona Vista Drive #01-19/20, The Metropolis Tower 2, Singapore 138589. The processing time for the application of a new CDP account with direct crediting service will take about three business days. Prospective investors who submit applications after 12.00pm on 21 March 2019 should note that they will not receive their CDP account number in time to submit any application for the Public Offer Bonds. This deadline may change if there is any change to the expected timetable of key events set out in the Pricing Supplement.
The application form for the opening of a CDP account and further details can be obtained from CDP's website at https://www2.sgx.com/securities/retail-investor. Prospective investors can also call CDP's hotline at +65 6535 7511 on Mondays to Fridays from 8.30am to 5.00pm and on Saturdays from 8.30am to 12.00pm.
Click
here
for more details and FAQs.
---
All investments come with risks, including the risk that the investor may lose all or part of his/her investments. This includes investments in bonds. Bond investors face key risks such as default, interest rate, liquidity and inflation risks. A bond issuer may default and fail to pay the interest due, or repay the principal sum at maturity. Market prices of a bond may rise or fall. If you sell your bond at any time, you may suffer a partial loss of your principal sum if the market price is below your purchase price. Investors are responsible for their own investment decisions and they should read the Information Memorandum, the Pricing Supplement and the Product Highlights Sheet and seek financial or other professional advice before investing in the bonds. This advertisement or publication has not been reviewed by the Monetary Authority of Singapore.