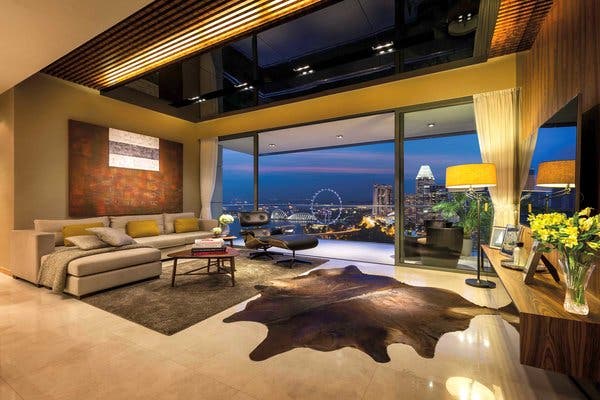 Image Credits: The New York Times
Folks who have been watching the property market, you would be fully aware of how prices have continued to rise for six consecutive quarters already.
The market's consistent increase over the last 1.5 years is a solid indicator of property sellers' unshakable optimism. While the rise in home prices is expected to continue, it is weakening, accompanied by a drop in transaction numbers.
According to analysts, the recent property cooling regulations would undoubtedly stifle house sales and price rise while severely limiting the en bloc market this year. New house sales in 2022 are likely to decline from the present 13,000 units to a normalized 9,000 to 10,000 units, due to a limited supply of new launches.
Dabbling in the property market in the new year? Here are the property trends to eye for in 2022.
Popularity away from the city
There will be a weakening of interest for homes in the central region as more Singaporeans become acclimated to teleworking or embracing a hybrid work arrangement. Instead, homes out of the city area will be in higher demand based on data from the PropertyGuru Singapore Market Index (PMI) Q4 2021.
"District 17 (Changi Airport, Changi Village) and 27 (Sembawang, Yishun) in the OCR, for example, recorded a 10.40 percent and 10.23 percent quarter-on-quarter growth to S$1,718.10 psf and S$1252.61 psf in Q3 2021, respectively," said Dr Tan Tee Khoon, country manager at PropertyGuru Singapore.
Drop in demand for GCBs and penthouses
The demand for Good Class Bungalows (GCBs) soared last year, thanks to a wave of purchases by some of the most successful tech CEOs from Grab, Razer, and TikTok. Concurrently, penthouses were popular among property purchasers, despite exorbitant rates. Nonetheless, this trend will most likely slow down this year.
"The latest cooling measures are likely to moderate demand in the entire private residential market, including GCBs and penthouses. We can expect the volume of transactions of these properties to drop in the short term. If sellers are not under pressure, they may maintain their asking prices or withdraw the property from the market. On the other hand, buyers may not be bullish like in 2021, so their offers are likely to be cautious, which may not meet the price expectations of sellers," noted Ong Teck Hui, senior director, research and consultancy at JLL Singapore.
Spacious homes will continue to trend upwards
Last year, demand for significantly larger residences grew as work from home and home-based learning became the new norm for the majority of the year. Even though more Singaporeans are now permitted to report back to work as our sunny island adopts an endemic stance to the epidemic, property analysts predict that this pattern will likely continue this year.
"With the pandemic, it has brought about an abrupt shift in the way people live and work. We foresee that working from home will continue to be a norm moving forward and that more buyers who seek new homes will look for ones that can accommodate a home office or study room. As such, homes that are spacious will continue to be well sought-after moving forward," highlighted Ismail Gafoor, CEO of Propnex Realty.
More environmentally sustainable homes to cater to the eco-conscious
The pandemic has surprisingly raised awareness of the significance of living sustainably. Thus, new launches in 2021 featured a variety of eco-friendly characteristics in their construction.
This includes The [email protected]'s Dock, which is a short distance from VivoCity. It is our little red dot's first floating deck in a residential complex, with 10 low-rise blocks strategically spaced to allow for better air circulation and to maximize spectacular views. Its star feature is probably the observation platform overlooking an underwater colony of aquatic life.
But that's not all. Green walls, green spaces, a relaxation deck, and a hammock terrace are among the other outdoor amenities, which are supported by environmentally friendly features such as rainwater tanks, water-efficient auto-irrigation, reprocessing of gardening waste into landscaping fertilizer, and energy-efficient elevators and lighting configuration.
"Eco-friendly developments have and will continue to be a norm moving forward as people grow more environmentally conscious. In addition, with energy and water prices on the rise and with work from home mode continuing to persist, it has certainly increased the emphasis on having green features in homes such as energy-saving appliances and smart-cooling technology," shared Propnex's Gafoor.
As a buyer, you can anticipate developers to place a greater emphasis on designing more environmentally friendly structures to alleviate the effects of climate change and encourage green living. Green buildings are increasingly seen favorably and can even be perceived as markers of excellence and upscale living among the crowd since there has been a heavy focus on recycling and keeping a sustainable environment via awareness campaigns recently.
And before we go, we will leave you with some upcoming launches to watch out for this year:
Marina View by IOI Properties (along Marina View)

Belgravia Ace by Fairview Developments (along Belgravia Drive)

Liv @ MB by Bukit Sembawang Estates Limited (along Arthur Road)

Pollen Collection by Bukit Sembawang Estates Limited (along Nim Road)
Have a lovely start to 2022!