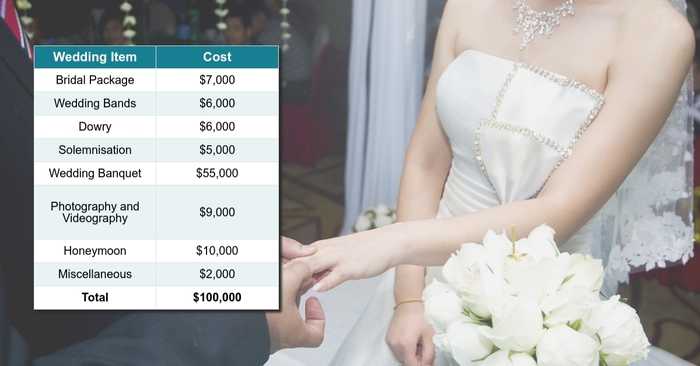 According to a study conducted by ValueChampion in 2019, the average cost of getting married in Singapore  is consistently increasing over the years. The average cost of a wedding banquet skyrocketed from S$923 in 2011 to S$1,392 in 2019. That's an increase of 51% in just over 8 years, far outstripping MAS core inflation rate of 14% during the same period. There is little to suggest that this upward price trend will not continue once things stabilize post Covid-19.
Cost of a Dream Wedding in 2025
Based on past wedding inflation rate of 32% over a 5-year period, the estimated total cost to hold a dream wedding in Year 2025 would be $100,000.

While Year 2025 may seem too far away to start planning for your dream wedding, the figures have shown how frightening wedding inflation rates have been and will continue to be. $100,000 is an intimidating amount for any young couple to cough up. Therefore, it is important to start planning and saving up for your dream wedding early. For a start, angbaos from family, friends and guests received will definitely help to reduce the total size of the bill. Here are some ways you can mitigate the costs of your dream wedding.
Negotiate with Wedding Vendors
While this may sound obvious, many customers hardly negotiate as they are afraid of embarrassing themselves for fear of appearing "too cheap". Sometimes, negotiations need not always come in the form of price reductions. For instance, one can ask for freebies such as flower bouquets or floral lapels from the vendor before committing to a bridal package. Wedding banquet providers may also be willing to sponsor wedding favours and waive corkage charges.
DIY For a Personal Touch
Not all of the items need to be procured from wedding vendors. Couples can borrow certain items from friends or simply just do-it-yourselves ('DIY'). For instance, there is no need to hire a professional company to dress up the reception table. There are plenty of images on Pinterest and Instagram that serve as easy references for couples to do-it-themselves. Furthermore, DIY adds an element of personal touch that will leave a lasting memory for your guests.
Choose the Right Financing Option
The most significant part in mitigating the cost of your wedding is choosing the right financing option. A Personal Loan should definitely be considered if a one-off borrowing is required. A personal loan is a more financially prudent option compared to credit card debt. For example, OCBC is levying 0% interest rate and only a one-time processing fee of 4.5% (Effective Interest Rate 5.20%) for its Balance Transfer Loan. This is significantly lower than a typical credit card interest charge of 25% for roll over amounts. For a $50,000 loan, the savings in interest payments is easily over 5-figures over a 12-month period! Hence, a personal loan can be more a financially prudent alternative to a credit card debt.
To access Balance Transfer Loan, simply borrow from your unused credit limit from other banks to enjoy 0% interest rate. Alternatively, one may turn any unused OCBC credit card limit into cash via the OCBC Cash-On-Instalments with no need for additional income documents. Repay with fixed instalments over 12 to 60 months and pay effective interest rates as low as 9.06%. Such smart cash flow management would net you tremendous savings since interest on credit card debt is easily a staggering 25%!
Finally, even if one does not have any existing unused credit card limit, do not worry as one can still tap the OCBC ExtraCash Loan or EasiCredit. The loan amount disbursed will be dependent on your annual income. Inclusive of the one-time processing fee, the effective interest rate for ExtraCash Loan could be as low as 10.96% with fixed repayments over 12 to 60 months. On the other hand, EasiCredit offers greater flexibility as you withdraw what you need at 1.74% interest rate per month.
Application for personal loans from OCBC Bank can be performed conveniently via MyInfo. This minimises the waiting required which can help to lessen any wedding jitters! A host of convenient repayment options exists to ensure that you never miss your monthly bill!
Conclusion
Holding a dream wedding in front of your loved ones is the aspiration of many lovebirds. When planning for your dream wedding, consider the suite of Personal Loans from OCBC since this is a superior financing option over credit card debt. Proper financial planning ahead can go a long way to ease the financial burden of holding a dream wedding in Singapore.
Visit OCBC for a comprehensive suite of personal loans that grant you easy access to cash without having to wait for an eternity: